Markey researchers identify promising new target for treatment-resistant prostate cancer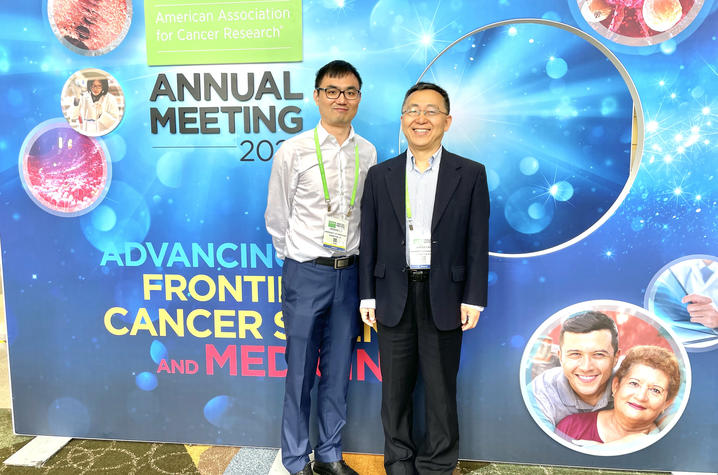 LEXINGTON, Ky. (April 18, 2023) — University of Kentucky Markey Cancer Center researchers identified a protein that plays an important role in prostate cancer progression as well as resistance to enzalutamide, a common prostate cancer treatment.
Drugs targeting this protein – casein kinase 1 alpha (CK1α) – could reverse enzalutamide resistance and improve outcomes for patients with prostate cancer, according to the study published in Cell Reports Medicine April 18.
Prostate cancer is the most common cancer and the second-leading cause of cancer mortality among men in the U.S., largely due to the development of therapy resistance during treatment.
Drugs like enzalutamide, which inhibit male hormones from activating the androgen receptor, have been a mainstay of care in the treatment of advanced prostate cancer. However, metastatic prostate cancers can develop resistance to enzalutamide and there is limited understanding about how this occurs.
"Our lab is the first to report the role of CK1α in prostate cancer progression and enzalutamide resistance," said Jinghui Liu, Ph.D., the study's lead author and assistant professor in the UK College of Medicine's Department of Toxicology and Cancer Biology.
"What's most exciting is that our findings have a very high potential to translate to clinical research and be immediately beneficial to patients with enzalutamide-resistant prostate cancer," said Liu, who is a researcher in the lab of Xiaoqi Liu, Ph.D., the chair of the department of Toxicology and Cancer Biology and Lucille P. Markey Endowed Chair in Oncology Research.
The study paves the way for the launch of a clinical trial utilizing a combination of a CK1α inhibitor called BTX-A51 with enzalutamide for treatment of late stage prostate cancer. BTX-A51 has already been approved by the Food and Drug Administration for its use in a clinical trial on acute myeloid leukemia.
Liu's team used a CRISPR-Cas9 knockout screen to identify CK1α as a top therapeutic target. The study validates this finding using several preclinical models that show inhibiting CK1α greatly improves the effectiveness of enzalutamide.
The study also shines a light on how CK1α is linked to enzalutamide resistance. Using RNA sequencing and mass spectrometry analysis, the team found that CK1α modifies a protein called ataxia telangiectasia mutated (ATM). ATM initiates DNA damage response signaling, which is compromised in enzalutamide resistance.
With this understanding, ATM could also be utilized as a prognostic biomarker to predict the clinical outcome of enzalutamide.
UK HealthCare is the hospitals and clinics of the University of Kentucky. But it is so much more. It is more than 10,000 dedicated health care professionals committed to providing advanced subspecialty care for the most critically injured and ill patients from the Commonwealth and beyond. It also is the home of the state's only National Cancer Institute (NCI)-designated cancer center, a Level IV Neonatal Intensive Care Unit that cares for the tiniest and sickest newborns, the region's only Level 1 trauma center and Kentucky's top hospital ranked by U.S. News & World Report.  
As an academic research institution, we are continuously pursuing the next generation of cures, treatments, protocols and policies. Our discoveries have the potential to change what's medically possible within our lifetimes. Our educators and thought leaders are transforming the health care landscape as our six health professions colleges teach the next generation of doctors, nurses, pharmacists and other health care professionals, spreading the highest standards of care. UK HealthCare is the power of advanced medicine committed to creating a healthier Kentucky, now and for generations to come.