NASA Kentucky EPSCoR Program Receives $850,000 in New Awards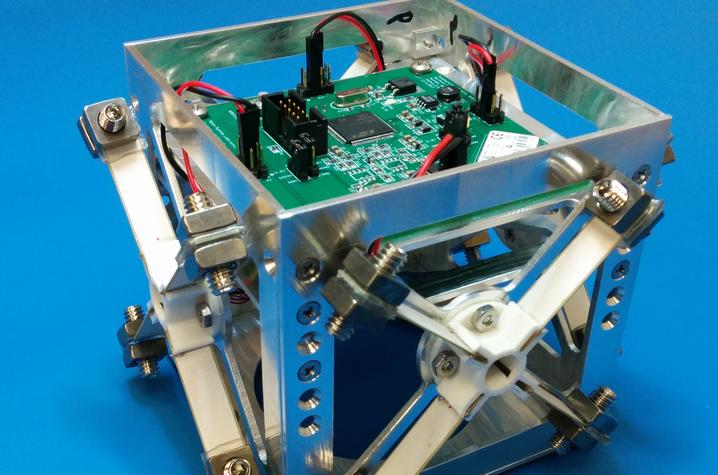 LEXINGTON, Ky. (July 27, 2017) — NASA has announced two new three-year awards totaling $850,000 for the NASA Kentucky EPSCoR Program, hosted at the University of Kentucky.
Michael Seigler and Jesse Hoagg, faculty members in the UK Department of Mechanical Engineering, will serve as co-investigators and lead scientific and technical development for the first project, "Coordinated Position and Attitude Control for Formations of Small Satellites," which will receive $750,000 over three years.
Small-satellite swarms are an integral part of future space missions, including exploration, atmospheric measurements, comet detection, cosmological and biological studies and space-weather monitoring.
The research plan for Kentucky's small-satellite project includes collaborations with NASA Ames Research Center, NASA Kennedy Space Center, NASA Marshall Space Flight Center and industry partner Space Tango Inc., headquartered in Lexington. It leverages the research team's recent developments in small-satellite attitude control, discrete-time formation control and electromagnetic formation-flying technology, as well as expertise on video guidance sensors and small-satellite design and testing.
Suzanne Weaver Smith, director of the NASA Kentucky EPSCoR program, will oversee project management and facilitate NASA connections for future opportunities arising from the research.
"This project will add a new and important dimension to Kentucky's expertise in small-satellites that has grown since KySat-1 was selected to be one of NASA's first three ELaNa CubeSats launched on the Glory Mission in early 2011," Smith said.
Major milestones of the project include a five-satellite cooperative-control experiment using the NASA Marshall flat-floor facility and a two-satellite formation-flying experiment using Space Tango's TangoLab-1 facility on the International Space Station (ISS). After successful completion of this project, the research roadmap envisions follow-on projects including satellite formation-flying experiments in orbit.
"Space Tango enables customers to utilize microgravity for discovery and manufacturing with our TangoLab line of products installed on the International Space Station," said Space Tango CEO and UK mechanical engineering graduate Twyman Clements. "This project with the UK College of Engineering is a perfect use case for leveraging the ISS as a platform for R&D in microgravity."
Another Kentucky project that will perform research in orbit, titled "Enhanced Science on the ISS: Influence of Gravity on Electrokinetic and Electrochemical Assembly in Colloids," will receive $100,000 from NASA EPSCoR over three years in partnership with the NASA ISS Program Office. Stuart Williams from the University of Louisville Department of Mechanical Engineering will serve as science lead. The proposed work complements ongoing research conducted by this team on board ISS with the support of NASA Kentucky EPSCoR.
NASA's Established Program to Stimulate Competitive Research (EPSCoR) announced these Kentucky research grants among 22 awards in EPSCoR states nationwide for research and technology development projects in areas critical to the agency's mission, including nine that will be testing research onboard ISS.  
The Kentucky statewide EPSCoR office provides matching support for the NASA Kentucky program and the state's EPSCoR research awards.