NIDA Director Examines Scope of Substance Abuse Research Undertaken at UK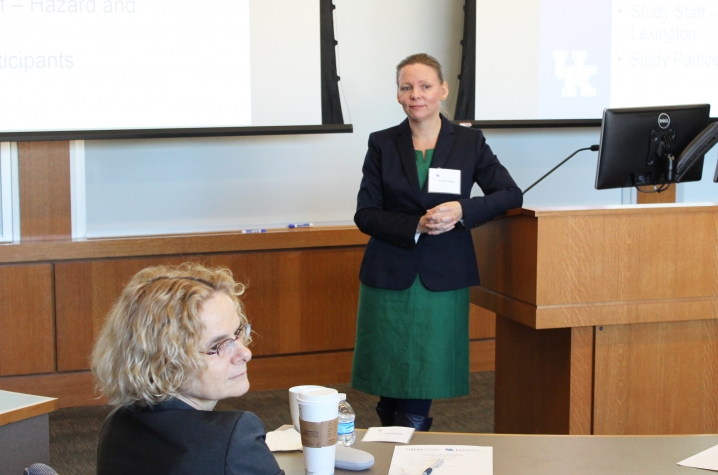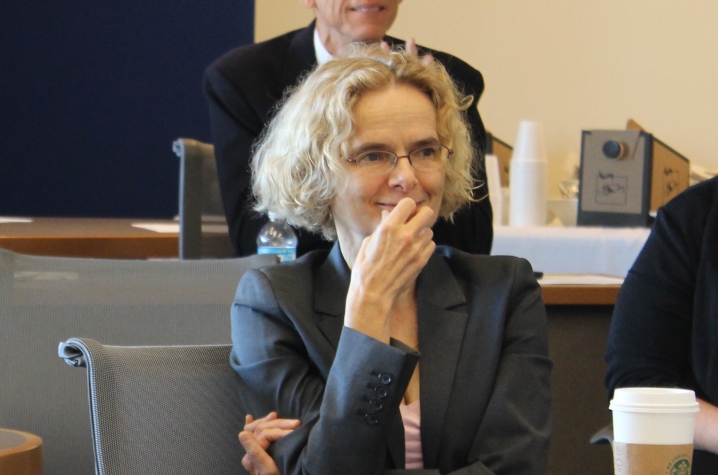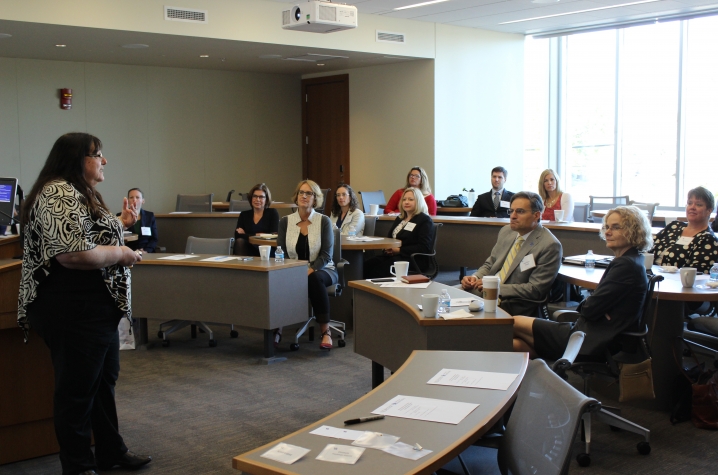 LEXINGTON, Ky. (Oct. 10, 2016) — Multidisciplinary researchers unified by a mission to develop therapies, interventions and evidence-based solutions to substance use disorders delivered snapshots of their work to National Institute on Drug Abuse director Dr. Nora Volkow on Oct. 7.
The series of presentations and roundtable discussion concluded Volkow's two-day tour of Kentucky. Volkow traveled to Kentucky with the purpose of better understanding the gravity of the opioid epidemic and learn about projects underway to resolve the state's austere substance abuse problems.
Researchers from the University of Kentucky Center on Drug and Alcohol Research (CDAR), UK College of Pharmacy, and UK College of Medicine described multiple nationally funded research projects testing alternative therapies for opioid use disorders, training pharmacists to dispense naloxone, investigating opportunities for opioid dependence treatment during hospitalization, and monitoring the spread of disease associated with injection drug use in rural communities.
The research showcase exemplified the breadth of expertise, research productivity, and resources at UK dedicated to addressing substance abuse problems. In addition to addressing the opioid epidemic, Volkow and the researchers deliberated on drug-related topics, including smoking and lung disease, cannabis use, and the risks of benzodiazepines in combination with opioids.
Volkow, who has served as the NIDA director since 2003, applauded the spectrum of "creative" substance abuse research at the University of Kentucky. She said UK researchers are targeting substance abuse problems flagged as top NIDA priorities. She was especially impressed with the combination of clinical and basic sciences research informing new insights into opportunities to develop evidence-based therapies for addiction.
"I was very impressed by the diversity of the research that goes on and also by the subject matters that are being investigated — all of which are priorities for our institute due to the fact that the problems that are being addressed are having devastating consequences, starting from the opioid prescription epidemic that is leading to a massive increase in overdoses and fatalities from overdoses as well as an increase in Hepatitis C that we are observing, as well as a significant increase in neonatal abstinence syndrome," Volkow said.
Dr. Sharon Walsh, director of the CDAR; Lisa Cassis, UK executive vice president for research; and Dr. Robert DiPaola, dean of the UK College of Medicine, accompanied Volkow for the scientific presentations.
"Meeting with Dr. Volkow was a golden opportunity to affirm the University of Kentucky's status as a national force in substance abuse research," said Walsh, who coordinated the event. "We showed our strength in producing high-quality substance abuse research and our capacity to drive research into implementation in the community. As a fellow scientist, Dr. Volkow is aware of the challenges associated with putting discovery to action. She left Kentucky with a better understanding of the complex public health problems faced by the Commonwealth and the important role of UK researchers, who are making a difference in the communities where substance abuse takes its devastating toll."
MEDIA CONTACT: Elizabeth Adams, elizabethadams@uky.edu