Rare Disease Day spotlight: A new approach to studying Moyamoya syndrome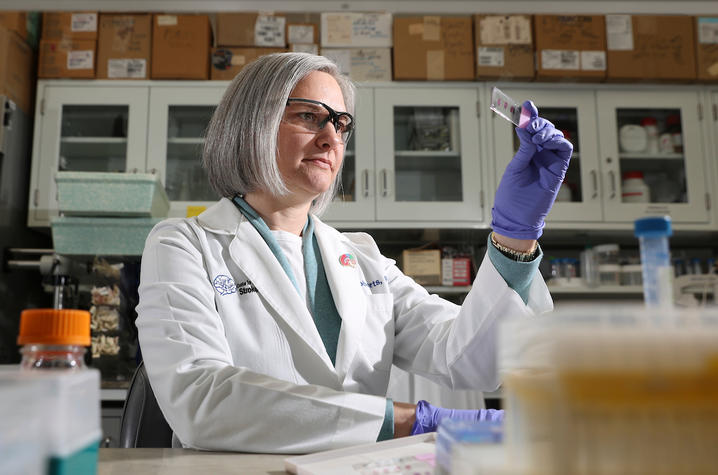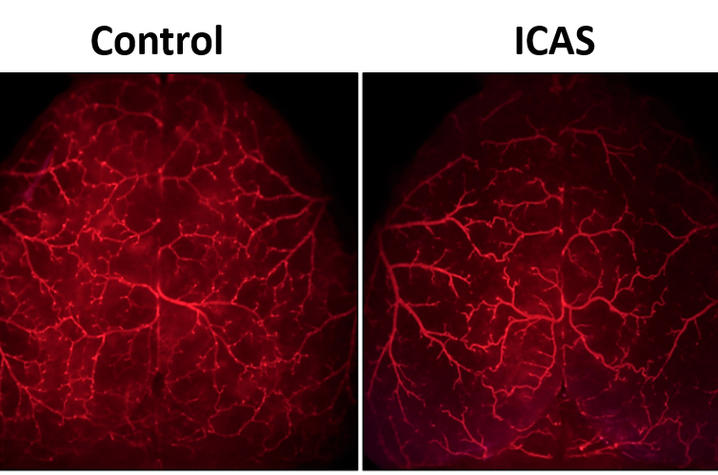 LEXINGTON, Ky. (Feb. 28, 2023) — Feb. 28 is international Rare Disease Day. Kentucky has surprisingly high rates — almost 10 times the national average — of a rare condition called Moyamoya syndrome, which causes the internal carotid arteries in the brain to become narrow or blocked. The resulting reduction in blood flow to the brain can eventually lead to stroke, but in the meantime the body tries to compensate by growing supplemental blood vessels at the base of the brain.
"Moyamoya means 'puff of smoke' (in Japanese) because that's what the new blood vessels look like on an angiogram," said Jill Roberts, Ph.D., assistant professor of neurosurgery and neuroscience in the University of Kentucky College of Medicine and a researcher who studies the syndrome.
However, the compensatory "collateral circulation" of blood vessels that the body tries to grow is fragile, prone to rupture and ultimately insufficient to support the brain as blood flow through the artery becomes more restricted. 
"The large majority of patients we see here at UK have Moyamoya syndrome, which is acquired due to some other problem or condition, compared to what we call Moyamoya disease, which is genetic," Roberts said. "We don't know why the prevalence of this condition is so high in Kentucky, but we're trying to figure it out. It's also interesting that Moyamoya syndrome patients have a greater likelihood of having autoimmune disease and/or diabetes than the general population."
Regardless of whether someone has Moyamoya syndrome or disease, many patients eventually require a bypass surgery that involves creating a window in the skull, typically around the patient's temple.
"The procedure is very invasive for patients. That's why we're trying to come up with other treatment options," said Roberts.
A new approach to studying Moyamoya
In her recent three-year term as a KL2 Career Development Scholar, Roberts combined clinical research with a novel animal model she created to search for biomarkers and therapies for Moyamoya.
The KL2 Program, offered by the UK Center for Clinical and Translational Science (CCTS), provides research training, mentorship and funding to foster careers in the clinical/translational field and accelerate discoveries that improve health.
"For the clinical portion of the study, we enrolled 28 patients with Moyamoya syndrome to collect blood samples for analysis of various inflammatory or vascular biomarkers, to see if there's something prominent expressed in everyone. We still don't know exactly how Moyamoya syndrome comes about, so we're asking: Is there something in common in our Moyamoya patients that contributes to the development of the condition?" she said. "Hopefully we'll be able to identify an underlying mechanism that we can then pursue in our lab through animal models."
The second component of her KL2 research is a novel mouse model to mimic the stenosis (or narrowing) of internal carotid arteries that occurs in Moyamoya. Roberts places micro-coils around the arteries to restrict blood flow so she can study the resulting pathology — what changes occur in the brain, and specifically if there's increased angiogenesis characteristic of Moyamoya.
"The idea is to use the animal model to test treatments in the future," Roberts said. "It can be combined with other models of comorbidity — like a mouse model of diabetes or autoimmune disease — to study how Moyamoya and these conditions affect each other. This will allow us to hopefully mimic actual patient populations more closely."
While using micro-coils to decrease blood flow in animal models is an established methodology — in fact, Roberts learned this approach while studying vascular dementias — to her knowledge, no other researchers are using the same surgical method of coils on internal carotid arteries to study Moyamoya in mice.
Roberts says that without the KL2 program, her Moyamoya research would not have moved forward. The funding and protected time provided by the program allowed her to continue the mouse model and, importantly, operationalize the clinical component of her research with patient samples.
"So much of this project was enabled by the KL2 and CCTS. They've been supportive not only of developing the scientific components of the project but also of my career development overall, from interacting with other KL2 scholars and faculty to the graduate certificate I earned in clinical and translational science," Roberts said.
The power of multidisciplinary teams and translational science
It was while studying vascular dementias that Roberts' Moyamoya research took off. When they were jointly reviewing data for that project, one of her collaborators — UK neurosurgeon Justin Fraser, M.D. — noticed that brain blood vessel scans of animal models of vascular dementia looked very similar to those of his patients with Moyamoya.
"The types of stroke, along with the effects on the blood vessels in the brain, were somewhat similar," Fraser said. "We discussed whether her animal model could be altered to create one for acquired Moyamoya syndrome. While a handful of animal models for the congenital form of the disease exist, there really are not any animal models for secondary Moyamoya syndrome."
Thus was born Roberts' novel methodology of mimicking Moyamoya in mice by placing coils on the internal carotid arteries; they published their initial results from this mouse model in PloS ONE.
Then, when Roberts was awarded the KL2 Award to continue studying Moyamoya syndrome, Fraser served as her primary mentor.
"Without Dr. Fraser, this project wouldn't exist," said Roberts.
In fact, her deep appreciation for translational science developed partly through working with him and seeing his world of patient care.
"For me as a basic scientist, having a collaborator who's a clinician changes everything about my research because it enables it to be translational — to have a path forward to patients. It also gives me a different perspective on the work that I'm doing," Roberts said. "For instance, now I'm the one who's consenting the patients to be enrolled in the study, and having that direct patient interaction makes the research I'm doing in the lab so much more meaningful. It's shown me the importance of including a translational aspect in any project. I can work in the lab all day long and come up with a therapy, but if I don't understand how to get it to the patients, it won't be helpful. And that's the whole point of what I'm doing — to help patients."
Fraser shares her view on the importance of multidisciplinary collaboration to leverage different perspectives in understanding a disease.
"A basic scientist might dedicate decades to studying a single mechanism in a disease, only to find that treatment of that mechanism has been supplanted by clinical developments in disease management. Similarly, without an understanding of disease pathophysiology, clinicians may be shooting aimlessly in trying to bring new therapies to the bedside." he said. "Dr. Roberts is an amazing researcher and collaborator. Her leadership on our project together has been outstanding, and I am certain her discoveries will improve our knowledge of this rare disease."
Roberts' other KL2 mentors were Anne Stow, Ph.D., associate professor of neurology and neuroscience, and Linda van Eldik, Ph.D., co-director of the Kentucky Neuroscience Institute and director of the Sanders-Brown Center on Aging.
Jessica Lee, M.D., medical director of UK's Comprehensive Stroke Program, and David Dornbos, M.D., with the Kentucky Neuroscience Institute, are also essential to Roberts' Moyamoya research, as is Laura Whitnel-Smith, a technician in Roberts' lab.
"This is a team effort," Roberts said. "We couldn't get anything done if we didn't have so many people on board."
Roberts is now applying for funding from the National Institutes of Health to continue both the human and animal components of her Moyamoya research.
Stroke research leadership for UK and beyond
In addition to her appointment as an assistant professor, Roberts serves as director of the Rodent Surgery Core for the UK Center for Advanced Translational Stroke Science (CATSS), which she co-founded in 2016. The core is a service center for investigators at UK, other institutions and the private sector. They provide customized stroke animal surgery services, administration of therapies and behavioral therapies, and tissue collection.
"This helps us increase potential collaborations and could help us determine if there's some novel therapy that's not being used for stroke," Roberts said.
The multidisciplinary CATSS team, which includes Keith Pennypacker, Ph.D., Ann Stowe, Ph.D., and Amanda Trout, Ph.D., also runs an ongoing research study called BACTRAC (Blood and Clot Thrombectomy Registry and Collaboration), which collects the aforementioned samples from patients who've had a mechanical thrombectomy for stroke. The researchers then employ machine learning techniques to analyze the big data generated from the large patient population. The hope is that this "reverse translation" will aid in the development of new stroke treatments. 
CATSS also hosts workshops on translational stroke research; the next one will be held April 19-20, 2023, in Lexington.
"I still get excited about this work. There's still so much to learn, new techniques to try. We never stop learning — that's part of this profession. We can become experts in certain areas but never experts in the whole. In an ideal world, basic scientists and clinicians come together to move research forward."
As the state's flagship, land-grant institution, the University of Kentucky exists to advance the Commonwealth. We do that by preparing the next generation of leaders — placing students at the heart of everything we do — and transforming the lives of Kentuckians through education, research and creative work, service and health care. We pride ourselves on being a catalyst for breakthroughs and a force for healing, a place where ingenuity unfolds. It's all made possible by our people — visionaries, disruptors and pioneers — who make up 200 academic programs, a $476.5 million research and development enterprise and a world-class medical center, all on one campus.   
In 2022, UK was ranked by Forbes as one of the "Best Employers for New Grads" and named a "Diversity Champion" by INSIGHT into Diversity, a testament to our commitment to advance Kentucky and create a community of belonging for everyone. While our mission looks different in many ways than it did in 1865, the vision of service to our Commonwealth and the world remains the same. We are the University for Kentucky.