BLOG: Record-breaking Research Awards Power UK Innovation in 2021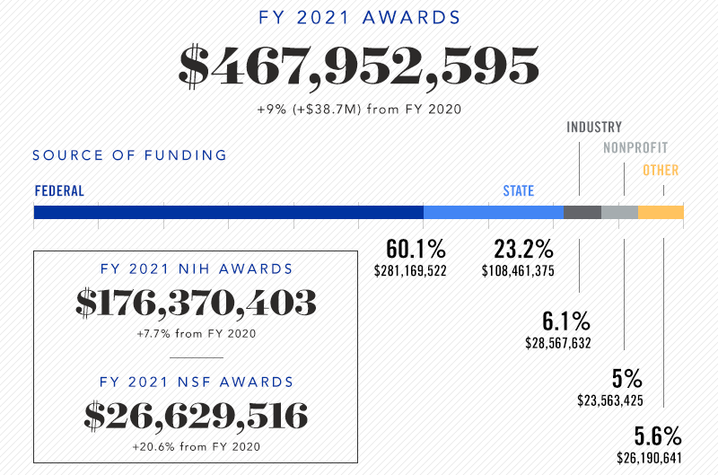 For the first time in University of Kentucky history, investigators received $468 million in extramural grants and contracts to support their research and creative work last fiscal year. This is a 9% increase from FY20, an incredible accomplishment during a challenging year. 
Thank you and congratulations to all faculty, staff and student researchers who worked tirelessly to seek support for their research and creative work. 
Federal grants and contracts totaled $281.2 million, accounting for 60% of UK's total awards in FY21. Federal awards increased by $8.9 million (3.3%) from the last year, with notable increases in the following agencies:
National Science Foundation (NSF) +20.6%
Department of Defense (DOD) +18.4%
Centers for Disease Control and Prevention (CDC) +9.5%
National Institutes of Health (NIH) +7.7%
U.S. Geological Survey (USGS) +7.5%
UK research awards showcased leading-edge innovations in advanced manufacturing, aneurysm detection, vaccine testing and workforce support. 
UK, the University of Tennessee at Knoxville and the U.S. Army Combat Capabilities Development Command's Army Research Laboratory established a five-year, $50 million collaboration directed toward improving manufacturing capabilities in the United States. UK's project, "Next Generation Materials and Processing Technologies" (NextGen MatProTech), will receive approximately $23.8 million from the U.S. Department of Defense. "We intend to meet the challenges of the strategic initiatives within the U.S. Army's Modernization Priorities. To accomplish these goals, a state-of-the-art additive manufacturing research laboratory will be established within the Institute for Sustainable Manufacturing (ISM) in the College of Engineering at UK," said I.S. Jawahir, principal investigator, James F. Hardymon Chair in Manufacturing Systems and ISM director.
Alan Daugherty received a seven-year $5.6 million R35 grant from the National Heart, Lung, and Blood Institute (NHLBI) to study the tissues of the aorta and provide insight into how and why thoracic aortic aneurysms and dissection (TAAD) occurs. There are currently no medications to directly treat the condition or prevent an aneurysm from growing. "We hope this research program will contribute to providing new medical options so that watching and waiting won't be the only option for these patients," said Daugherty, chair of the Department of Physiology, Gill Foundation Chair in Preventative Cardiology, and director of the Saha Aortic Center in the UK College of Medicine.
UK was the top enrolling site in the world for the ongoing Phase 3 ENSEMBLE study, which evaluated a single-dose regimen of Janssen's investigational COVID-19 vaccine. UK is currently a testing site for the Phase 3 clinical research study ENSEMBLE 2, which is evaluating the safety and efficacy of a two-dose regimen of Janssen's COVID-19 vaccine candidate. UK was also selected as a site for PreventCovidU, a study evaluating COVID-19 infection and transmission among post-secondary students vaccinated with the Moderna COVID-19 vaccine. 
The state of Kentucky received $21.6 million from the U.S. Department of Labor to boost efforts to help newly injured and ill employees remain at or return to work. The UK Human Development Institute (HDI), through RETAIN Kentucky, will expand implementation statewide, address enduring implications of COVID-19 on the physical and mental health of Kentucky's workforce and develop pre-professional and continuing education training in return-to-work/stay-at-work strategies. "In a state where roughly one-third of adults have a physical or mental impairment, we need to deploy strategies intentionally that will help us build and strengthen a workforce that is inclusive of all Kentuckians," said Kathy Sheppard-Jones, executive director of HDI.
In total for FY21, 1,828 projects were awarded to 828 principal investigators from 604 sponsors.
Many of our colleges saw significant research funding increases:
College of Arts & Sciences +26%
College of Engineering +24.6%
College of Medicine +15.9%
College of Nursing +15.9%
Research — which includes our multidisciplinary centers & institutes, core facilities, research support units and the Office of the Vice President for Research — saw a 32.2% increase in funding in FY21 from FY20. 
The sheer volume of research activity, and the success of our researchers to garner funding for their impactful and innovative studies, speaks to the dedication of our faculty, staff and students to UK's research mission. In this challenging year for all, we applaud the work of UK researchers to put forth their best and brightest ideas, and we have positioned the infrastructure to facilitate their efforts. Now more than ever, we realize that research is a key element of our mission to improve lives in Kentucky and beyond.
To learn more about the innovative research happening across campus that impacts our state, visit research.uky.edu/news.