Registration Now Open for CCTS Conference on 'Our Environment, Our Health'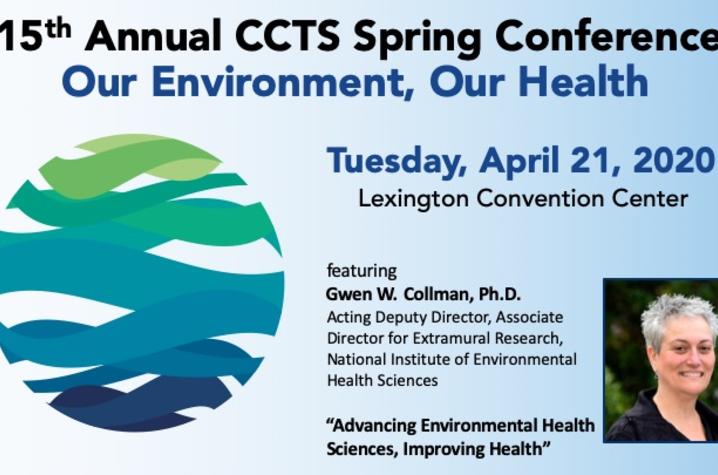 LEXINGTON, Ky. (Feb. 7, 2020) — The University of Kentucky Center for Clinical and Translational Science will hold its 15th Annual Spring Conference on April 21, focusing on "Our Environment, Our Health." Join nearly 1,000 researchers, clinicians, students and community members for this free, day-long event exploring the relationship between the environment, our health and how we live. You'll see citizen science in action, experience hands-on demonstrations and hear from experts in the field.
This year's keynote speaker will be Gwen W. Collman, Ph.D., acting deputy director and associate director for extramural research at the National Institute of Environmental Health Sciences, who will discuss, "Advancing Environmental Health Sciences, Improving Health."
Co-chairs for the 2020 conference are Erin N. Haynes, associate director, CCTS; and Bernhard Hennig, Ph.D., professor in the Department of Animal and Food Sciences in the College of Agriculture, Food and Environment.
The 2020 CCTS Spring Conference is held in conjunction with the following program- and college-specific research days. All sessions are open to all conference participants. 
36th Annual BGSFN Spring Neuroscience Day
College of Dentistry Research Day 
College of Engineering Biomedical Research Day 
College of Nursing Scholarship Showcase 
College of Public Health Research Day 
University of Kentucky MD/PhD Program Research Day
To attend the conference, please register by March 27, 2020. 
Abstracts: Submissions for oral and poster presentations will be accepted until March 9, 2020 at 5 p.m. Full instructions and details are available here.
The call for abstracts (no submission fee) is open to interested students (undergraduate, graduate, doctoral), faculty, research personnel, trainees/scholars, and administrators. It is also open to those in government agencies, private foundations, and community organizations. No individual should be first author on more than one abstract. Abstracts may be submitted on any aspect of clinical health-related research.
Submissions from individuals participating in research career training programs (e.g., NIH training programs, including T32, K12, COBRE, Physical Scientist, and Clinical Research Scholar) are particularly encouraged.
Applicants will be notified of their presentation format (oral or podium) by Friday, March 20, 2020.
The purpose of poster presentations is not only to provide presenters with the opportunity to talk about their research but also to receive constructive feedback from the mentors. In general, this takes the shape of a relaxed discussion about rationale, approach, analysis and conclusions. Mentors will almost always want to interrupt you to ask pertinent questions or clarify as you go along.
Mentor Recognition Award Nominations: The CCTS is also accepting nominations of mentors to receive Research Mentor Recognition Awards in Clinical and Translation Science. Only UK faculty members are eligible for this award, which will be presented during the Keynote Luncheon of the CCTS Spring Conference.
If you would like to nominate your research mentor for this award, please submit your nomination by Feb. 28, 2020.
Full conference agenda is forthcoming. To receive updates about the 2020 Spring Conference, make sure you're a CCTS Member so you receive emails. Membership is free.
For questions about abstracts and mentor nominations, please contact Michelle Jones at michelle.jones2@uky.edu or 859-323-8545.