Research Celebrates Women Making History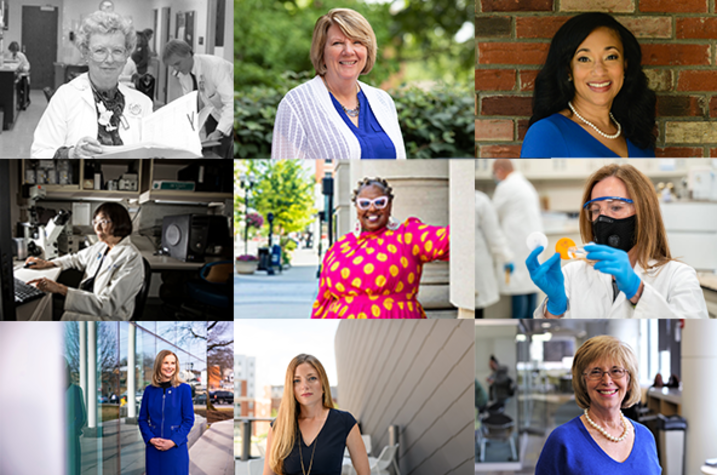 LEXINGTON, Ky. (March 8, 2022) — Women's History Month, and International Women's Day on March 8, serve as annual reminders and worldwide celebrations of women's economic, cultural, social and professional achievements throughout history and today.  
In medical research, for far too long, men were the prototypical vehicle for experimental and clinical studies testing new drugs. Women were excluded for reasons of practicality: the fluctuating hormones of a menstrual cycle might interfere with the research outcome, and it was often considered unethical to conduct biomedical research in women who could become or were pregnant. The long-held theory was what worked in men should work in women, what we now commonly see in advertising as "one size fits all." 
Similarly, for decades research did not do enough to understand how issues of ethnicity, race, biologic sex or gender — differences that were hard to study using basic experimental systems — are important variables that influence physiology, disease development and therapy. 
I am glad to report that research is changing, and at the University of Kentucky, we embrace and focus on things that make us different from one another and how these differences influence health and disease. In my own research on sex differences that impact cardiovascular health and the work of many of my female and male colleagues alike, discoveries that directly address biologic sex or gender are being made and are impacting women's health. 
Women have played a critical and pivotal role in UK's history. The late Jacqueline "Jackie" A. Noonan, M.D., a physician of international renown, was the first pediatric cardiologist at the University of Iowa Stead Family Children's Hospital. During her time there, she observed a rare heart defect in children. She began publishing papers about this congenital heart condition in 1963, two years after joining the UK College of Medicine. This condition was ultimately named Noonan syndrome in recognition of her efforts. For nearly five decades, Noonan was a fixture at UK, practicing pediatric cardiology and critical care. Today, Scottie Day, M.D., physician-in-chief at Kentucky Children's Hospital and Noonan's former mentee, holds the Jacqueline A. Noonan-CMN Research Chair in Pediatrics. 
Whether it's a graduate who has left campus to achieve breakthroughs in her chosen profession or a student recruited by a top company for her work in a lab, the imprint of women at UK is strong and ever-present. From senior administration to the high school student arriving on campus for the first time, women are helping to define and chart the course of UK's future.
This month, we take the time to showcase the legacies of women and their impactful research and scholarship. Through our social media channels and UKNOW stories, our "Women Making History" series presents students and faculty making a difference and pursuing their passion for discovery and innovation. If you don't already, please follow @ResearchKY on Twitter and Facebook and "ukresearch" on Instagram as we celebrate these women.