Solar Powered Earth Day Shines Down on UK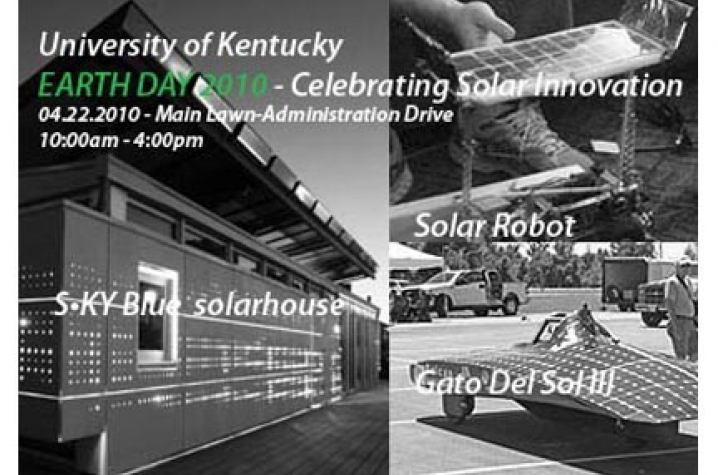 LEXINGTON, Ky. (April 22, 2010) − The public is invited to celebrate a solar powered 40th Annual Earth Day today, April 22, at the University of Kentucky. As part of the Solar Powered Earth Day Celebration, people can explore various avenues of solar technology and research at the university.
UK College of Engineering and UK College of Design will welcome the general public to tour its ninth place entry in the U.S. Department of Energy 2009 Solar Decathlon, called the S•KY BLUE House. Under the direction of Don Colliver, a professor in the UK College of Agriculture Department of Biosystems and Agricultural Engineering, and Gregory Luhan, associate dean for research in the UK College of Design, the S•KY BLUE House was designed, constructed and marketed by more than 175 students in the Colleges of Agriculture, Design, Engineering, and Communications and Information Studies. This net-zero energy home was viewed by 200,000 people and toured by 25,000 visitors while it competed on the National Mall, in Washington, D.C.
The S•KY BLUE House currently resides on the lawn in front of the Main Building along Administration Drive. On Earth Day, the house will be open to visitors from 10 a.m. to 4 p.m. Students and faculty who were involved in the design and construction of this prototype home will be on-hand to answer your questions.
The UK solar car, Gato Del Sol III, will also be available for public inspection and viewing during these same hours. The university's solar car finished second last summer in the Formula Sun Grand Prix. Members of the UK Solar Car Team will be present to answer questions and brief the public on the technical and social aspects of designing, building and racing an automobile that requires no energy source other than the sun.
As the sun sets on Earth Day 2010, the Solar Powered Celebration continues with a special edition of Geek's Night Out. At 6 p.m., the UK IEEE Solar Powered Robot team will exhibit their bot that competed in this year's Southeastcon Hardware Competition in the atrium of Victorian Square, located  at 401 W. Main Street, in downtown Lexington. Again, students will be on hand to answer questions and demonstrate their bot as it races around an obstacle course collecting objects and points using only solar power.
UK's Solar Powered Earth Day Celebration is presented in conjunction with IN2LEX and April Is…