Taking Research to the Front Lines: Why UK Researchers are Studying Firefighter Fitness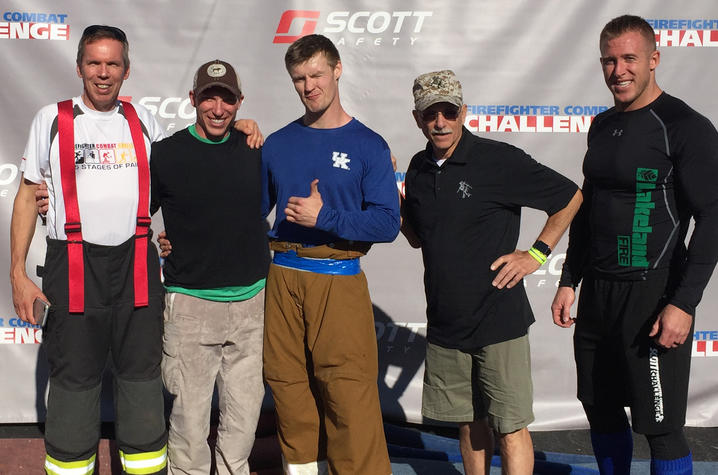 LEXINGTON, Ky. (April 9, 2018) — Anssi Saari was drawn to the University of Kentucky for his doctoral work because of UK College of Education Professor Mark Abel's research that benefits police officers, firefighters and military personnel. These groups face daunting physical obstacles while on the job, often coupled with intense mental stress. Abel's research centers on tactical personnel's physical performance, including how they train, their performance in high-intensity situations and ways to prevent negative impacts on their physical health.
For firefighters, overcoming obstacles starts the minute they strap on their equipment. Breathing through a respirator decreases their aerobic capacity by about 15 percent. The equipment on their backs weighs 50 pounds. Their sleep schedules can be erratic, due to waking for emergencies in the night. On top of that, 80 percent of firefighters are overweight or obese, Abel said.
"These factors make even mundane tasks so much more difficult," Abel said. "Imagine running a 5-kilometer race under these conditions. That's what fighting a fire can be like. The more fit the firefighters are, the higher their aerobic ceiling is going to be before the respirator reduces it. Being fit increases their tolerance to physical stress."
Prior to moving from Finland to the U.S. for college, Saari, who is studying kinesiology and health promotion, served for a year in the Finnish military, which is compulsory for all men in his home country. Abel has tactical training as well. Before his academic career, he spent time as a firefighter.
Ultimately, they want to provide information to service men and women that will not only make them safer, but also perform at their highest level. For example, thanks to Abel's connections, last semester Saari conducted behind-the-scenes research during the Scott Firefighter World Challenge XXVI. At the competition, Saari and his team gathered data to attempt to predict the firefighters' performance based on the type and intensity of exercise training used to prepare for the competition and, ultimately, the demands of the job.
Remarkably, battling blazes isn't necessarily the biggest health risk for firefighters. The greatest danger can come as the body recovers from the intense physical exertion, heat exposure and psychological stress associated with battling a structure fire. It's not unusual to survive a brutal blaze but have a heart attack back at the station. So, the researchers are looking at heart rate data that came in as the firefighters recovered from their intense exertion.
The research team is also measuring specific habits of the firefighters' training, like frequency and intensity, and what type of resistance and endurance training they performed — such as biking, running or rowing — against the firefighters' time in the competition.
"We are asking questions such as how much thinking and planning goes into their training," Saari said. "Do they record their workouts? Does someone create a workout routine for them? Do they show up to the gym and just lift weights, or is there a preplanned method? We are asking these kinds of questions as a way of trying to see what type of training really relates to performance."
This type of research allows exercise scientists like Abel and Saari to discover if there is a connection between research findings relating to physical predictors of better performance and training habits in which elite level firefighters are engaging.
"When you think of research, this is not the typical picture in your head," Saari said. "It's a great opportunity, I think, for people who are usually in a lab or in a more controlled environment to witness something like this where it's more of a controlled chaos. The firefighters came to understand why I was there and I wanted to show respect for why they were there as much as possible. Because it is a big deal to be given this opportunity that most likely, on my own, would never have happened."
UK is the University for Kentucky. At UK, we are educating more students, treating more patients with complex illnesses and conducting more research and service than at any time in our 150-year history. To read more about the UK story and how you can support continued investment in your university and the Commonwealth, go to: uky.edu/uk4ky. #uk4ky #seeblue