UK College of Health Sciences Awarded Two APS Undergraduate Fellowships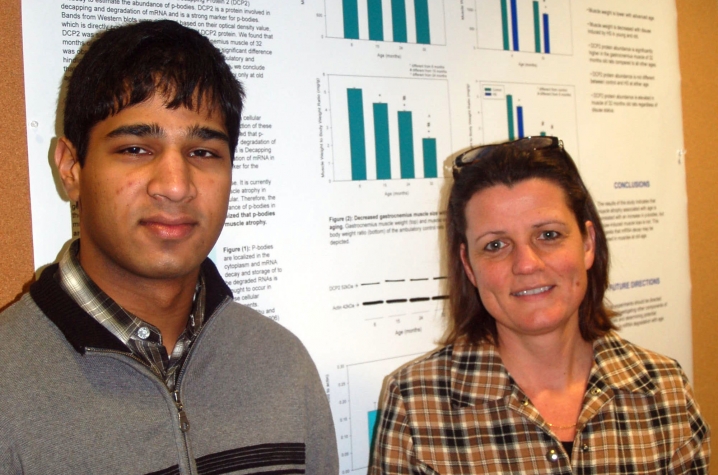 LEXINGTON, Ky. (May 9, 2012) — A University of Kentucky student is among those awarded a 2012 Undergraduate Research Fellowship by the American Physiological Society (APS). Aman Shah will study for 10 weeks during Summer 2012 under Esther E. Dupont-Versteegden, associate professor in the UK College of Health Sciences' Division of Physical Therapy. Meanwhile, Zakkary Hardyniec, a student from Alma College in Michigan, will also complete a 10 week APS Undergraduate Research fellowship under the guidance of UK College of Health Sciences Associate Dean for Research Charlotte A. Peterson.
Nationwide, 24 research fellowships were awarded.
Participants in the APS Undergraduate Research Fellowship program were selected based on academic merit, quality of the proposed research experience and mentor availability. Participants receive a $4,000 stipend during their 10-week summer fellowship, as well as additional funds for traveling and presenting research at the Experimental Biology 2013 meeting in Boston, which is projected to attract nearly 14,000 scientists.
During the program, each fellow will participate in hands-on research in the lab of an established investigator, learning to develop a hypothesis, design and troubleshoot experiments, collect and analyze data, and write up and present results. They will have opportunities to network with other undergraduates interested in biomedical research, to explore the nature of research and how scientists think, to explore career options, and to have their career questions answered.
The Undergraduate Summer Research Fellowships program is sponsored by the APS Career Opportunities in Physiology Committee, and funded by the APS council.
MEDIA CONTACT: Allison Elliott, allison.elliott@uky.edu