UK Design Proposals for Southland Drive Strike the Right Chord With the Community
LEXINGTON, Ky. (Dec. 15, 2016) — Next year a structure based on the work of the University of Kentucky's own interiors and landscape architecture students will pop-up along the streetscape of Lexington's Southland Drive. The structure, designed to both increase aesthetics and aid pedestrian mobility in the area, will come to be as part of the semester-long project, "Retrofitting the RETRO," presented by Lexington-Fayette Urban County Government's (LFUCG) Division of Planning.
Based on voting at an exhibition of student design proposals held last week and a review by a selection committee, three winning designers, including landscape architecture student Rakeem Bradshaw and interiors students Mallory Stein and Veronica Steen, will be invited to discuss their design ideas further for the corridor with the Division of Planning, Southland Association, property owner(s) and other stakeholders this January. Winning entrants' design(s) will then be the basis for a design/build project in the spring 2017 semester with a design/build workshop hosted by local architecture, design and fabrication studio Nomi, who will advise the final design. In addition to being part of the execution process of the pop-up, the winners also were awarded cash prizes for their concepts. Support for the design and construction process of "Retrofitting the RETRO" was made possible through a $10,000 grant from the Blue Grass Community Foundation and the John S. and James L. Knight Foundation.
First place designer Rakeem Bradshaw, of Louisville, Kentucky, is excited to "actually make a difference" on Southland Drive and be such an integral part of this project that is allowing UK students to leave their mark on such a popular Lexington neighborhood.
"I'm really excited that my design got selected. I really put a lot of thought into it, so I'm glad to see that it will be represented in Southland Drive. And to think that I spent my whole semester working on Southland Drive is really cool."
Like many of his fellow students, Bradshaw's winning proposal, "The Music Lounge," was an homage to Southland Drive's history of music-making as the previous home of the of Southland Jamboree and the site of multiple music stores over the years. His goal was to create a very modern space that people could come in and sit and relax in the shade provided by pergolas. To tie his design into the area's musical history, his proposal literally encourages visitors to contribute to the sounds of Southland with play spaces for children that include wind chimes made from PVC and a tuned drum.
To come to a point where students could develop thoughtful design concepts for a pop-up on Southland Drive, students put in lots of time and work both inside and outside of their studios. "Retrofitting the RETRO" began as an academic exercise early this fall with the Division of Planning partnering with UK's School of Interiors and Department of Historic Preservation in the College of Design, led by Patrick Lee Lucas and Rebekah Radtke, and the Department of Landscape Architecture in the College of Agriculture, Food, and Environment, led by Carolina Segura, in what became a win-win proposition for both the city and UK's students.
"When we (Lexington) started looking at neighborhood commercial centers, we didn't have the capacity to take on such a large research and design project within the Division of Planning," said Brandi Peacher, design specialist with LFUCG's Division of Planning and UK architecture alumna. "So luckily we have strong connections at the College of Design School of Interiors and within the Landscape Architecture Department. We reached out to them for a collaborative project, and they were more than willing to help out with this effort by utilizing their classes to explore data collection methods, engage in a community input process, and create design concepts for enhancing the suburban strip center.
"At the same time, we had the Blue Grass Community Foundation express great support and offer grant funds to support this public space design opportunity. We are thankful they were able to give us funds to make small scale pop-up ideas move from paper to a built reality."  
With $1.5 million in publicly funded sidewalk construction already in the works for Southland, the city through "Retrofitting the RETRO" asked UK students to use the neighborhood to explore how to connect and revitalize suburban strip centers through proposing design solutions to alter parking lots into welcoming public spaces while still providing adequate vehicular circulation and parking. In advancing that goal of connection, students explored ways to create a shared public space in a suburban style strip center that would enhance mobility and make for a more attractive, safe, successful and supportive neighborhood district.
"Southland Drive is a perfect opportunity for us to explore the physical constraints of a suburban strip mall layout," Peacher said. "Southland Drive has great businesses, they have great tenants and people that live nearby, and you have a diverse group of people who visit Southland Drive all the time and every day of the week. So, you have an active audience. We don't have to solve those problems that you might have in other neighborhoods; it makes Southland Drive a great case study for the physical environment."
First up, historic preservation, interiors and landscape architecture students executed a case study documenting Southland Drive's history, successes and challenges in order to use a data-driven approach to inform their public space designs. Students started this process interviewing property owners, the Southland Association president and merchants.
This connection with the community was imperative to crafting future concepts for the community and for the students to develop communication skills with potential clients. "We believe in the human center design process and that means that humans lie at the center of what the design needs are," said Patrick Lee Lucas, director of School of Interiors. "So to understand the humans means that you are going to design better naturally and it's really important for us to have our students have the opportunity to figure out what are the different techniques that you can learn stories from people that then can translate into design opportunities."
In late September, during Design Week presented in conjunction with the UK Student Sustainability Council and Tracy Farmer Institute for Sustainability and the Environment, the group studied suburban commercial strips on a larger scale in Nashville and Chicago and then examined their data specific to Southland Drive to design data-driven affordable solutions specific to Southland to present to the community.
In addition to the research and exposure to other design ideas, students also found the intentional matching of their studios in historic preservation, interiors and landscape architecture another great real world project opportunity.
"It's nice to work in a group and get different point of views. Just to see how they're working and their way of doing things helped us in this project," said third year interiors student Carly Barborinas, of Ignacio, Colorado. "In the real world, we (interior designers) are working with groups every single day — we're working with architects, we're working with landscapers, we're working with historical, even the city. Just being able to do that while you're in school, it jumps you ahead of everybody else once you graduate."
The class proposals based on the students' research were presented at a community meeting in early October, where the public was asked to share their thoughts, concerns and visions for Southland. In addition, online surveys were executed on how often people frequent the corridor, what they like, dislike and what improvements they would like to see. Following the meeting and surveying, the studios got back to work refining concepts based on community feedback. This information also informed the individual student pop-up proposals to follow in the December design competition.
Interest in the students' ideas was great with more than 100 members of the neighborhood attending and liking much of what they saw at the December exhibition presented at Southland business, Good Foods Co-op.
"I love a lot of the different concepts that they've come up with. I love the idea of Southland being an area of destination," said Jeffrey Kaplan, owner of the Subway on Southland Drive, who noted the need to find a balance to help attract people to a destination for shopping and events while supplying ample parking. "I was talking with several of the students and it surprised me the knowledge that they had of the area. They really put in a lot of time and effort, and you can tell by the projects. It's just amazing the work they put in."
Students and faculty alike were honored to work with the Southland community and by their response. They hope that this project model can be used for other strip mall areas around Lexington, as well as other communities beyond Fayette County in the future.
"Our president always talks about this being the University for Kentucky and I think that's a nice preposition that shifts that idea that we really are public servants to a large degree to Lexington, as our own backyard community, but many communities across the Commonwealth," Lucas said. "Having students have the opportunity to help people actually try that out means that you are helping them understand how to be democratic citizens of the future and how it is that they as designers have power to transform the communities that they will work in in a positive kind of way. And I think that's an incredible experience. It makes me really proud to be able to actually make part of that happen."
For more information or to sign up to email updates about the project, go to southlandsidewalks.com and/or contact Brandi Peacher in the Division of Planning at bpeacher@lexingtonky.gov.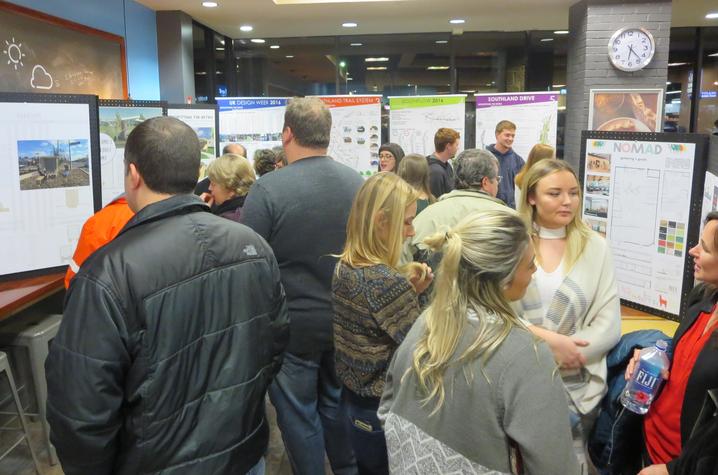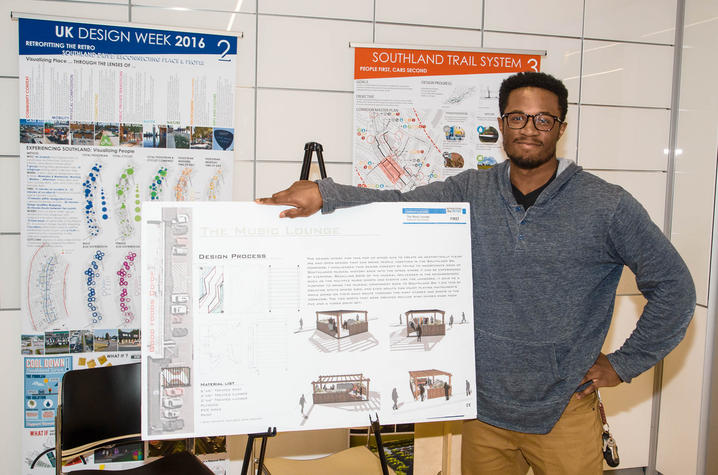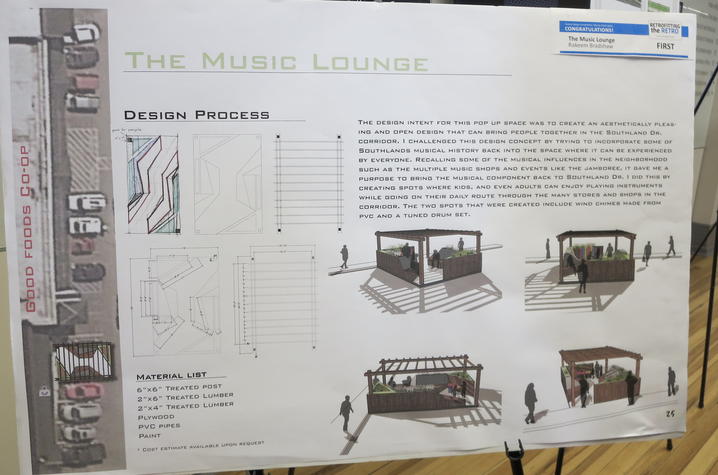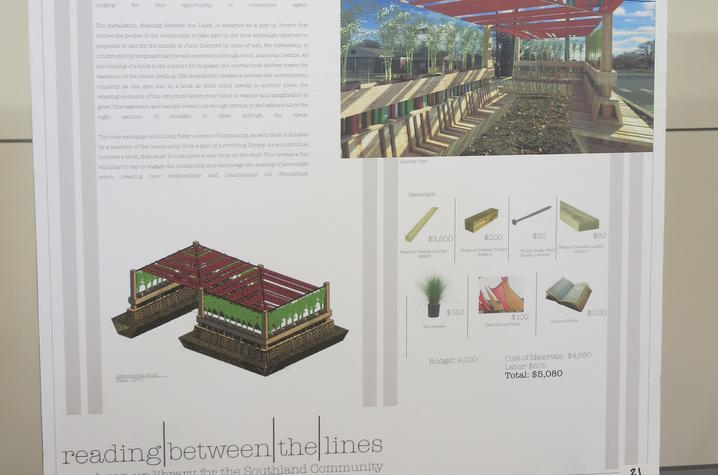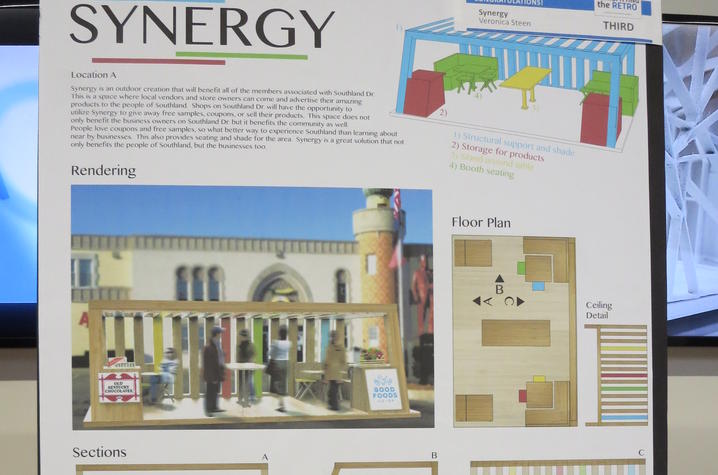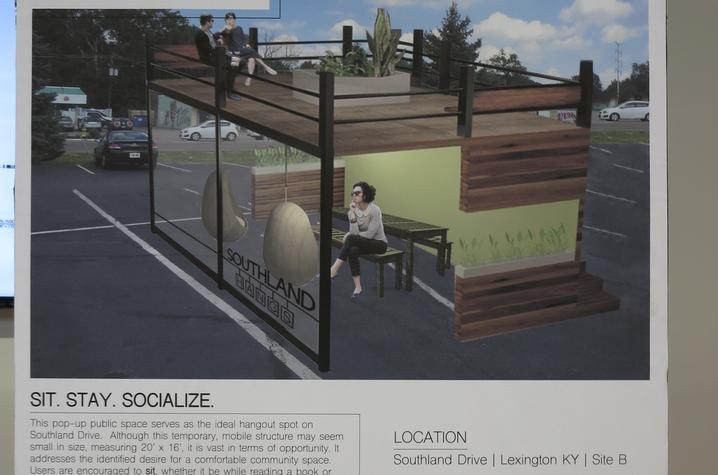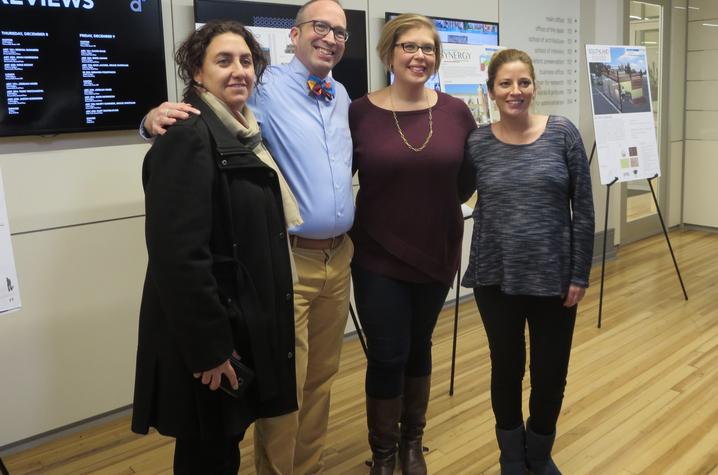 UK is the University for Kentucky. At UK, we are educating more students, treating more patients with complex illnesses and conducting more research and service than at any time in our 150-year history. To read more about the UK story and how you can support continued investment in your university and the Commonwealth, go to: uky.edu/uk4ky. #uk4ky #seeblue