UK Faculty, Campus Invited to Beckman Scholars Reunion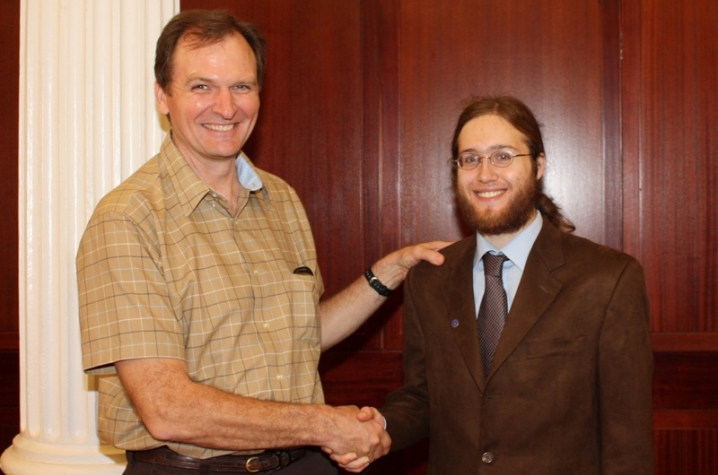 LEXINGTON, Ky. (Aug. 5, 2010) - For the first time the University of Kentucky Beckman Scholars Program is inviting its former scholars to campus for a reunion, and the campus community is invited as well.
The Beckman Scholar Symposium will be held 8:30 a.m. to 3 p.m. Friday, Aug. 6 at the Charles T. Wethington Jr. Building in Commons Room 127. Special guests and former scholars will be giving presentations throughout the day, including Megan Flynn (2003-04), Lesley Mann (2008-09), Laura Crawford (2009-10), Martha Robinson (2009-10), Nick Badre (2005-06), Andrew Lynch (2007-08), Edward Kobraei (2007-08), Ashby Clay Turner (2008-09) and current scholar Philip Houtz (2010-11).
Guest speaker for the event is Dr. William Welch, a professor of medicine at Georgetown University and UK Alumnus from 9:15-10 a.m. Other special guests will include President Lee T. Todd Jr. and Associate Provost for Undergraduate Education Mike Mullen. Provost Kumble Subbaswamy will welcome the scholars at a private reception scheduled Thursday evening.
Faculty members and those who worked with the scholars are highly encouraged to attend this unique event and learn more about what the Beckman Scholars have accomplished since completing their undergraduate studies and research at UK.

"The Beckman Scholars Program is a highly prestigious award and UK is a national leader with nine years of undergraduate Beckman Scholars now pursuing careers in science and research," said Jeff Osborn, professor and associate chair of biology and chair of the Beckman Scholars committee. "The advent of the UK Beckman Scholars Symposium will maintain the future communication and development of mentoring for our UK Beckman Scholars family for years to come."

The Beckman Scholars Program, established in 1997, is an invited program for accredited universities and four-year colleges in the US. It provides scholarships that contribute significantly to advancing the education, research training and personal development of select students in chemistry, biochemistry, and the biological and medical sciences.
Funded by the Arnold and Mabel Beckman Foundation, the program selects 10-15 universities each year for a three-year grant, during which time the university awards Beckman Research Scholarships to six undergraduate students over that three-year period. Universities can award up to any three students in one year. UK has now completed its third, three-year award.