UK Geography Maps Facts Of Downtown Stream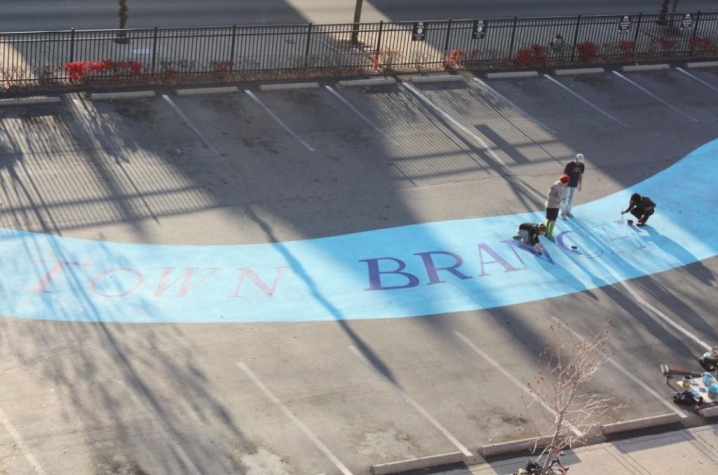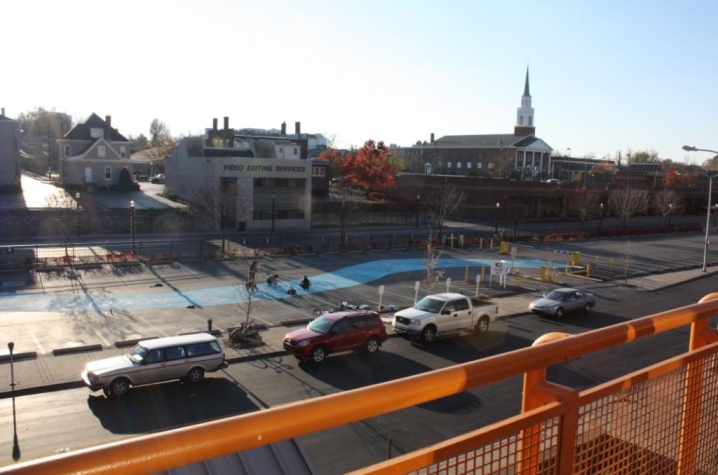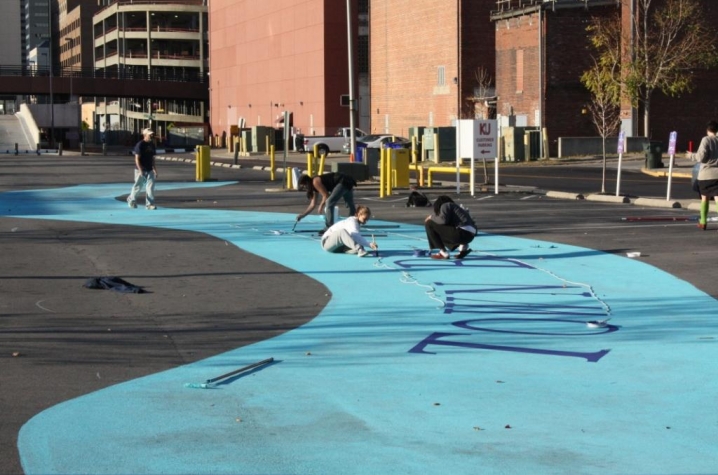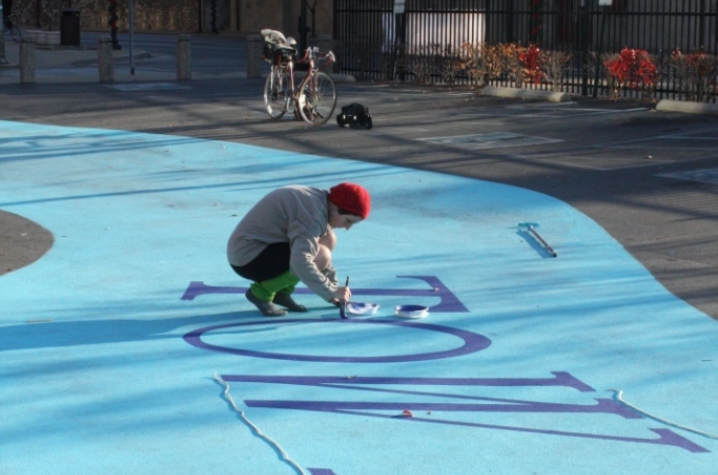 LEXINGTON, Ky. (Nov. 16, 2010) −The discipline of geography stretches longer than a latitude line and delves deeper than a map legend can quantify.
"Geographers show how the landscape is an unwitting autobiography of society, "said Hugh Deaner, a graduate student in University of Kentucky's Department of Geography. "By revealing the hidden Town Branch, we show the truth in this statement. We both create nature and are created by it. "
To draw attention to the connection between life and landscape, Deaner and his geographer cohorts painted a life-size map of Lexington's underground freshwater history in the Kentucky Utilities parking lot downtown this past weekend.
UK's Department of Geography celebrated the kickoff of Geography Awareness Week with a painted facsimile of Town Branch, the narrow stream along which the city of Lexington was built.

[IMAGE4]
With the help of local artist Blake Eames, of HorseMania and storm drain art fame, UK undergraduates, graduate students, geography faculty and Town Branch supporters painted a cartographically correct map of the waterway directly on top of its current (culverted) stream course in the heart of downtown, which happens to be situated upon the generously donated KU parking lot.
"We are drawing attention to the fact that we are a part of nature and society through this map," said Deaner. "We are combined ... the city and Town Branch."
The map design follows cartographic conventions, so that when seen from above, the completed project presents the illusion of "mapping Earth."
Many Lexingtonians don't know of the creek in the middle of town. "There's little general awareness of Town Branch," said Deaner. "By increasing awareness, we hope to change actions."
Geography Awareness Week was signed into enactment by President Ronald Reagan in 1987. This year's celebration runs from November 14-20. With the national theme of freshwater, UK drew on the occasion to focus attention on Lexington's central watershed.  
The 150-foot Town Branch representation attempts to open the channels of conversation and knowledge on sustainability, but also geography.
UK's Department of Geography is renowned for its critical thinking and multidisciplinary research, according to Deaner. "Maybe you'll take a second look at what you dump into a creek, or fix that oil leak in your car," he said. "And these are some of the issues we discuss in geography. Resources and amenities… landscape is important for life and affects who we are."
Geography Awareness Week gives attention to the relevance and importance of geographic literacy, and this year's goal gives special focus on the global freshwater crisis.
"The point with this project is to draw attention to the close connection between human life and freshwater," said Sue Roberts, Chair of the Department of Geography. "In the U.S., we lose track of that connection. We get our water from the faucet, but around the world, water is an increasingly scarce resource."
The map of Town Branch will remain until KU repaves its parking lot this spring.
For more information on the life-size map and Geography Awareness Week at UK, please contact Deaner at (859) 559-1045 or hugh.deaner@uky.edu.