UK Honors the 2017-2018 University Research Professors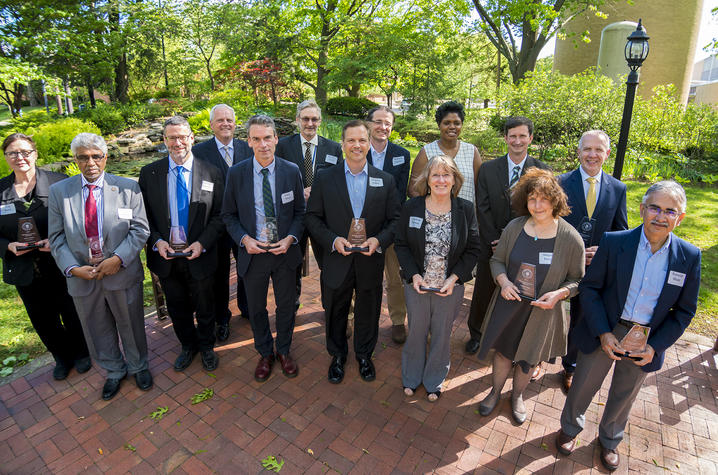 This week, it was my distinct pleasure to present the University Research Professorship Awards to 16 members of our faculty who have demonstrated excellence in research and creative work that addresses scientific, social, cultural, economic and health challenges in our region and around the world.
At a reception hosted by President Eli Capilouto at Maxwell Place, with their families, deans and associate deans for research on hand to celebrate with them, we had the opportunity to recognize and publicize the accomplishments of these scholars.
The University Research Professorships were established by the UK Board of Trustees in 1976 to recognize outstanding research achievements.
The University of Kentucky Strategic Plan (2015–2020) for Research has an overall objective to expand our scholarship, creative endeavors and research across the full range of disciplines to focus on the most important challenges of the Commonwealth.
To align with the Strategic Plan, last year we revised University Research Professors Program to recognize excellence across the full spectrum of research, scholarship and creative endeavors within each college. College leadership developed criteria for excellence within their area of expertise, and then nominated faculty who excelled at these criteria. Each University Research Professor receives a one-year award of $10,000 to be used to further their research, scholarship and creative endeavors.
The impact of these faculty to the University, and to the Commonwealth, cannot be overstated. They are shining examples of the tireless work that is moving the research enterprise forward, creating new knowledge, discovering new cures, and empowering the next generation of scientists and scholars under their mentorship to change their world for the better.
The 2017-2018 University Research Professors are:
Ole Wendroth, Plant & Soil Sciences, College of Agriculture, Food & Environment
Ramesh S. Bhatt, Psychology, College of Arts & Sciences
Abigail Firey, History, College of Arts & Sciences
J. David Johnson, Communication, College of Communication and Information
Gregory Luhan, School of Architecture, College of Design
Lisa A. Ruble, Educational, School and Counseling Psychology, College of Education
I.S. Jawahir, Mechanical Engineering, College of Engineering
Ebony G. Patterson, School of Art and Visual Studies, College of Fine Arts
David M. Hardesty, Marketing and Supply Chain, Gatton College of Business & Economics
Charlotte A. Peterson, Rehabilitation Sciences, College of Health Sciences
Melynda J. Price, College of Law
Bradley K. Taylor, Physiology, College of Medicine
Matthew S. Gentry, Molecular and Cellular Biochemistry, College of Medicine
Terry A. Lennie, College of Nursing
Jeffery C. Talbert, Pharmacy Practice and Science, College of Pharmacy
Glen P. Mays, Health Services and Management, College of Public Health