UK Libraries Receives Grant for Web Search Technology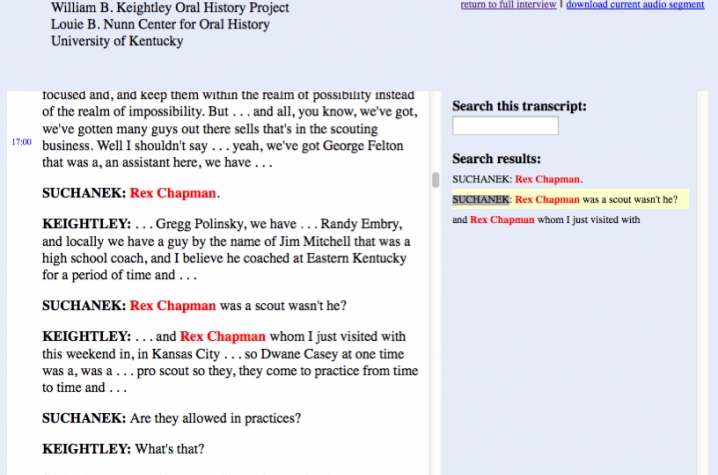 LEXINGTON, Ky. (Oct. 11, 2011) − The Institute of Museum and Library Services (IMLS) has awarded the University of Kentucky Libraries a $195,853 National Leadership Grant to further develop their Oral History Metadata Synchronizer (OHMS). OHMS is a web-based system that allows users to search for specific terms within recorded oral history interviews. This tool will enable a wide variety of libraries and archives to enrich the use of digital oral history collections and will save considerable time for experienced and inexperienced researchers alike.
"The OHMS system is an ingenious development in synchronizing recorded oral histories with their transcriptions," says Peggy A. Bulger, director of the American Folklife Center at the Library of Congress. "While early oral historians considered the transcription to be authoritative, modern researchers understand that the words of the speaker are the most accurate oral history document. Working with oral testimony, however, has always been difficult without the compromise of a transcription, and the OHMS system allows researchers to coordinate oral documents with their transcripts in a way that preserves the integrity of the oral history."
IMLS National Leadership Grants support projects that have the potential to advance museum, library and archival practice. Grant proposals must address key needs and challenges that face libraries, museums and archives and should have a national impact. The UK Libraries grant for OHMS was presented under the Advancing Digital Resources category. Grant winners in this category support the creation, use, presentation and preservation of significant digital resources, as well as the development of tools to enhance access, use and management of digital assets.
The Louie B. Nunn Center for Oral History, under the direction of Doug Boyd, and Digital Library Services, under the direction of Eric Weig, at UK Libraries created OHMS to inexpensively and efficiently enhance access to and discovery of oral history online. The system provides users word-level search capability and a time-correlated transcript or index connecting the textual search term to the corresponding moment in the recorded interview online. The ability to pinpoint specific terms in lengthy oral history interviews will save the experienced researcher, as well as students or the general history enthusiast lots of time and effort.
"Before the OHMS system, any synchronization of speech and text was arduous," says Bulger. "Dr. Boyd's work, however, has made this task so easy that inexperienced workers, such as students, can synchronize hours of oral history in very little time. I don't believe that, in recent times, there has been a development as important as OHMS in the area of oral history transcription."
Since its creation, the Nunn Center has used the OHMS system to upload more than 500 interviews in the past three years. To try an OHMS search of the Nunn Center's oral history collections, visit the Kentuckiana Digital Library at http://kdl.kyvl.org/cgi/b/bib/bib-idx?c=oralhistbib;cc=oralhistbib;page=simple.
The new grant project is designed to create compatibility between OHMS and other popular content management systems empowering institutions, both large and small, to provide an effective, user-centered discovery interface for oral history on a large scale. In addition to developing OHMS compatibility with open source content management systems such as OMEKA and KORA, and larger scale commercial systems such as CONTENTdm, this project will develop multimedia tutorials instructing users on the use, installation and deployment of OHMS within particular content management systems.  Principal investigators on the project include Boyd; Mary Molinaro, associate dean for Library Technologies; and Weig.
To see a video how-to demonstration for OHMS, visit the Nunn Center's blog, "Saving Stories" at http://nunncenter.org/ohms-enhancing-oral-history-online/. 
As part of the project UK Libraries will work directly with multiple institutions that employ different content management systems in order to test the other systems compatibility with OHMS. Institutions taking part in the project include: Baylor University's Institute for Oral History; Oklahoma State University's Oklahoma Oral History Research Program; MATRIX at Michigan State University; and Cleveland State University's Center for Public History and Digital Humanities. Over the course of the project, UK will also work directly with smaller institutions as well, who want to enhance their online presentation of oral history.
For more information on the Oral History Metadata Synchronizer, contact the Nunn Center at (859) 257-9672.
MEDIA CONTACT: Whitney Hale, (859) 257-8716 or whitney.hale@uky.edu