UK's Kolesar 1 of 9 innovators selected for NIH-funded entrepreneurship program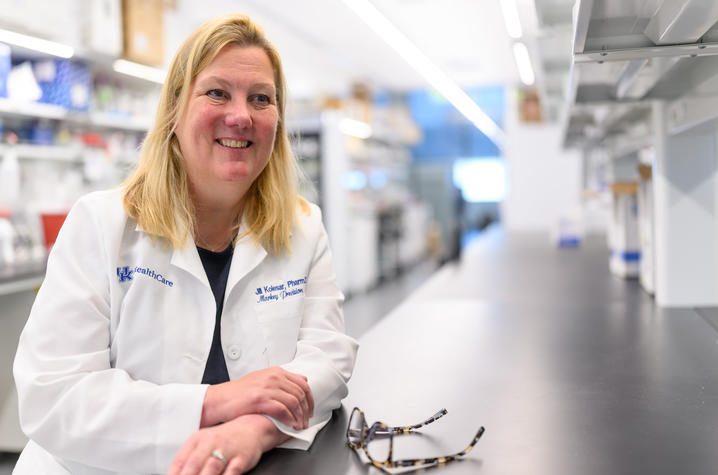 LEXINGTON, Ky. (Oct. 17, 2023) — One of the University of Kentucky Markey Cancer Center's leading researchers has been selected to participate in the inaugural cohort of the National Institutes of Health (NIH) funded Institutional Development Award (IDeA) Regional Entrepreneurship Development (I-RED) Program.
Jill Kolesar, Pharm.D., is a University Research Professor of Pharmacy in the UK College of Pharmacy and the Dr. Michael Karpf Endowed Chair in Precision Medicine. She is also the director of the Markey Cancer Center Precision Medicine Clinic, the co-director of Markey's Molecular Tumor Board and co-leader of its Translational Oncology Program.
XLerateHealth (XLH), a nationally recognized health care accelerator headquartered in Louisville, Kentucky, in partnership with UK through UK Innovate, selected nine innovators across the Southeast IDeA State region. Their technologies include medical devices, therapeutics, diagnostic and pharmaceutical solvents.
Kolesar, the only innovator from Kentucky, was chosen for her work founding VesiCure Technologies to develop a novel cell therapy to treat advanced-stage ovarian and other cancers.
"My research is focused on bringing hope where it's needed most — to cancer patients seeking advanced care in our facilities," said Kolesar. "It's a commitment I share with many of my colleagues at the Markey Cancer Center. I am thankful to be among this select group of innovators and look forward to enhancing therapies that can make an immediate impact on the health and well-being of our Commonwealth."
"As the lead academic institution of the XLerator Network, we are thrilled that this I-RED pilot program could select and fund so many promising technologies across the Southeast IDeA states. In particular, Kolesar's research and technology exemplifies the incredible biomedical discoveries in the region and at UK, and the potential impact that a program like this can have," said Ian McClure, J.D., associate vice president for research, innovation and economic impact and executive director for UK Innovate.
IDeA is a congressionally mandated program that builds research capacity in states that historically have had low levels of NIH funding. Kentucky is one of 24 eligible states.
The program's aim is to enhance an institution's capacity to bolster biomedical research, increase the competitiveness of researchers in obtaining research funding, and facilitate clinical and translational research focused on addressing the requirements of medically underserved communities.
The goal of the I-RED program is to help selected participants acquire the fundamental business and entrepreneurial skills needed to successfully commercialize their technologies.
About XLerateHealth
XLerateHealth's mission is to cultivate and grow impactful health care innovation in the Midwest, Southeast and other areas of the country where great innovation often goes unrecognized and underfunded. Founded in 2012, XLH supports the development of health care innovation through its health care accelerator, which helps startup founders commercialize their business and attract funding.
About UK Innovate
UK Innovate at the University of Kentucky is the innovation, entrepreneurship and economic enterprise for University of Kentucky Research. Through technology commercialization, corporate partnerships, social innovation, innovation training and economic development initiatives related to UK's research innovations, talent and community, UK Innovate works to move ideas into the world faster, where they can make the greatest social and economic impact possible.
Research reported in this publication was supported by the National Institute of General Medical Sciences of the National Institutes of Health under Award Number UT2GM148083. The content is solely the responsibility of the authors and does not necessarily represent the official views of the National Institutes of Health.
UK HealthCare is the hospitals and clinics of the University of Kentucky. But it is so much more. It is more than 10,000 dedicated health care professionals committed to providing advanced subspecialty care for the most critically injured and ill patients from the Commonwealth and beyond. It also is the home of the state's only National Cancer Institute (NCI)-designated cancer center, a Level IV Neonatal Intensive Care Unit that cares for the tiniest and sickest newborns, the region's only Level 1 trauma center and Kentucky's top hospital ranked by U.S. News & World Report.  
As an academic research institution, we are continuously pursuing the next generation of cures, treatments, protocols and policies. Our discoveries have the potential to change what's medically possible within our lifetimes. Our educators and thought leaders are transforming the health care landscape as our six health professions colleges teach the next generation of doctors, nurses, pharmacists and other health care professionals, spreading the highest standards of care. UK HealthCare is the power of advanced medicine committed to creating a healthier Kentucky, now and for generations to come.