UK Sports Medicine Research Institute Opens Its Doors
LEXINGTON, Ky. (June 14, 2017) —Today marked the opening of University of Kentucky's Sports Medicine Research Institute (SMRI), spearheaded by the UK College of Health Sciences and supported in part by a grant from the U.S. Department of Defense.
The 10,000-square-foot facility, part of the UK Nutter Training Facility on campus, will conduct research into injury prevention and performance optimization for professional and collegiate athletes, the tactical athletes of the U.S. military, and physically active people of all ages in Kentucky and beyond.
"Our research and scholarly endeavors offer the brightest hope for transformation and change for our Commonwealth and the broader world we serve," said Dr. Eli Capilouto, University of Kentucky President. "This sentiment fuels the work of this university, and it fuels the work of the Sports Medicine Research Institute."
Capilouto held the institute up as an example of the university's efforts to collaborate across disciplines in addressing the challenges and disparities that face the Commonwealth, noting that seven UK colleges are involved in the work of the SMRI, in addition to personnel from UK HealthCare.
There is no similar facility within 400 miles of Lexington.
The SMRI is outfitted with sophisticated equipment to assess biomechanical, physiological, musculoskeletal and neurocognitive health and is supported by a team of eight core faculty, staff, and research assistants and 40 affiliate faculty. In addition to its Lexington location, SMRI operates a facility in Camp Lejeune, North Carolina, where its team works directly with MARSOC – the Marine Corps Forces Special Operations Command.
A biomechanics laboratory conducts motion analysis studies using 14 cameras and a dual force plate system in the floor, like the technology used to make video games and animated movies. Equipment shaped like a horse simulates realistic movement for jockeys and other equestrians.
There is also a neurocognitive lab that uses virtual reality to assess visual acuity, reaction times, and balance, which are critical measurements for concussion recovery.
Other equipment is designed to measure oxygen consumption, workload and metabolic costs, physiological stress, and the influence of sleep deprivation/fatigue, all of which are important contributors to musculoskeletal strength, endurance, operational performance, and injury risk.
Dr. Scott Lephart, dean of the UK College of Health Sciences and founder of the SMRI, leads the $4.2 million Department of Defense grant that helped launch the SMRI. He said that the military can adapt from lessons learned in athletics and vice-versa.
"The elite warriors of the U.S. military are expected to be at peak performance in extremely dangerous and unpredictable situations, and there's no room – either financially or personally – for them to sustain a preventable injury," said Lephart, who is also UK Endowed Chair of Orthopaedic Research. "Our research with athletes both military and civilian is mutually beneficial, and it will result in strategies for injury prevention and performance for every walk of life."
University of Kentucky Provost Tim Tracy emphasized that the SMRI serves an educational need, in addition to its missions in research and clinical care, noting that the program provides educational experiences for both undergraduate and graduate students across the university.
"With this emphasis on collaboration, the different branches of UK's mission — education, research, service and care—converge in the work of the SMRI," he said.
Dr. Michael Karpf, UK executive vice president for health affairs, predicts that SMRI's impact will extend far beyond the realms of tactical warriors and professional athletes.
"SMRI is a powerful merger of research, outreach and collaboration, enhancing UK HealthCare's efforts to address chronic disease and poor health in Kentucky," Karpf said.
Mitch Barnhart, UK Director of Athletics, noted that the SMRI was not just a valuable resource for UK athletes, but for professional and youth athletes across Kentucky and nationally.
"This is yet another example of the power of partnership on our campus," Barnhart said. "By working together, we are creating cutting edge resources for athletes both here at UK and beyond. The efforts of the SMRI will help minimize injury and maximize athletic performance in sports ranging from football to NASCAR and from basketball to horse racing."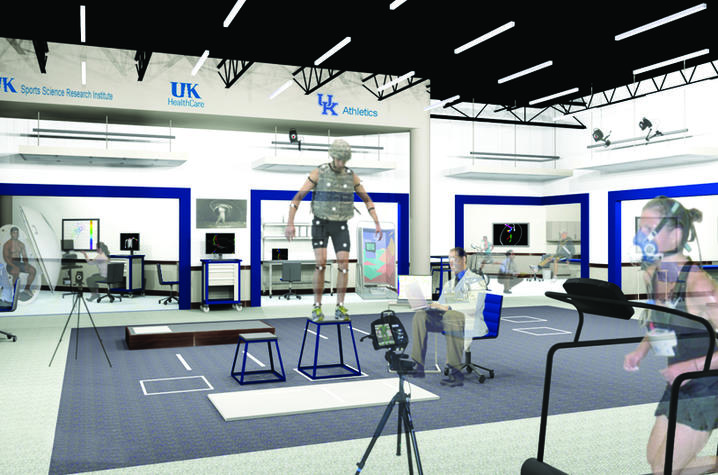 UK is the University for Kentucky. At UK, we are educating more students, treating more patients with complex illnesses and conducting more research and service than at any time in our 150-year history. To read more about the UK story and how you can support continued investment in your university and the Commonwealth, go to: uky.edu/uk4ky. #uk4ky #seeblue