UK, Stakeholders Break Ground on Grain and Forage Center of Excellence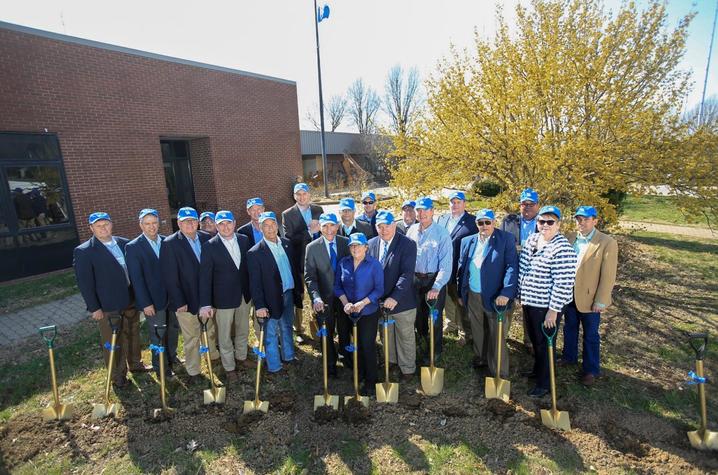 Princeton, Ky. (March 16, 2018) –  University of Kentucky researchers have a long, storied history of working with farmers and stakeholders to make the state's agricultural community world leaders in innovation and adaption. Yesterday, they joined together to break ground on the Grain and Forage Center of Excellence, a facility that will allow them to continue this rich tradition.
"UK is inextricably linked to the well-being and the economic development of all 120 Kentucky counties," said UK President Eli Capilouto. "Agriculture is a fundamental component of the Kentucky economy, and the innovation underway at UK's Research and Education Center in Princeton advances that work. This new center of excellence expands and enhances our capacity to serve as the University for Kentucky."
To accommodate the center, UK's Research and Education Center in Princeton is undergoing a renovation and expansion. The College of Agriculture, Food and Environment facility will serve as the center's nucleus with faculty and staff based at Princeton and Lexington.
Among the improvements are updated and state-of-the-art meeting facilities, laboratories and offices, and a boost to the center's high-speed internet capabilities to allow graduate students stationed at the center to remotely participate in classes in Lexington. These improvements will enhance the college's extension, research and teaching missions.
"The network of ag-related partners we have in this great state is second to none, and it has helped UK become a world leader in agriculture research," said Nancy Cox, dean of the College of Agriculture, Food and Environment. "We are excited about the opportunities this center will provide for the farm families of Kentucky. Our goal is to help improve Kentucky's farm economy by promoting advanced technologies and useful practices through research and extension."
The center is a testament to the strong working relationship between UK specialists and Western Kentucky farmers with the idea coming from Logan County farmer Don Halcomb and Lloyd Murdock, UK extension soils professor emeritus.
"We needed the ability to attract outstanding extension researchers to work in our unique soils and climate, and the center of excellence will help us do that," Halcomb said.
The idea gained support and momentum from the state's farmers and commodity groups. It became a reality when the Kentucky Agricultural Development Board awarded the university $15 million in July 2016.
"The UK Grain and Forage Center of Excellence is the largest project ever approved by the KADB," said Warren Beeler, executive director of the Governor's Office of Agricultural Policy. "This project has the power to positively affect Kentucky agriculture for the next 50 years."
As part of the Kentucky Agricultural Development Board grant, the university is required to raise an additional $15 million match within five years. To date, the college has received more than $7 million in gifts, grants and other donations toward that match.
As a result of the center, a team of UK researchers have started new projects to better understand the connections between intensive agriculture production and water quality. Some of the projects underway include mixed forages for grazing cattle and their impact on other species and better use of chicken litter as a soil amendment on Kentucky fields. They will partner with local producers as these projects progress.
"We are focusing on issues that are important to Kentucky farmers and citizens," said Chad Lee, the center's director. "We are approaching this with the same multidisciplinary effort that we did with no-till adaptation and intensive management of wheat, which were state-level problems UK researchers tackled that had worldwide implications."
The center is expected to be complete in summer 2019.