Under Construction: A New Resource to Target Health Disparities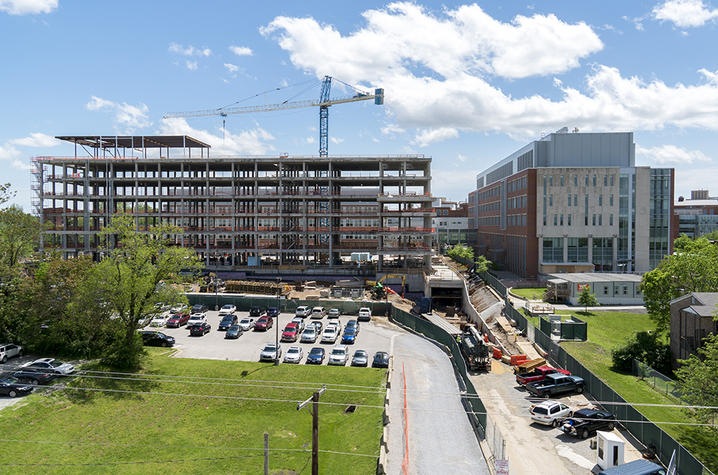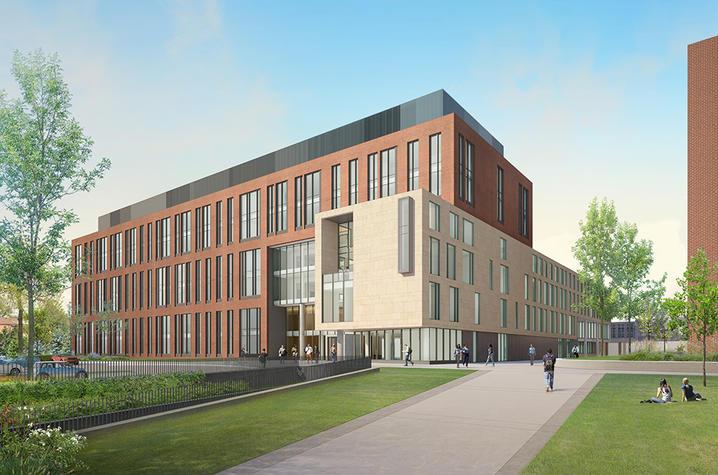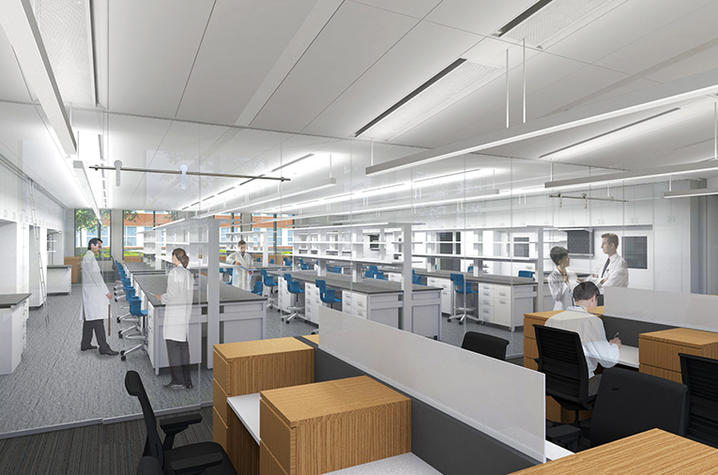 If you've driven along Virginia Avenue, toward main campus, you've seen the steel skeleton of the new research building under construction. This is Research Building 2 (RB2), a precious resource and a vehicle for the University of Kentucky to reduce the health disparities that most impact Kentucky.
This building will house researchers that focus on the following disparities: cancer, obesity, diabetes, cardiovascular diseases including stroke, and substance abuse. These conditions have a major adverse impact on the health of Kentuckians, contributing to death rates from each disease that rank within the top 11 states in the nation.
RB2 will enable multidisciplinary research that approaches these disparities from numerous fields and perspectives—health care researchers (both basic and clinical), public health, behavioral sciences, agriculture outreach and extension, economics and engineering—working in close proximity and collaboratively to develop solutions to these complex problems.
This $265 million building (funded half from the state of Kentucky, half from university resources, including private gifts) is scheduled to open in summer of 2018.
The design of this modern research facility embodies a lifestyle that reduces health disparities, including a healthy food choice restaurant, a room to house bicycles for travel to and from the facility, and prominent staircases to encourage physical activity.
Within the laboratories, the design and focus comes with a specific scientific underpinning: much of discovery today, whether at the cellular or community level, happens at the intersection of disciplines. This facility, by placing investigators together in "neighborhoods," is designed to foster discovery and collaboration so that what happens in the course of basic research can be translated to answers and solutions at the community level.
By placing people, who are working on the same problem—say, cancer—but from different angles (economics, biomedicine, public health), next to each other in a single building facilitates communication and promotes new avenues for problem solving. Through this design, the project will improve the lives of Kentuckians by providing modern space that lends itself to multidisciplinary research that is needed to address entrenched health problems.
While each of these major diseases influence citizens across the Commonwealth, they are of immense concern to our citizens residing in rural Appalachia, a region with some of the most pronounced rates of chronic diseases in the country. A recent report from the University of Washington showed rates of death from cancer in the United States dropped by 20 percent between 1980 and 2014. However, these gains were not distributed equally across the country. Clusters of high mortality were found in many states, including Kentucky. Four main factors are thought to drive these disparities: socioeconomic status, access to health care, quality of health care available, and prevalence of risk factors, such as smoking, obesity and lack of physical activity. The Appalachian region of Kentucky experiences a perfect storm of these factors driving disparities. A primary focus of research within the new building will be determining factors that drive more disease risk and burden in Appalachia, and developing preventive and therapeutic approaches that are optimized to have greater benefit to those living in this region.
RB2, the Biological Biomedical Research Building (BBSRB) and the Lee T. Todd Jr. Building will be linked in complex, to further foster collaborative and multidisciplinary research. The connecting conduit building, serving as the spine of the complex, has been named the Appalachian Translational Trail, as it will house the nucleus of translational researchers who bring together all disciplines. 
The real power of research is realized in bringing different groups of experts together, and in order to tap into that power, we applied a multidisciplinary approach to the planning of this new building. We began by aligning our work with the goals of the 2015-2020 Strategic Plan. These are invest in UK's existing strengths and areas of growth in selected focus areas that benefit and enrich the lives of the citizens of the Commonwealth; recruit and retain outstanding faculty, staff and students; improve the quality of the research infrastructure across campus; and strengthen engagement efforts and translation of research. The planning and implementation of RB2 touches on each of these goals.
The health disparities we are targeting are, indeed, areas of current UK strength in research and health care. We have strong individual investigators across all colleges at UK, as well as existing collaborative research centers that can bring intensified focus in these areas. We've tapped these experts, based on thematic areas in each of these health disparities, to use data (i.e. grant funding, expenditures, research space) to evaluate our current resources, and identify areas in which we could strategically invest to expand resources and hire new investigators, who will most likely be housed within RB2, to make the biggest impact for Kentucky.
By growing our research enterprise to focus on the most critical health needs of Kentucky, we can translate basic science findings to clinical practice and to the community to fight these devastating health disparities and improve the quality of life for Kentuckians. We thank Kentucky legislators for their support of RB2, and we will do everything in our power through this precious resource to make that difference.