Undergraduate Research Involvement Leads UK Economics Student to Federal Reserve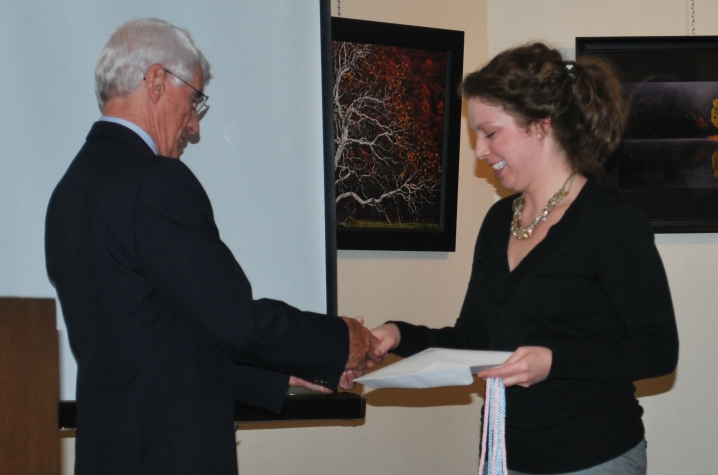 LEXINGTON, Ky. (March 16, 2012) — Rachel Keller realized her enthusiasm for economics and desire for research when her professors in the University of Kentucky Gatton College of Business and Economics encouraged their students to look beyond obtaining an "A" in class. Instead, faculty urged their students to consider real ways to get involved in the field and have a measurable impact on economic issues. 
During Keller's junior and senior years at UK, she heeded her professors' advice and was soon named a Gaines Fellow by the UK Gaines Center for the Humanities. Given in recognition of her outstanding academic performance, demonstrated ability to conduct independent research, interest in public issues, and desire to enhance understanding of the human condition through the humanities, the fellowship gave her the opportunity to apply and expand her economic research interests with a historical and theoretical approach to economic topics.
Keller was then named a Chellgren Fellow, more affectionately known as a "Chellow," which enabled her to work with an outstanding faculty member in the UK Department of Economics, Kenneth Troske, interim associate dean of the Gatton College, Sturgill Professor of Economics and director of the Center for Business and Economic Research (CBER).
"I am particularly interested in banking and financial crises and how risk is dealt with," Keller said. "Given our current economic situation, I think this field is possibly more fascinating and relevant than ever. The UK Chellgren Center for Undergraduate Excellence really gave me a push in the right direction, back when I wasn't sure what I wanted to do or where I wanted to focus my efforts at UK. I had enjoyed my economics courses thus far and was interested in becoming involved in research, but I wasn't sure of the best way to do that."
Her senior thesis, "Minsky Moments: A Comparison of the Panic of 1907 and the 2007 Financial Crisis through Hyman Minsky's Financial Instability Hypothesis," was completed with the help of Troske, David Hamilton of the Department of History, and Sarah Lyon of the Department of Anthropology. The thesis was instrumental in more than one way.
"It really helped to solidify important research skills and cemented my interest in the field of monetary and financial economics," Keller said.  "I think being a part of the Chellgren Center really established me as a student with the qualifications and the drive that is
necessary to conduct research at that level."
Some of the other work that Keller, Troske and the Chellgren Center have collaborated on includes a study evaluating the effects of NAFTA (North American Free Trade Agreement) on Kentucky exports. Keller was able to publish the final paper in the Kentucky Annual Economic Report 2010 and present it at several state and national research conferences.
After deciding to wait a bit before going to graduate school, she began thinking about the kinds of jobs that would be appealing to her. She had an interest in monetary and financial economics, which ultimately led her to landing a job at the Federal Reserve System in New York.
"It was an ideal choice, so I began applying online for research associate jobs at multiple federal banks around the country," Keller said.
The application process was similar to many others in that it required the online application, cover letter, resume and writing samples. But it also consisted of multiple phone interviews, a trip to New York City for a traditional interview, and letters of recommendation. In the traditional interview, they were particularly interested in her research while at UK.
Keller eventually plans to attend graduate school and obtain a doctorate in economics. She has had several mentors who have influenced her throughout her time at UK including Robert Rabel, director of the Gaines Center, and Lisa Broome-Price, associate director of the Gaines Center, who were invaluable in their continuous support of her endeavors with their commitment to high level research from Gaines Fellows.
After working with Troske on the research project for the Chellgren Fellowship, he then employed Keller as a research assistant in CBER.  Three years there further prepared Keller to accept the position with the bank.  She credits Robert Gillette, Christopher Jepsen and James Fackler, all with the UK Department of Economics, as some of those who were particularly instrumental in her development as a scholar.
"Dr. Troske always encouraged me to push my limits — to strive for what, at least to me, seemed impossible as an undergraduate researcher.  I think he knew that I had potential far before I realized it myself," she said. 
"Rachel is easily one of the best students I have worked with during my academic career," Troske said. "She is bright, creating and an independent worker. I am confident she will make an outstanding RA for the Federal Reserve Bank of New York."
The Chellgren Fellows Program was made possible by the Chellgren Center, which is an intentional collaboration among prestigious undergraduate programs with the mission of improving undergraduate education. The center was created in August 2005 with an initial gift of $1.5 million from alumnus Paul Chellgren and his family, with an additional gift of $250,000 in September 2006.  His total commitment of $2.25 million was matched by the state's Endowment Match Program, creating a $4.5 million endowment for the Chellgren Center for Undergraduate Excellence. The center is a part of the UK Division of Undergraduate Education.