"see success." - Just Google Him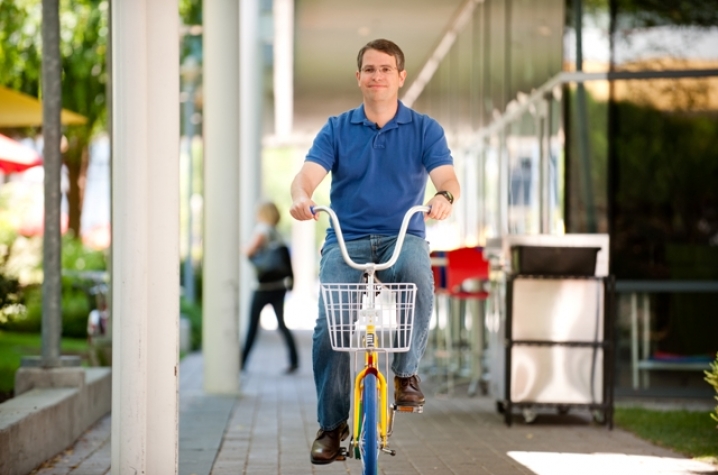 For a text transcript of this video, please see the attachment below.
LEXINGTON, Ky. (Aug. 26, 2011) – To many people, Matt Cutts, Arts and Sciences and Engineering, '95, is simply known as No. 71.
But in the high-tech world of Silicon Valley, that means he is much more than just a number.
[IMAGE2]
As one of Google's first 100 employees ever, Cutts was on the ground floor of what is today the world's largest search engine. It's a company that operates each day under the premise that helping people access the information they need when they need it can literally change the world for the better.
And Cutts, a native of Morehead, Ky., gives much of the credit for his success at Google to the undergraduate education he received at the University of Kentucky.
"There's no reason you can't get as good of an education at UK as anywhere else in the world," said Cutts, a 1995 graduate in computer science and mathematics. "It's totally true, right? All these people went to Stanford and Harvard and MIT and Carnegie Mellon, and at UK you can totally keep up with them. You just have to make sure you put in your work and put in your time."
At UK, all the study was aided by a number of scholarships and academic honors, including a Singletary Scholarship, Dean's Scholarships in Arts and Sciences and a Gaines Fellowship in the Humanities.
Cutts says he also had the opportunity to closely work with faculty on 3-D imaging and scanning. Because of a professor who took interest in him, Cutts also took graduate classes as an undergrad, conducting real research that fueled his interests.
[IMAGE3]
"I had the chance to not just see what grad school would be like, but see what the actual research is like," Cutts said. "Not just take classes, but really participate in the process of pushing things forward."
It wasn't all study, of course. Cutts says Lexington is a great college down with offerings like Keeneland Racetrack in the fall and spring and, closer to campus, football and basketball games watching the UK Wildcats.
"There's nothing like the spirit of, for example, basketball at UK," Cutts exclaims. "So, I would go to as many games as I could. And just to be in Rupp Arena with thousands of people all rooting for the team."
After grad school, while thinking about what to do next, Cutts ran across an article about an exciting new search engine company called Google. After inquiring and being interviewed a couple of times, Cutts found himself making the transition to California's Silicon Valley, the center of the high-tech world.
When Cutts started with Google it was an aspiring internet startup. Today, the sprawling company employs tens of thousands of people and Cutts plays a critically important role in keeping Google one of the world's most important companies.
As head of the web spam team, Cutts works with engineers to ensure that people using Google get good search results, rather than spam from cheaters who try to game the system and move their links higher up the rankings.
[IMAGE4]
"It's a lot of fun; it's different every day," Cutts says. "You never know exactly when you come in in the morning what the next crisis will be or what the next attack will be. So not only do you get a chance to feel like you are making a difference, but you get a lot of variety and lot of interesting stuff that you work on."
The importance of Cutts' work and the team he leads puts him frequently in the spotlight with interviews that land him in publications like BusinessWeek and The New York Times.
But for Cutts, what's more important is that the work that he does at Google helps people each day organize the massive amounts of information that they see, read or hear. "You know people can work more efficiently, they can work better," he says. "We get emails from people who say, 'I was having a heart attack and I typed in heart attack symptoms and got the right answer really fast and it led me go to the emergency room' … We've literally had people come and say 'Google saved my life.'
And that's the sort of thing where you just feel like, I can't believe I'm a part of this, I can't believe I'm helping and making a difference."
Want to learn more about how you can "see blue." or where a UK degree can take you? Visit www.seeblue.com.