First Graduates of Online Master of Applied Statistics Find Skills in High Demand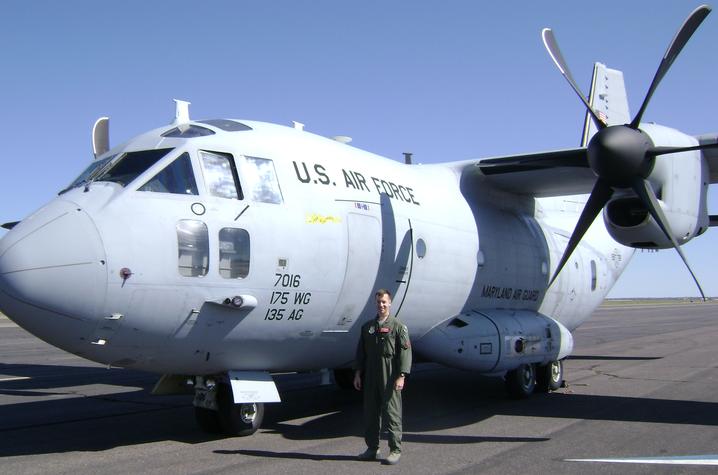 LEXINGTON, Ky. (May 24, 2018) — Eric Rannenberg was coming out of a math course on the University of Kentucky campus when he saw a flier that completely changed his academic plan. The flier, promoting the UK College of Arts and Sciences' online Master of Applied Statistics, led Rannenberg to apply to the program and begin his studies that semester.
"I dropped all of my other classes except one, joined the statistics program three weeks late and worked hard to get caught up," he said.
This May, two years later, he walked across the stage at Rupp Arena receiving his master's degree as part of the first cohort of the new Master of Applied Statistics online professional graduate program.
"My job is very statistics heavy, and once I learned more about the online Master of Applied Statistics, I knew it was ideal and exactly what I want to be doing," Rannenberg said.
A native of Kentucky, Rannenberg joined the Marine Corps Reserve after high school and earned his bachelor's degree in business management from Eastern Kentucky University. After graduating, he served 10 years as a pilot in the Marines flying the KC-130J aircraft on active duty and deployed twice overseas. In 2009, Rannenberg separated from active service and joined the Maryland Air National Guard as a pilot of the C-27J aircraft. In the midst of flying, he successfully completed his MBA from the University of Maryland University College in 2013. Still active in the Air National Guard, Rannenberg commutes from Versailles, Kentucky, to his full-time job conducting operational test and evaluation of Navy and Marine Corps aircraft in Maryland.
"The Master in Applied Statistics absolutely enhances my skills for my current job – it sets me apart and gives me skills that aren't common," Rannenberg said. "I work with a group of people who are all highly skilled and mathematically inclined, but very few have a statistical background.  Statistical literacy will be a skill that will only becomes more in demand with the rising data revolution."
The applied statistics master's program was developed in an effort to reach a wide audience including working scientists, traditional and nontraditional students and professionals looking to expand career opportunities through building statistical expertise. The program's two-year and four-year track options allow students flexibility to complete the coursework at their own pace.
"Our online master's in applied statistics provides our students with data analytic skills that make them immediately employable upon graduation," said Arnold Stromberg, chair of the Department of Statistics.
The online program is taught with a combination of live and recorded lectures using the latest lightboard technology and weekly "meet the expert" live Q&A sessions.
"The faculty are outstanding and the technology used in the classes make you feel that, no matter where you are watching the class, you are experiencing it as if you are sitting in a live classroom," Rannenberg said. "At any time, students can post questions and have them answered within 24 hours. It provided me that same feeling of instructor interaction as going daily to a face-to-face class."
The Master of Applied Statistics provides students with a variety of skills that include managing "big data" and successfully describing, analyzing and making inferences using current and rapidly evolving statistical methodologies, Stromberg said.
"The demand for well-trained statisticians is strong at local, state, national and international levels," he said.
According to the "Occupational Outlook Handbook," published by the Bureau of Labor Statistics, the U.S. demand for statisticians is currently high and growing with a 27 percent projected increase in jobs from 2012 to 2022. Rannenberg began to hear about new professional opportunities as he neared graduation this spring.
"I've already gained the attention of recruiters because of this degree. It's enabling a lot of new opportunities that would not have existed otherwise," he said. "The investment was completely worth it because it has enriched my ability to do my current job, and I am now able to extract information from the data that had never been noticed before."
Before completing the applied statistics master's program, Rannenberg looked at the job requirements for statistics and data science positions at various companies and felt that he was not competitive. "Now I have a robust resume that includes examples of contemporary statistical methods and a large portfolio of data visualization techniques using two programming languages," he said. "It's not only experience with academic data sets, the instructors include a broad palette of real-world data."
Looking back at his past two years of study, Rannenberg feels strongly in the benefit of his investment in the program.
"The breadth of experience ranges from typical to complex analysis.  Students learn how to distill information and articulate the findings to be easily understood by a broad audience.  The degree gave me immediate and valuable skillsets, as well as the confidence to know the types of analysis required to solve complex problems," he said. "This is a program where you can come out and have immediate response from industry looking to hire people with applied statistical knowledge."