How to Make The Most of Your iPad Devices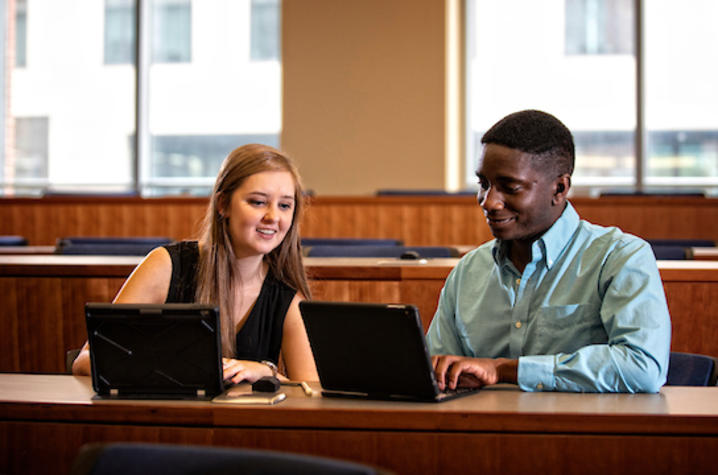 LEXINGTON, Ky. (Sept. 3, 2019) — When it comes to productivity, students are pros. Masters of multitasking, students today know how to work more efficiently than any other generation of students. Through the use of technology, they have learned to tackle any obstacle with merely the touch of a screen. 
Understanding the impact technology has on student success, and to ensure that all incoming freshman at the University of Kentucky are on a level playing field, in terms of technological resources, the university has provided Fall 2019 first-year students with iPad Air devices, promoting seamless productivity in and out of the classroom.
In hopes of maximizing students iPad optimization, we have compiled a list of how students can best utilize their new iPad devices. 
Download apps for success.  A core set of apps and web clips come pre-configured on your iPad and are available for download in the Self Service app on your device. Use these resources as you live and learn as part of our campus community. You may also download additional apps through the Apple Store, using your personal Apple ID.
Organize your apps. Make it easier to find your apps and categorize your apps used for school and your apps used for leisure by adding them to your dock and by creating folders. To add an app to your dock, tap and hold an app icon until it enlarges, then drag the app to the dock at the bottom of the screen. Create a new folder by clicking on an app, holding your finger down and then dragging it over another app. Let go and the two apps will now appear in a folder, allowing fast access to your favorite apps.
Manage your storage. Filling up quicker than a laptop, iPad storage is something that should be monitored. Your iPad can help. Go to Settings > General > Storage & iCloud Usage > Manage Storage and you can see what is taking up space. If that still does not allow enough space, using the cloud to store files is also a great option. 
Utilize split screen multitasking. Take notes while reading your textbook by making the most of the split-screen layouts. To access the split-screen features, touch the right edge of the screen and swipe to the left. A menu should appear giving you the option to open various apps. Once you select your second app, you can work side by side. To change the second app, touch the top of the screen on the right, and swipe down.
Schedule in your calendar. Time management is key in college. To help with that, schedule all appointments, social events and classes in your calendar. That way you will receive reminders to keep you on track. 
Sync your UK email to your device. Stay on top of your emails by having them sent directly to your iPad, allowing you to check emails on the go. 
Use your accessories. Handwrite your notes with your Apple Pencil, type on your Smart Keyboard or prop your iPad up with your case and relax with a movie. The accessories enhance the iPad and truly make it a multifaceted piece of technology. 
For hands on support with your iPad, visit the Peterson Building in room 122 from 8 a.m. to 5 p.m. You can also visit the Technology Help Center at https://techhelpcenter.uky.edu to view tech help articles online. For a full list of resources, visit www.uky.edu/smartcampus/resources.