How UK Spent the Summer: Interning in the Nation's Capital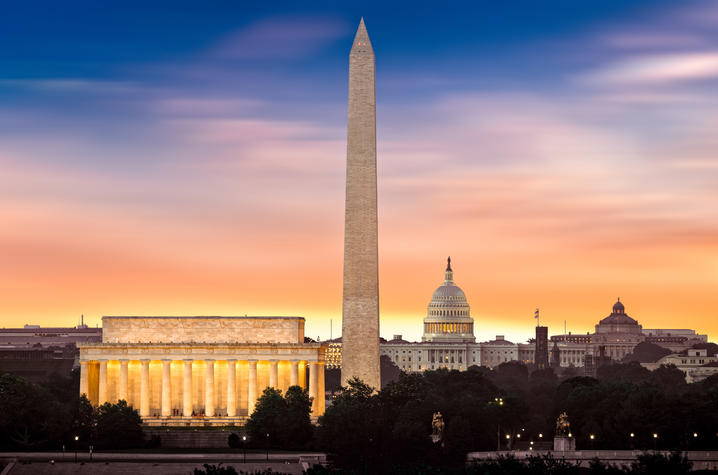 LEXINGTON, Ky. (Aug. 17, 2018) — Experience matters, and internships provide opportunities for students to apply their classroom curricula in hands-on, real-world environments. That is what 11 University of Kentucky students learned while interning alongside policymakers and elected officials in our nation's capital this summer.
This class came after the 13 students that participated in the inaugural class of the Wildcats at the Capitol program during the spring 2018 semester. The program allows students to participate during the academic year, utilize their financial aid and remain full-time students enrolled in credit-bearing courses taught by faculty in Washington, D.C.
The program is a partnership between the Department of Political Science, the College of Arts and Sciences, the Office of the President and the Student Government Association, with the shared goal of providing an affordable opportunity for students to intern in the nation's capital without delaying their time to degree. The program is open to students from any major or academic program, and provides an immersive experience that aligns academic coursework with hands-on experiential learning for students, a key outcome of the university's Strategic Plan.
Political science and business management junior Harper White interned with UPS Global Public Affairs' D.C. office in the spring and the House Democratic Budget Committee in the summer.
"My work with UPS has been both challenging and rewarding," he said. "By assisting UPS on company policy surrounding tax, pension and health care, I've had the opportunity to meet with several members of Congress, congressional staff and private sector stakeholders. I was even fortunate enough to attend the State of the Union. My goal is to end up in the D.C. area after graduation, and I believe my internship and the Wildcats at the Capitol program have greatly prepared me for my next career steps."
This year, the program was recognized by Washington Intern Student Housing (WISH) as one of the Outstanding New Programs in the nation. The award, presented to the university in early August, provides financial support to students interested in the internship program. 
Students can participate in the spring and fall semesters, as well as the traditional summer term. Applications are currently open for the 2019 spring term, and can be found on the program's website. Students interested in interning during the spring should submit their application, resume and a letter of recommendation by Sept. 19, 2018, to psintern@uky.edu.  
"I first fell in love with politics when I attended a National Leadership Conference as a high school student," political science and writing, rhetoric, and digital studies rising junior Hayley Leach, a spring intern for Senate Majority Leader Mitch McConnell, said. "From that moment, I knew that I wanted to pursue a career in politics, so I was thrilled to learn about UK's new program, Wildcats at the Capitol. My Washington internship has been the highlight of my time as a UK student. I have had so many amazing opportunities, and getting a firsthand look at the intricacies of the legislative process is the best experience for anyone interested in politics."
Students selected for this program are expected to work 30-40 hours a week in their internship placement. In addition, a UK-affiliated professor will teach two courses in his/her field of specialty, with a focus on taking advantage of Washington, D.C.'s resources to enhance the coursework. A comprehensive professional development and networking series will also connect participants with UK alumni and friends in the region.
"We recognized early in the process that we wanted to ensure financial need was not a barrier to participating in an internship," said Jesse Johnson, associate professor and internship program director in the Department of Political Science. "Students can apply for scholarships and financial aid to cover their tuition and fees, as well as competitive housing rates for the program. Last year, students participating in internships applied for and were awarded more than $20,000 in additional financial aid to cover program costs." 
UK contracts with the WISH program to locate students in close proximity to their internship experience. WISH locations are furnished, conveniently located in the Capitol Hill area, and Metro accessible. All efforts will be made to house UK students together.
The application period is now open, and admission decisions for the program are made on a rolling basis until the program is full or the application deadline (Sept. 19, 2018) is reached. Student selection will be based on an online application with open-ended questions, a resume, one letter of recommendation and an interview with the selection committee. 
For many, summer is a time to slow down, get a break from school and maybe take a vacation. At the University of Kentucky, summer is when our faculty, staff, clinicians and students prepare for a new school year, conduct research, treat patients and gain experience through internships and service work. Class may not be in session, but at UK we never slow down.