Johnson & Johnson Vaccine Available to Students for Limited Time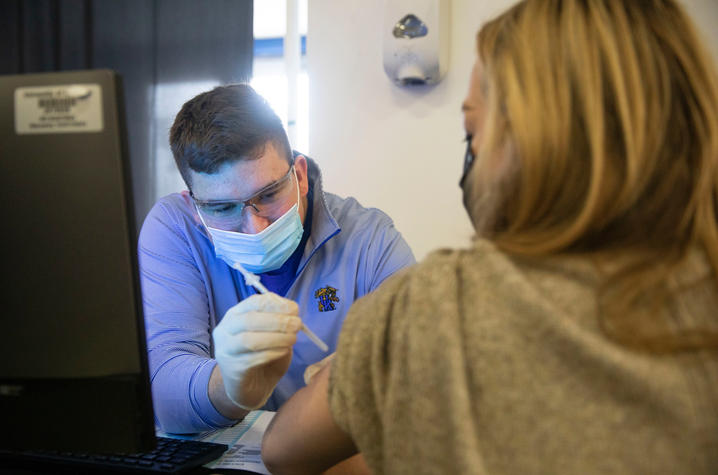 LEXINGTON, Ky. (April 2, 2021) — And email message from University of Kentucky Vice President for Student Kirsten Turner, and Student Government Association President Courtney Wheeler went to UK students Friday afternoon, April 2, discussing more COVID-19 vaccine options for students. The message is below.
Dear Students,
This semester, you have filled us with hope. And each day, as you continue doing your part to keep people safe — your community of friends, loved ones and those you've never even met — that hope grows stronger.
For a year, you have been meeting this moment. Now, it's time for one last push together:
If you haven't already, we strongly encourage you to be vaccinated for COVID-19.
Starting on Tuesday, April 6, you'll have the opportunity to receive the one-shot Johnson & Johnson (J&J) vaccine on the UK campus. 
DETAILS:
The J&J vaccine will be available at the Wild Health COVID-19 testing locations at the Gatton Student Center and at K-Lair, located in Haggin Hall. It will not be available at the Kroger Field Vaccine Clinic.
Hours are as follows:

The Blue Box Theater in the Gatton Student Center (walk-up): 10 a.m.-2 p.m. Tuesday through Sunday   
K-Lair, located in Haggin Hall on central campus (walk-up): 3 to 7 p.m. Tuesday through Sunday   

Making an appointment in advance is preferred, however, walk-ups can be accommodated. More details about the scheduling link will be shared over the weekend.
If you already plan on getting a COVID-19 test, we encourage you to consider receiving a J&J vaccine while you're there and upon completing your test.
Bring your student ID.
If you have signed up to be vaccinated at Kroger Field but would prefer the J&J vaccine instead, please cancel your Kroger Field appointment. Do that here and use your unique access code that was sent to the email you used in your vaccine request form. You can also let us know at the time you receive your J&J vaccine.
The J&J vaccine will be available while supplies last.
You must be 18 or older to receive the J&J vaccine. Those 16 or 17 years of age can go to Kroger Field but must be accompanied by a parent or legal guardian.
MORE ABOUT THE J&J VACCINE:
The J&J vaccine is the third of three vaccines being widely administered throughout the United States. As with the other two vaccines — produced by Pfizer and Moderna — J&J's vaccine was the subject of multiple clinical trials involving thousands of people and was subject to extensive review and scrutiny before being approved by the U.S. Federal Drug Administration.
It is safe and highly effective in preventing the virus and serious illness.
More specifically, it was 85 percent effective at protecting against severe cases of illness in late-stage trials, and no deaths or hospitalizations occurred a month after participants received the vaccine.
THE KROGER FIELD VACCINE CLINIC:
The Kroger Field Vaccine Clinic continues to be operational. If you would prefer to receive your vaccination (currently administering Pfizer vaccine) at this location, you can register here.
If you have already registered and want to keep your appointment, you do not need to change anything. Please plan on coming to Kroger Field at your scheduled time.
If you have any questions, contact our team at vaccine@uky.edu or 859-218-0111. You can also visit our student vaccine webpage for more information and answers to frequently asked questions.
For our community and those we love, for continued hope and healing and to see this through 'til the battle is won — let's do this.
Dr. Kirsten Turner, Vice President for Student Success
Courtney Wheeler, Student Government President