MLK Center and LGBTQ* Resources Unveil New Spaces in Gatton Student Center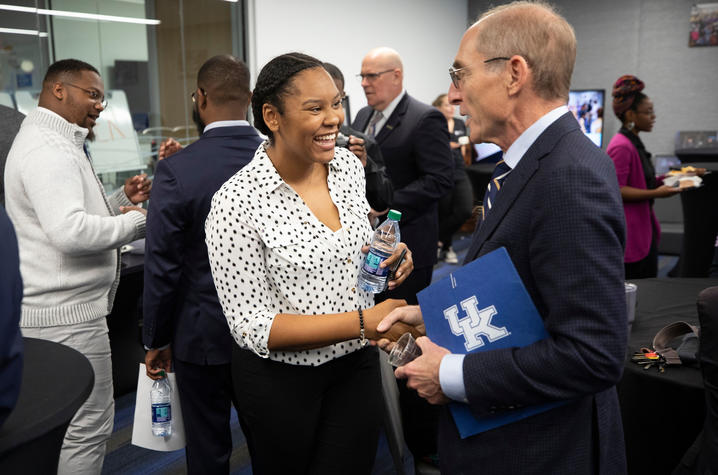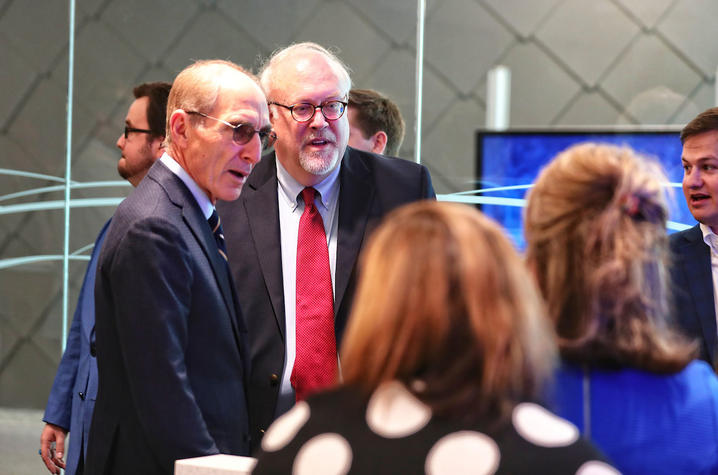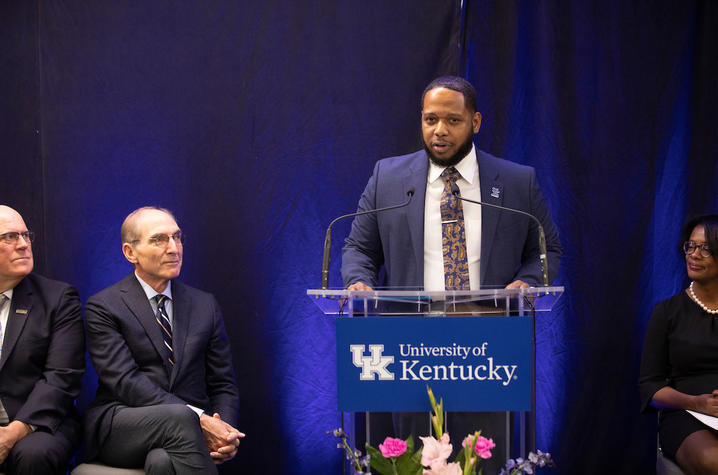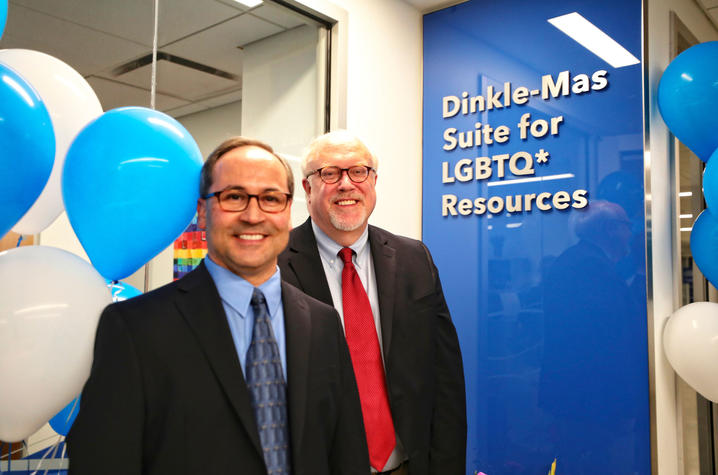 LEXINGTON, Ky. (Oct. 16, 2018) — The University of Kentucky brought diversity to life Friday, Oct. 12, as it unveiled two new spaces in the Gatton Student Center. The UK Office for Institutional Diversity revealed both the Martin Luther King Center's new suite of offices and student-activities space and the new Dinkle-Mas Suite, the main hub for student activity in the university's Office of LGBTQ* Resources.
The MLK Center's celebration began Friday morning with a dedication ceremony followed by a welcoming reception for its new director, Jason Brooks. The opening of the LGBTQ* Resources' redesigned Dinkle-Mas Suite took place with a ribbon cutting Friday afternoon.
"The University of Kentucky is committed to people," said Capilouto, who attended both events. "We thrive as a community — as a UK family — because our campus is a place of belonging and an environment for people of all backgrounds and identities to pursue their highest aspirations. By conveying that important message to our faculty, staff and students, the LGBTQ* Resources' Dinkle-Mas Suite and the new Martin Luther King Center play a central role in building a brighter future for our family and the Commonwealth we serve."  
Board of Trustees Vice Chairman Bob Vance echoed the president's sentiments. "Today, we commemorate our progress as a community of belonging. We speak with a unified voice about who we are and who we always want to be … a place where everyone — regardless of what they look like, what they believe, who they love or where they are from — belongs.
"Truly belongs.
"That's what President Capilouto means when he calls this place a community of belonging. That's what this board means, too. And this place … is a tangible, vibrant, clear and unyielding symbol of our commitment to that idea," Vance added.
Jason Brooks, the new director of the MLK Center, was welcomed at a late-morning reception Friday followed by an open house to allow the campus community to explore the new space set aside in the student center. The MLK Center highlights and celebrates identities and experiences through programming, allowing students to discuss myriad issues, understand diverse perspectives and grow from these experiences. 
"Deeply embedded in our identity as an institution is the responsibility to observe and testify to notions of truth, value, community and belonging," UK President Eli Capilouto said. "The Martin Luther King Center, housed in our campus living room, is a place for people of all backgrounds and perspectives to engage as a community; it is a place that promotes understanding, advocacy, justice and contemplation. We are thrilled to welcome Jason Brooks whose work plays a vital role in our promise to foster an environment of belonging for all who call this special place home."
UK Provost David Blackwell added, "The Martin Luther King Center is a resource for cultural awareness, cross-cultural understanding and belonging on our campus. As a UK family, we established straightforward and bold targets for achieving a more diverse campus in our Strategic Plan. The MLK Center plays a central role in pursuing those objectives, and in creating a welcoming environment for everyone at the University of Kentucky.
"UK is a diverse campus community where we work to ensure our students are prepared to live, work and compete in a diverse world," said Sonja Feist-Price, UK's vice president of institutional diversity. "The MLK Center is among the spaces within our campus community that helps to facilitate belong and engagement ... a place where everyone, regardless of identity or perspective, feels as though they belong."
Brooks chose to go "undercover," posing as a student, when he anonymously stepped on the Lexington campus for his initial interview for the job as director of the MLK Center. He just walked around campus, asking everyone he ran into — students, faculty or staff — what they thought of the university and its culture. 
"Every single person I asked," Brooks said, "gave a positive and warm response, which assisted in my (decision) to work at the University of Kentucky. Even though UK is a large campus, it's a close-knit community that loves each other and takes care of each other. It was one of the strongest qualities that I enjoyed about UK and the greater Lexington community."
In his first brief weeks on campus, Brooks has developed a firm vision for the future of the MLK Center. 
"My vision for the MLK Center is for it to be the state's leading learning laboratory on multiculturalism, social justice and pluralistic behavior. It should be a place where student, faculty, staff and community members can meet, dialogue and develop initiatives for the common good.   
Since much of the event planning for the 2018-19 academic year is well underway, if not completed, Brooks will begin planning now for August 2019 so that he can roll out new programs "geared toward the holistic identity of the students we serve. The campus community should expect a greater collaboration with departments across campus to promote student leadership, enhanced diversity-training modules and more inclusive programming," Brooks said.
A perfect example of his new programming is a Diversity Leadership Retreat for students. Brooks envisions it as an overnight retreat that "will bring UK students together from all walks of life to learn about the power of diversity through hands-on activities and deep conversations with other students."
Brooks wants the entire campus to clearly understand: "The MLK Center is for everyone! It's a space where students can just be themselves and relax. It's also a multi-purpose space that serves as the living room to our students. It's a one-stop shop for self care and affirmation of identity."
Feist-Price believes the UK MLK Center will only improve in the future under Brooks' guidance and innovation, creating a living example of one of her favorite quotes from Martin Luther King Jr. — "An individual has not started living until he can rise above the narrow confines of his individualistic concerns to the broader concerns of all humanity."
When Jim Dinkle ('82 communications) found the University of Kentucky's LGBTQ* Resource Center on Facebook, it had been more than three decades since he had visited the UK campus. Nothing like the center had been in place when he was a student here. In fact, it was such a different world in the early '80s that Dinkle was not "out" until several years after he graduated UK as the Student Government Association president and a voting member of the Board of Trustees in 1982.
Finding himself a proud UK alumnus for unexpected reasons, Dinkle visited campus in December 2017 to learn more about the LGBTQ* Resource Center. He met with Lance Poston, director of LGBTQ* Resources; Sonja Feist-Price, vice president for institutional diversity; and President Eli Capilouto. He says he was "shaken to the core" by Capilouto's first words as they shook hands — "Welcome home!"
"I felt as though I had walked across a time bridge," Dinkle said. "I found Dr. Capilouto to be intensely committed to the LGBTQ* Resource Center."
After carefully considering their options, Dinkle and his partner of 18 years, Carlos Mas Rivera, agreed to support the work Poston, the university and other UK alumni were dedicating to LGBTQ students.
"It was a lonely feeling knowing that I was gay," Dinkle said about his young adult years. "I never want to know of a young person today at the University of Kentucky who feels as conflicted, torn or alone as I once felt when I was a student 35 years ago."
Dinkle had found his purpose. Thanks to the generous gift of $250,000 by Dinkle and his partner Carlos Mas Rivera, the Dinkle-Mas Suite was dedicated Friday. Now, students will make it their own.
"UK has demonstrated their commitment to creating inclusive spaces on campus with the opening of the LGBTQ* Resource in the Dinkle-Mas Suite. This space serves as a home base and a one-stop information shop where students can celebrate, learn about, and support the diversity of gender and sexual orientation identities on campus. With the suite in Gatton Student Center, students, their friends and even their families no longer have to venture beyond the 'living room' of our university to receive the kindness and belonging that every member of our student body deserves. Students can rest assured that they are safe and valued. The Dinkle-Mas Suite is a gathering place that allows students to be proud of who they are, whoever they are."
Lexington's Mayor Jim Gray envisions the influence of the Dinkle-Mas Suite filtering beyond the borders of the UK campus.
"In addition to being an important part of the University of Kentucky community, LGBTQ* Resources is an essential player in broader inclusion and equity work throughout Lexington," said Gray. "The new Dinkle-Mas multipurpose suite only increases the scope and accessibility of LGBTQ* services that make our city a better place to learn, work and live." 
Located on the third floor of the Gatton Student Center, the Dinkle-Mas Suite will be the main hub for the UK Office for LGBTQ* Resources. It will function in two ways.
"The Dinkle-Mas Suite includes a formal office setting to conduct business for LGBTQ* Resources," according to LGBTQ* Resources Director Lance Poston, "but the area that energizes me the most is the new multi-purpose community room. It will include primary meeting space that will be especially important to student groups.
"The Dinkle-Mas Suite opens up so many new opportunities for campus outreach and support, too," Poston said. "Since LGBTQ* Resources moved into the suite in August, we have seen exponential increases in foot traffic from students and other community members who are accessing our direct structured services or using the space as a place to create community in more organic ways."  
Watching students actively embrace the Dinkle-Mas Suite and its services, Vice President for Institutional Diversity Sonja Feist-Price said, "LGBTQ* Resources is an integral part of our campus community, and our new space, located at the heart of our beautiful new student center, provides myriad opportunities to increase belonging and engagement throughout our entire university." 
Situated at the heart of the new Gatton Student Center, the Dinkle-Mas Suite will serve as a hub for accessing the services of the Office of LGBTQ* Resources. These supports include community building, education and advocacy initiatives that support students, faculty and staff in succeeding as their open and authentic selves. Individuals can come into the suite to access direct or referral services related to on-campus housing, holistic health and inclusive institutional identifiers. Additionally, multiple formal and informal student groups and classes utilize the space as a regular meeting site or comfortable space to study, network and develop a deeper sense of belonging as parts of a beautifully diverse university.
Dinkle's oral history can be found at http://nunncenter.net/outsouth/items/show/2.