National Pan-Hellenic Council, Incorporated Helps Build Campus Belonging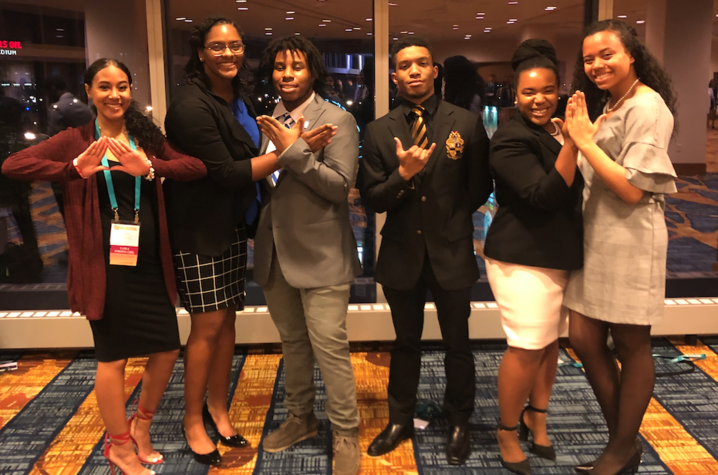 LEXINGTON, Ky. (Feb. 19, 2019) — The National Pan-Hellenic Council, Incorporated (NPHC) holds a rich history dating back nearly 100 years. Established during a time when racial injustice and segregation plagued the lives of African Americans across the country, NPHC illustrates the strength and determination that is the foundation of each of the nine organizations that make up the council. The history and traditions that encompass these organizations help to mold the lives of its members and shape a culture of belonging at the University of Kentucky. 
NPHC formed in 1930 on the campus of Howard University, in Washington, D.C., with a distinct mission: "Unanimity of thought and action as far as possible in the conduct of Greek letter collegiate fraternities and sororities, and to consider problems of mutual interest to its member organizations." With this mission, throughout the years, NPHC and each of the organizations under its umbrella have gone on to overcome adversity and accomplish incredible feats in the face of adversity. 
Currently, there are over 1.5 million members of undergraduate and graduate chapters served by NPHC, several of which are at the university. 
"The presence of NPHC on UK's campus is important because our mission is to serve the community of UK and Lexington in ways that will unify its members for the greater good," said UK sophomore and NPHC President Aniya Hall. "I also think NPHC's presence on campus is important for UK because this is a predominantly white university and black students should feel like NPHC gives them an opportunity to connect with their history through pursuing membership in the organizations that we have to offer."
Historically African-American fraternities joined the UK community in 1965. Alpha Phi Alpha Fraternity Inc. was the first historically black fraternity to be chartered on UK's campus on April 1, 1965. The first sororities to be chartered on UK's campus were Alpha Kappa Alpha Sorority Inc. and Delta Sigma Theta Sorority Inc., both chartered on May 9, 1975.
Today, UK is home to eight historically black Greek lettered organizations: Alpha Phi Alpha Fraternity Inc., Alpha Kappa Alpha Sorority Inc., Omega Psi Phi Fraternity Inc., Delta Sigma Theta Sorority Inc., Phi Beta Sigma Fraternity Inc., Zeta Phi Beta Sorority Inc., Sigma Gamma Rho Sorority Inc., and Iota Phi Theta Fraternity Inc.
With millions of members across the U.S., the divine nine gives African-Americans a sense of community and belonging when they cannot find it anywhere else. They teach their members the importance of brotherhood, education and volunteer work, sentiments that follow them throughout life. 
"I pursued membership in Zeta Phi Beta Sorority Inc. because I saw myself in each of the five founders and what they supported," Hall said. "The sorority was founded to reiterate the community aspects of Greek life and to help other people excel at life. These features, along with the four principles, which are scholarship, service, sisterly love and finer womanhood spoke dearly to my heart and I believed I could identify with these things for a lifetime."
NPHC holds on campus activities throughout the school year, such as educational programs and social events. Often working collaboratively with the Interfraternity Council, the Panhellenic Council and the United Greek Council on campus, NPHC works to promote interaction among all councils to exchange information and engage in cooperative programming and initiatives through various activities and functions, further promoting a sense of community and belonging among the Big Blue family.
"Being in NPHC has been a great addition to my time at UK. Joining a sorority my freshman year gave me a huge passion for it and NPHC as a whole as well," Hall said. "NPHC has made me appreciate not only each of our Greek organizations but also the other organizations on campus that focus on the minority community on campus."
To learn more about NPHC and their role on the university's campus, visit their website here or you can reach them at 859-257-3151. Their offices are located in the Patterson Office Tower in Room 108.