PA to Pastry: Health Sciences Graduate Shows Her Love For Others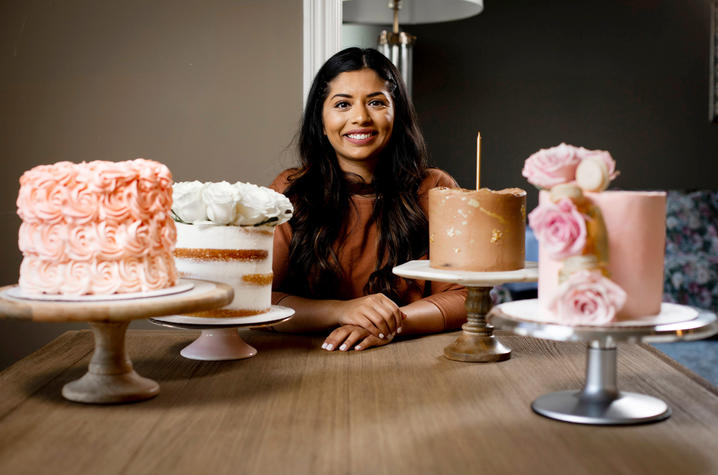 LEXINGTON, Ky. (July 15, 2019) – As a student in the physician assistant program in the University of Kentucky College of Health Sciences, Aqsa Qureshi needed a way to relax on weekends and keep her occupied during semester breaks.
She found inspiration on Instagram in the form of exquisitely decorated cakes. Already an avid cook, baking was next in her list to try. So she bought ingredients, consulted a few recipes and stumbled upon a new passion.
"I'm not artistic in any other aspect of life," said Qureshi. "But after seeing a photos on Instagram and watching some YouTube tutorials, I wanted to try it."
She made her first cake for Mother's Day. With her family's encouragement, she became confident enough to set up an Instagram account, @bakedbyqureshi. She has made cakes for weddings, birthdays and bridal showers, embellished with fresh flowers and macaroons. Her largest cake was a Halloween-inspired birthday cake that was over three feet tall. She made a cake that was auctioned off at a fundraiser for multiple sclerosis; the winning bid was over $300.
Baking is a hobby for Qureshi, perfectly combining her desire to help people with her love of making people happy. She always knew she wanted a career in health care, so after earning her bachelor's degree in psychology and a master's in medical science, she pursued a degree in physician assistant studies. Baking became a way to unwind from studying and to fill the time between classes and rotations at Eastern State Hospital, UK Good Samaritan and the emergency department at UK Chandler.
After graduating from College of Health Sciences in May 2019, she is currently studying for her board exams and looking for positions as a physician assistant in either psychiatry or emergency department. Her father and four siblings work in health care related fields, so to Qureshi, the physician assistant's program felt like a natural fit. Out of all of her rotations throughout various specialties, she was most drawn to psychiatry psychiatry because of the collaborative effects of the medical team alongside the therapists and pharmacists in aiding in a patient's care.
For Qureshi, the most rewarding part of baking is the chance to be a part of someone's happiest moments and seeing their reactions; not a bad outcome for what started as a way to kill time in the evenings and on weekends. Baking as a full-time career doesn't appeal to Qureshi; she remains dedicated to pursuing a career in psychiatry. She cites the importance of balancing a career she's passionate about with a hobby she enjoys as fundamental for work-life balance.
"It's really important to have confidence in yourself and your work. It's important to have balance and that you're still enjoying yourself," said Qureshi. "If it becomes more work than fun, what's the point?"