UK Student Develops App Using Artificial Intelligence to Edit Your Photos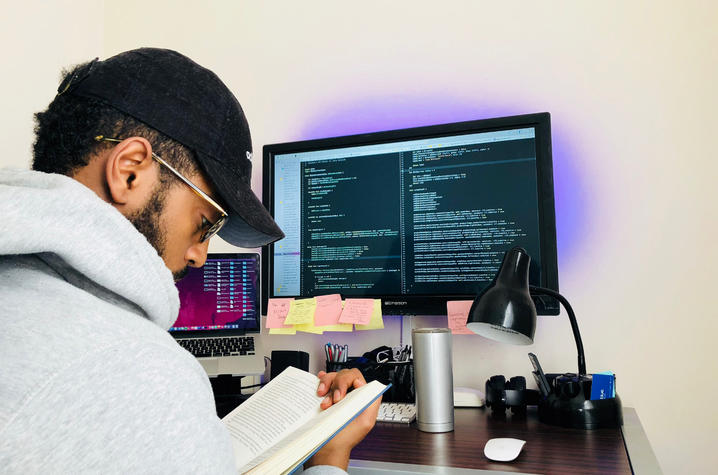 LEXINGTON, Ky. (April 25, 2018) — If you have ever struggled editing a photo, you don't have to wait any longer for a mobile application that guides you through the editing process.
A new mobile app by Dagmawi Nadew, an information communication technology major in the College of Communication and Information at the University of Kentucky, uses artificial intelligence (AI) to simplify and enhance the photo editing experience.
"Sason is an iOS mobile application that takes the guessing work we normally find ourselves doing when editing photos for social media, with the help of artificial intelligence," Nadew said.
Nadew, along with students at the University of California, Los Angeles, and the University of Texas at Austin trained the AI to "analyze patterns between a great shot and one that is not and gives you an aesthetics score" per the app's website. 
"I was in charge of integrating our Machine Learning Model, or the AI, into our iOS application as well as designing and developing the mobile application itself. Other team members were in charge of marketing, web development, data science and, of course, helping develop the machine learning model," Nadew said. "The biggest challenge that we faced was allowing users to access our AI at the same time by developing an application programming interface (API) and having that properly scale up without crashing."
In order to overcome these challenges, Nadew and his teammates sought advice from faculty members.
"Dagmawi is one of those students who makes it really fun to be an instructor, and it's always neat when he stops by my office and talks about his work. He's quite a motivated person and I have enjoyed watching him rise to meet a number of challenges that have been placed before him. I'm also grateful that he's trusted me to engage with him in some conversations about the app he's developing," said Sean Burns, assistant professor in the School of Information Science.
Nadew's advice for students interested in app development is to not be intimidated to ask for help.
"As far as acquiring skills I would advise taking ICT 301: Introduction to Databases, as it equipped me with enough knowledge to store and retrieve user information from a database and have it properly scale up. I also suggest ICT 390: Semantic Web, which allowed us to develop a user interface that was simple enough for users to understand and find their way around," Nadew said. "ICT 205: ICT in Society helped me navigate the privacy aspect of the software development process. And, lastly, I advise taking ICT 390: Systems Administration with Linux in order to learn how to deploy your own server that hosts your application."
According to Nadew, Sason was recently ranked top 500 grossing application in the App Store in South America. Additional information about Sason, the AI photo editing app, is available at http://Sason.co and on Instagram (@sasonapp).