UK Students Have 'Boundless' Success at Lexington ADDY Awards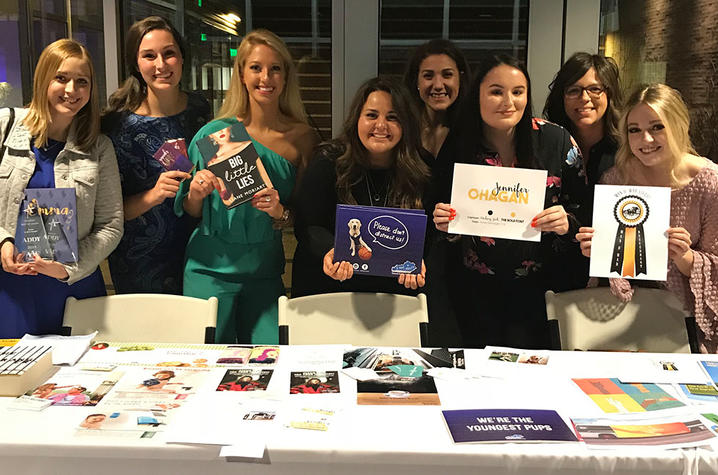 LEXINGTON, Ky. (April 16, 2018) — Several students from the University of Kentucky's Department of Integrated Strategic Communication (ISC) in the College of Communication and Information took home gold and silver at the 2018 American Advertising Federation (AAF) ADDY Awards this semester. ISC students won in the categories of sales and marketing, print advertising, cross-platform, out of home and ambient media, elements of advertising, and online/interactive.
The theme of this year's event was 'Boundless' in reference to the global impact of creative advertising.
The students who won gold were:
Rachel Buettner: Best of Show, Publication Design Book Cover (Sales & Marketing)
Robert Fischer: Judge's Choice, Magazine Advertising Single Page (Print Advertising)
Claire Monkman: Outdoor Board (Out of Home & Ambient Media); Consumer Campaign (Cross Platform)
The silver winners were: 
Robert Fischer: Two awards for entries in Social Media Single Execution (Online/Interactive)
Julia Harold: Packaging (Sales & Marketing)
Ally Iglesias: Judge's Choice, Packaging (Sales & Marketing); Judge's Choice, Cover/Editorial Spread or Feature Series (Sales & Marketing)
Chloe McMullen: Single Illustration (Elements of Advertising)
Liz Moore: Consumer Campaign (Cross Platform)
Jennifer O'Hagan: Logo Design (Elements of Advertising) 
Rachel Hughes also won the Lexington Ad Club's $1,000 student scholarship.
The entries submitted by students were produced mostly in ISC 331 and 431 classes, "Advertising Creative Strategy" and "Execution I and II," taught by assistant professors Adriane Grumbein and Laura Fischer. Grumbein and Fischer met with students outside of class to help them perfect their work.
"I am incredibly proud of these students," said Grumbein. "They are creative, talented and all-around awesome human beings! And, their work speaks for itself. ADDY awards are nationally recognized awards in the advertising world. Having one on your resume tells employers you are the best of the best. I can't wait to see what lucky company gets to snap these students up because they're headed for greatness."
Fischer added, "The ADDY awards are a great way to let the advertising community learn more about our students and the work that they do in our classrooms. Additionally, it is a great honor for our students and their portfolios. It allows them to meet and network with professionals, while seeing the rewards for their hard work." 
The AAF ADDY awards competition is the first step in a three-tiered competition. Gold-winning entries advance to district competition, where judges decide which work will move on to nationals.
The AAF was established in 1905 and is the "Unifying Voice for Advertising" as the only organization that includes members from all career levels and disciplines. The AAF has nearly 100 corporate members, over 200 college chapters and more than 200 local clubs nationwide. Annually, AAF hosts several programs, such as the Advertising Hall of Fame, the National Student Advertising Competition, the Mosaic Center on Multiculturalism and summer Ad Camps for high school students.
UK is the University for Kentucky. At UK, we are educating more students, treating more patients with complex illnesses and conducting more research and service than at any time in our 150-year history. To read more about the UK story and how you can support continued investment in your university and the Commonwealth, go to: uky.edu/uk4ky. #uk4ky #seeblue