2009 UK Homecoming Queen and King Crowned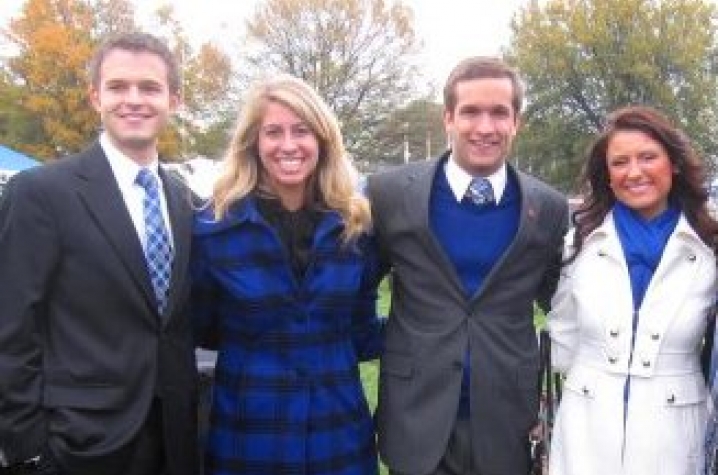 LEXINGTON, Ky. (Nov. 5, 2009) – Barb Jackson, daughter of David and Margaret Jackson of Westmont, Ill., and Justin Linne, son of John and Beth Linne of Grosse Pointe, Mich., were crowned the 2009 University of Kentucky Homecoming queen and king during halftime ceremonies at the UK versus Mississippi State homecoming game Saturday.
Jackson is a senior special education major and was sponsored in the Homecoming royalty candidacy by Chi Omega sorority. Linne is a senior integrated strategic communications major and was sponsored by Phi Sigma Kappa fraternity.
Other finalists for queen and king were:
•       Autumn Abraham, a senior human nutrition major, daughter of Annette Abraham of Florence, sponsored by Pi Beta Phi sorority.
•       Dana Deptola, a senior marketing and finance major, daughter of Chris and Marianne Deptola of Crestwood, sponsored by Alpha Omicron Pi sorority.
•       Ashley Jackson, a junior broadcast journalism and political science major, daughter of Carmelita Weakley and Michael Eugene Jackson of Louisville, sponsored by the Black Student Union.
•       Katie Wilkerson, a senior public service and leadership major, daughter of Carter and Dena Wilkerson of Henderson, sponsored by Kappa Alpha Theta sorority.
•       Ben Duncan, a senior political science major, son of Alan and Charlene Duncan of Columbus, Ohio, sponsored by Delta Tau Delta fraternity.
•       Shaun Denney, a senior accounting major, son of Douglas and Rhonda Denney of Somerset, sponsored by the Student Development Council.
•       Dwight J. Lacy, a senior agricultural communication and broadcast journalism major, son of Willie and Leslie Lacy of Louisville, sponsored by the Black Student Union.
•       Calvin Riney, a junior accounting and finance major, son of Keith Riney and the late Cathy Riney, of Owensboro, sponsored by Kappa Kappa Gamma sorority.