Applications Sought for K Book Editorial Board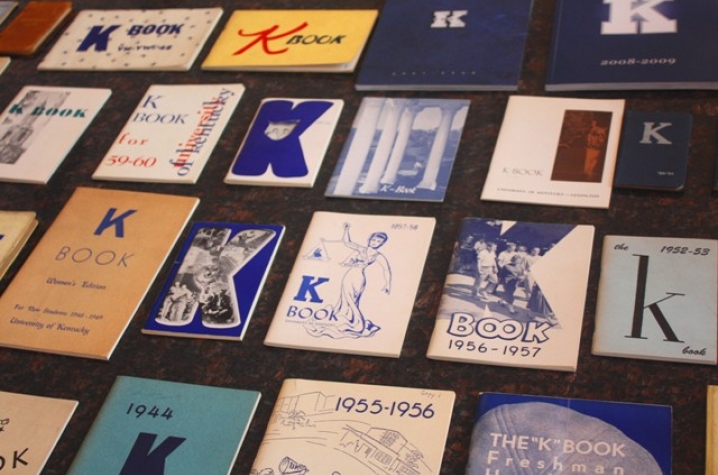 LEXINGTON, Ky. (Feb. 4, 2010) - Coming to UK can be a challenging experience, especially for new students, but a group of UK's brightest student leaders help keep an old tradition alive that makes the transition from high school to college a little easier.
The K Book, written by students for students, is a guide to life at UK and is the "go-to" resource for incoming students. Its 112 pages are filled with everything you'd ever want to know about UK, and a little more, and highlights the wealth of opportunities available to every UK student.
"We meet weekly to write and edit content, to organize and arrange the flow of the book and to decide how the book should look. We want the book to reflect UK; it's fun, informative and classy, just like our student body," Jasmine Whitlow, a student on the editorial board, said.
The K Book traces its history back to 1901, when it was a small pocket-sized booklet published for students by students. It contained freshman rules, school traditions, athletic schedules and school songs. It continued until 1966, when the name was changed and it began to be published by various campus departments. 
"Even though the freshman handbook has been published under different names, we felt as students it was our obligation to resurrect the K Book and fill it with important information that every UK student needs to know," said Bo Milburn, K Book editor.
The K Book brings together several offices on campus including the Office of Public Relations and Marketing, New Student and Parent Programs and the University of Kentucky Federal Credit Union.
Only time will tell the impact that the K Book has on the student body, but for nine leaders, it has already left a lasting impression on them.
"We have seen nothing but support for this project from every level at the university," said Milburn. "The K Book would not have been possible without the support of the faculty, staff and administration. President and Mrs. Todd have been supportive from the very beginning, and it means a lot to know that they want to make UK the best it can be for every student."
Now, the K Book editorial board needs you! Applications are now being accepted for positions on the editorial board. Any student is eligible and encouraged to apply. Members of the K Book editorial board are responsible for writing, editing and the overall vision of the K Book. Students receive a small scholarship and also serve as UK Ambassadors, attending events and functions where student presence is requested.
"The ambassador opportunities have included several rewarding events such as speaking at a preview night and assisting with President and Mrs. Todd's holiday party," Milburn continued.
The application deadline is Friday, Feb. 12. Applications are available in room 518 Patterson Office Tower or online here.