Behind the Scenes: Student Activities Board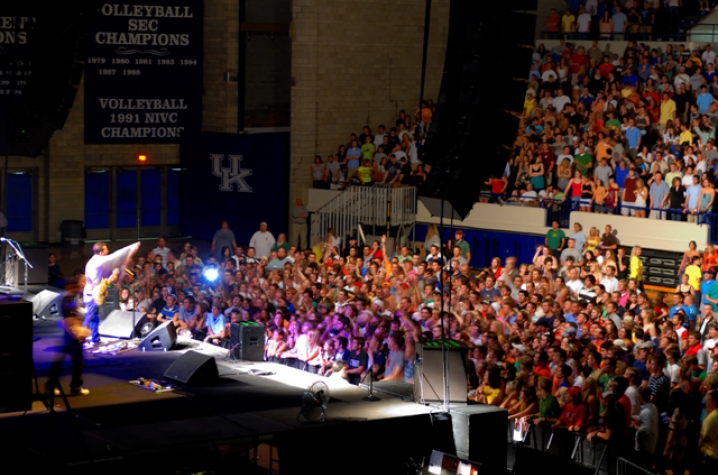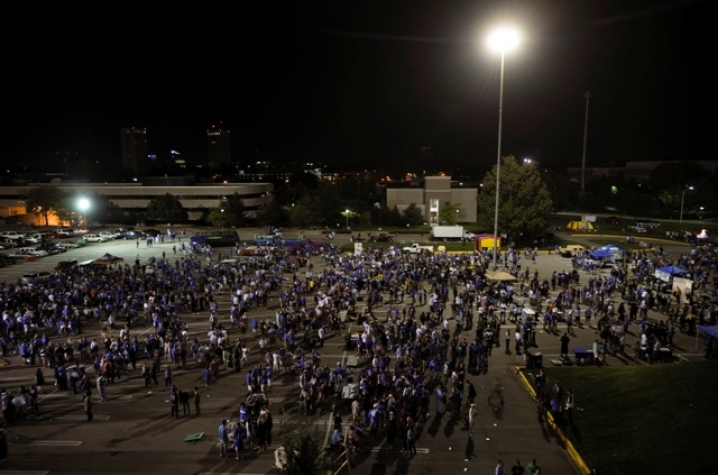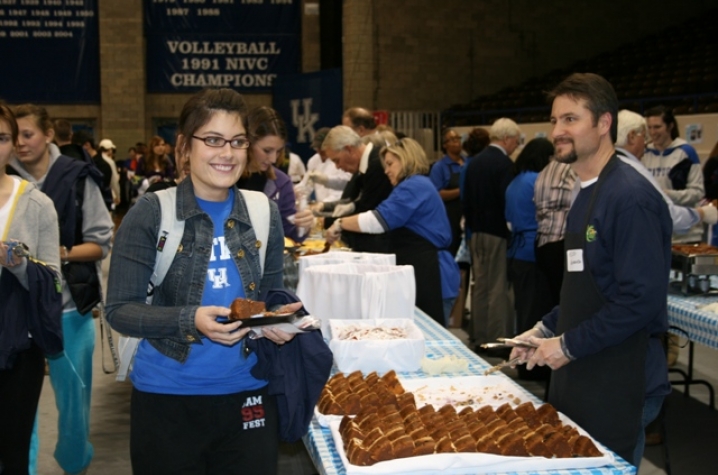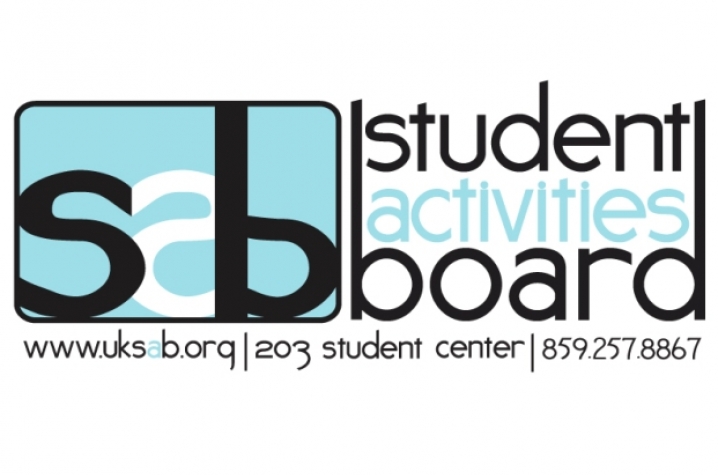 LEXINGTON, Ky. (April 5, 2010) – Have you ever wondered how people and events like Blake Mycoskie from TOMS Shoes, the Post Secret display or activist Robert F. Kennedy Jr. make their way to UK's campus? From homegrown events like the Little Kentucky Derby Festival to big name concerts like Drake, UK's Student Activities Board (SAB) is responsible for planning some of the most popular and exciting events on campus.
SAB is a dedicated group of students and student volunteers who work to bring all the best in the world around us to campus. SAB plans more than 65 events and activities each semester, and more than likely, you've been to a few of them.
"We're always looking for new and different things to put on," said Aubrey Collier, director of SAB's cultural arts committee.
SAB is structured so that many students can be involved. All students are welcome to volunteer on any of the SAB committees including campus life, traditions, concerts, pop culture, engaging issues, multicultural affairs, cinema and cultural arts. The volunteers are expected to help with events and are invited to attend committee meetings.
The next level of commitment is a committee chair. Being a committee chairs implies a further level of commitment. Chair candidates must apply and be interviewed to be chosen for the position. Chairs are placed on a committee based on committee need and applicant preference and are expected to fulfill one office hour a week, as well as help directors plan and execute their events. The committee chairs are also voting members of the organization which allows them the ability to vote on programs brought to campus through SAB.
Next, there is one director of each committee. These directors are in the SAB office 5 hours a week, but often times find themselves in the office more. Their duties include leading their committee, brainstorming ideas for events for the next semester, proposing their events, then planning and executing them.
The promotions team, responsible for branding and getting the word out about the events, includes positions such as the Director of Graphic Design, Assistant Director of Graphic Design, Director of Public Relations, Public Relations intern, Director of Market Research and Director of Web Design. Their office hours range from 10-20 per week.
Lastly, the Executive Board oversees all long term planning, Board-wide goals, leads the team as a whole, oversees promotions, and manages the budget. This includes the President, Vice President of Internal Affairs and Vice President of Promotions, all whom dedicate 20 hours or more to SAB a week and many times through the summer months.
Corey Ballard, a senior from Huntington, W. Va., has served a SAB president for the 2009-2010 academic year. "I've enjoyed not only the connections that I've made while serving on the board, but the life-long friendships I've made and the experiences I've had."
SAB puts on a plethora of events each semester for students to enjoy. Careful thought, months of planning and market research all are a part of the process to pick which events come to campus. This strategic planning can begin with one student bringing an idea to their committee. Often times, the best ideas begin in committee brainstorm sessions or SAB's weekly board meetings. When an idea is born in one of these settings, members of SAB often then take the time to work with the market research team to determine if the event is something of interest to UK's student body.
One of SAB's core values is stewardship. The market research team helps SAB continue to be good stewards of the student fees they are allotted. Whether it is through surveys or focus groups, the market research team explores the opinions of students to make sure SAB serves them to the best of the board's ability.
"Prior to a few years ago, the directors at SAB primarily used intuition to decide which events to bring to UK," Alan Herbst, SAB director of market research, said. "Recently, we began to increase our focus on surveying in the hopes that we can bring talent that our peers really want. Last semester SAB increased its commitment to research by creating a director's position wholly committed to research. We not only want to learn what events students want to see at UK but also want to learn why students want particular types of events."
If the research support those students are interested in a particular event, the committee will prepare a proposal and present it to the entire board. Each proposal is reviewed and necessary changes are made to correct any potential problems.
SAB truly functions as a small business that is run by students. Students handle the budget while also planning and executing all of the events. When events are proposed, the students on the board must pay attention to all of the details to ensure a successful event because they are the ones running this entity. While there are four professional SAB advisors, they generally only step in when they are needed. They allow the students to make decisions and run the organization.
If an event proposal is approved, the director and their committee move to the planning phase. This often takes hours of hard work and preparation to pull off something such as a two hour concert, fashion competition or lecture series.
Once the time for the event arrives, countless students are needed to make the event happen. Whether it is setting up light trusses in Memorial Coliseum at 3 a.m. the day of a concert or tearing tickets outside a lecture, students are the ones that bring the events to life. Directors and committee members become passionate about the events that they work so diligently to bring to campus.
"When they experience other students enjoying these events, we feel a sense of accomplishment that is unique to the SAB experience," Toni Curella, SAB vice president of promotions, said. "Through this, SAB strives to bring the best in entertaining and educating events to enhance the college experience."
"SAB provides a great opportunity for students," Ballard said. "Not only do you learn marketable skills, but it's a great organization to learn to utilize one's voice to create change on our campus."
For more information how to get involved with SAB or to give your own suggestions, please visit www.uksab.org. Click here to watch a fun video about SAB.
Visit SAB's YouTub channel at www.youtube.com/uksab and follow SAB on Twitter at www.twitter.com/uksab.
Upcoming Events
For the full SAB events calendar, click here.
48 Hour Film Festival
Friday, April 9
Lights. Camera. Action! The 48-Hour Film Festival will challenge teams of filmmakers to write, shoot, and edit a short film in less than 48 hours. At the start of the competition, each team will receive the same prop, character, and line of dialogue that must be integrated into their film. After two days, the complete films will be judged. After a showing of all the films, the best three will receive prize packages, including movie passes, editing software, and a video camera!
Little Kentucky Derby
Thursday, April 15 - Saturday, April 17
This April, Student Activities Board will be hosting the Fifth
Annual-Revived Little Kentucky Derby, a springtime festival designed to bring the spirit of the Kentucky Derby right here to UK. The festival aims to serve as a miniature Kentucky Derby on campus. Kick-off for the festival will take place on Thursday, April 15, 2010 at Patterson Office Tower on UK's campus. It will include the much-anticipated Ping Pong Ball Drop, as well as games, snacks and giveaways to start the Derby celebration.
Mary Poppins Road Trip
Tuesday, April 20
UK's Student Activities Board invites you to attend Broadway Across America's "Mary Poppins" at the Aronoff Center for the Arts, located in the heart of downtown Cincinnati.
Drake in Concert
Tuesday, April 27
UK Student Activities Board presents DRAKE IN CONCERT with special guests Francis and the Lights and K-OS at Memorial Coliseum.