Boomslang Festival Brings Art, Sound to Lexington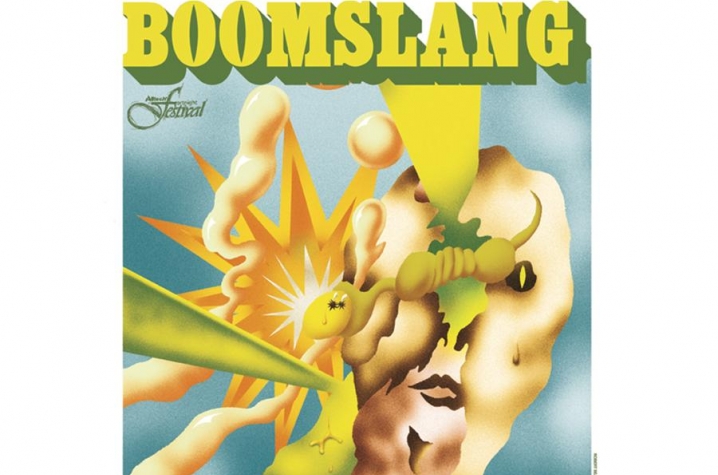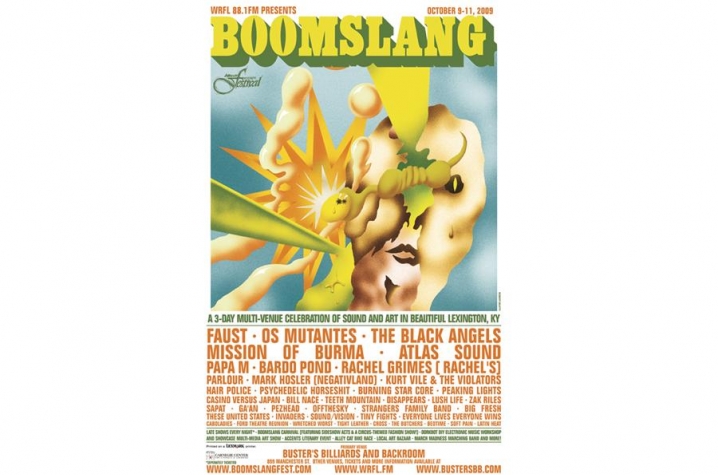 LEXINGTON, Ky. (Oct. 7, 2009) – UK's own WRFL-FM has always been home to cutting edge music artists and acts. This weekend, WRFL comes alive with the Boomslang Music Festival. The Boomslang Music Festival is three days of music, art, workshops and fun for the entire family. The festival officially runs Oct. 9–11, with kickoff events Thursday, Oct. 8, at 10 different venues throughout Lexington. Featured concerts will be held each night at Buster's Billiards and Backroom on Manchester Street in Lexington's revitalized distillery district.
The Boomslang Festival celebrates visionary, experimental, genre-bending music and media of the highest caliber, as well as showcasing Lexington's unique venues and culture. In the spirit of independent media, the line-up includes local up-and-comers, regional favorites and international legends – artists who have been critically acclaimed for their innovation, but have somehow fallen (or hidden) beneath the mainstream shuffle.
"We're bringing in a lot of bands that have been well-loved within the WRFL community for decades, and we're really excited to be able to see them perform live at our birthday party, and share them with the community," said Saraya Brewer, a volunteer DJ for WRFL for five years and one of the festival organizers.
Boomslang kicks off Thursday, Oct. 8, with three different events across Lexington. At 6:30 p.m., Boomslang presents "Stars with Accents: A Boomslang All-Star Literary Event," at the Carnegie Center for Literacy and Learning, 251 West Second Street. Featured readers include Kentucky author Ed McClanahan, Carnegie Center Executive Director Jan Isenhour and Accents Radio Hour host Katerina Stoykova, as well as, Rebecca Gayle Howell, Colin Watkins, Eric Sutherland, Donna Ison, Sherry Chandler, Jim Lally, Leatha Kendrick, David Musella and James Vincent.
At 7 p.m., explore the art that Boomslang has to offer at Hop Hop, 800 N. Limestone. The gallery features multi-media art from emerging local visual, film and installation artists.
At 10 p.m., the performing arts take center stage with a performance of "Self Told Lies and the Cosmic Truth" at the J. Allen Studio on South Upper Street. "Self Told Lies" is a performance piece lived out by four collective artists from the local super-groups Everyone Lives Everyone Wins and Ghost Affirmation.
"We ended up with more art and more events than we could contain in three days," Brewer said. "The kickoff events will be a great way to mingle and relax with the local art and music community the night before we go full force into what is basically a marathon of really great music."
On Friday, Oct. 9, the festival kicks into high gear with concerts, the Boomslang Carnival and art shows by day and featured artists and official after parties by night. Artists headlining the concerts range from the legendary to the contemporary. Iconoclasts extraordinaire Faust (Friday), considered the inventors of "Kraut Rock," are key figures in 20th century music. In the early '70s, along with Can and Kraftwerk, they re-invented pop music as a specifically European art-form. One of the most innovative underground rock bands out there today, Austin's The Black Angels (Saturday), have referred to their music as "Native American Drone 'N' Roll." Os Mutantes (Sunday) are often hailed as the most influential movers and shakers of the 1960s Tropicalia art and political movement; Os Mutantes drew from their native Bossa Nova rhythms as well the psychedelic sounds of bands from The Beatles to The Ventures, to create a sound that is unlike any other.
Other performers include Mission of Burma (one of the most reputable and beloved punk-inspired rock bands of the past 20 years), Atlas Sound (solo project of Bradford Cox, frontman for indie supergroup Deerhunter), Papa M (gorgeous solo guitar project of David Pajo of Slint and the Yeah Yeah Yeahs), Bardo Pond, Casino Versus Japan, Burning Star Core, Hair Police, Rachel Grimes, Disappears, Pez Head, Latin Heat, Teeth Mountain and more.
After party performers include Kurt Vile and the Violators, These United States, Big Fresh, Tight Leather, Sapat, The Butchers and others.
For a complete listing of artists, visit here.
Tickets are on sale now. Weekend passes are $50 (excluding official after parties which are $5 for festival pass holders and $8 dollars for general public). Day passes for Friday, Saturday and Sunday will be available for $20 each (day pass holders are eligible for the $5 dollar festival entry for official after parties the night of their day pass). Tickets are available at Buster's box office, at ear X-tacy in Louisville and on the Boomslang Festival Web site. Student discounts are available through the UK Student Center Box Office and at Buster's box office. Day of tickets should be purchased at Buster's box office.
For more information about the Boomslang Music Festival, visit http://boomslangfest.com/. Questions should be e-mailed to boomslangfest@gmail.com.
Boomslang Festival is brought to you by WRFL-FM 88.1, the Alltech Fortnight Festival and the Carnegie Center for Literacy and Learning. Since 1988, Radio Free Lexington WRFL has been a commercial-free radio station on the University of Kentucky campus. The station has been run continuously by students without automation for the past 21 years and broadcasts live, 24 hours a day, seven days a week, 365 days a year. Our programming is widely inclusive and covers almost every genre of music – at any given hour, you may hear jazz, bluegrass, experimental noise, psychedelic rock, Latino dance music, RPM, indie, Indian, or – more often than not – something in between.