Danville Native Doesn't Let Disability Disrupt Dreams of Graduating From UK
Video produced by UK Public Relations and Marketing. To view captions for this video, push play and click on the CC icon in the bottom right hand corner of the screen. If using a mobile device, click on the "thought bubble" in the same area.
LEXINGTON, Ky. (May 3, 2017) — The University of Kentucky Disability Resource Center (DRC) serves nearly 2,000 students every year. From providing accessible programming to coordinating interpreting on campus, the DRC ensures that students receive the appropriate accommodations to help them succeed.
"We are here to make sure that the classroom setting is such that they have an equal opportunity to get the instruction they need in a way that they can best express their knowledge," said David Beach, director of the Disability Resource Center.
"We develop relationships with them. We become their advocates and their cheerleaders," he said.
Beach says his motivation comes from seeing students like Jennifer Harris succeed.
Harris, an architecture graduate student, is deaf. Beach said Harris has faced many barriers throughout her life but has never let that stop her.
"With Jennifer, a lot of her support has been the provision of interpreters and making sure that they're available and the instructors know how to interact and understand some of the etiquette around working with students that are deaf," Beach said.
Beach hopes the assistance he and his team have provided Harris has made a positive impact on her life. But he says her success is more of a testament to her hard work than anything they have done.
"This is a win for our office but this is more of a win for Jennifer and our university to showcase what we can do as long as we put our heads together. When we face challenges, we must work collaboratively with the student and the faculty and the other entities on campus that become involved and find the right solution for that student," he said.
"They've done such a wonderful job just meeting every need during my entire career here at UK — especially with providing my interpreters, making sure I have skilled interpreters that meet my needs and my preferences but that also are capable and competent to understand architecture in and of itself because that can be a difficult topic to interpret," Harris said.
Watch the video above to see what words of encouragement Harris would give anyone facing obstacles.
This video feature is part of our new UKNow series, "Kentucky's Heartbeat — the pulse of our institution." The goal is to highlight the people who are working every day to help each and every student succeed inside and outside of the classroom. 
If you know of someone who you think should be featured because of his or her dedication to the student experience, please email us. Who knows? We might just choose your suggestion for our next feature on UKNow!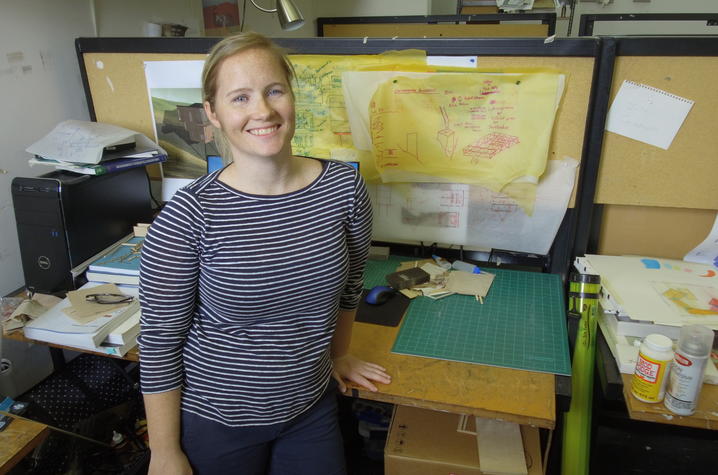 UK is the University for Kentucky. At UK, we are educating more students, treating more patients with complex illnesses and conducting more research and service than at any time in our 150-year history. To read more about the UK story and how you can support continued investment in your university and the Commonwealth, go to: uky.edu/uk4ky. #uk4ky #seeblue