Following Father's Example, UK Nursing Student Donates a Kidney to Save a Life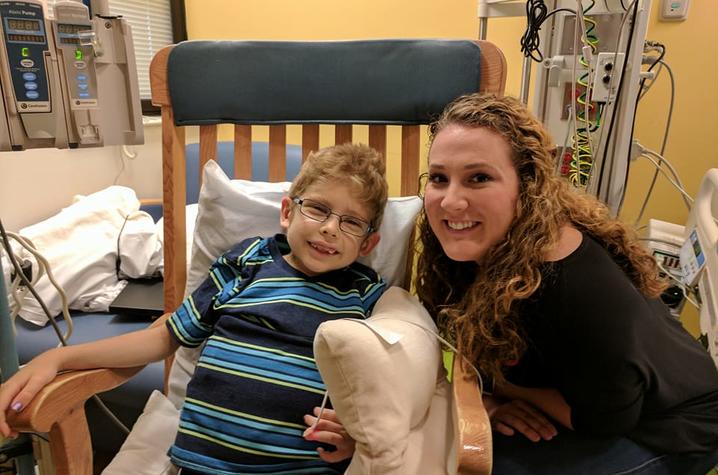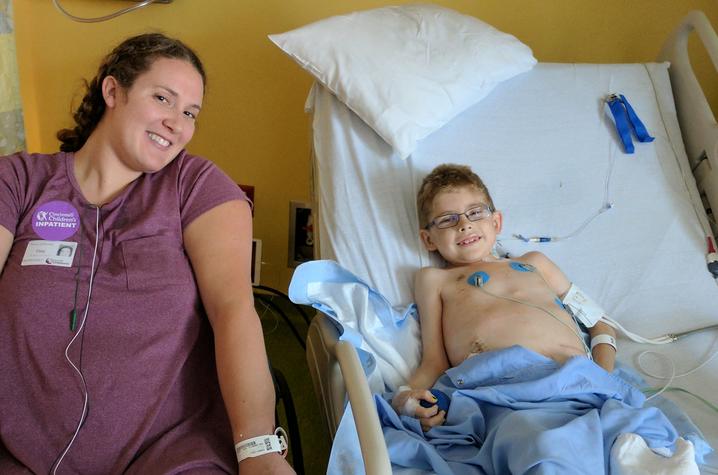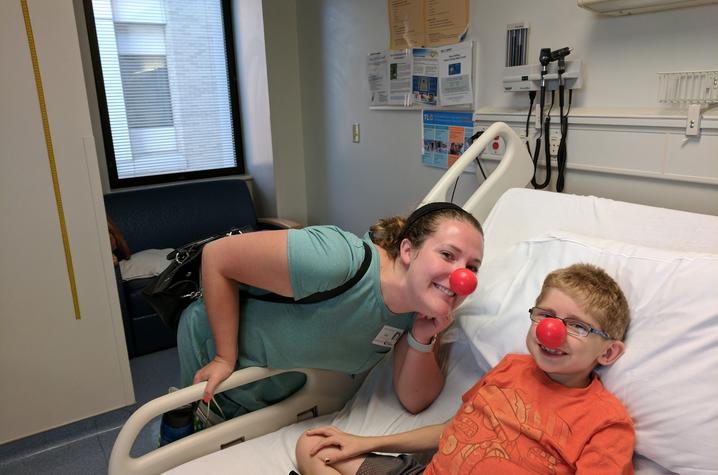 LEXINGTON, Ky. (June 16, 2017) — To commit a textbook term to memory, UK College of Nursing student Karly Schmidt used a mental shortcut by naming her two kidneys George and Fred.
George, her right kidney, reminded her of the word "glomerular," and Fred, her left kidney, reminded her of "filtration." Putting the two words together, she could recall the glomerular filtration rate, which is the medical formula used to measure kidney function.
So when Schmidt found out she was a donor match for 7-year-old Logan Wiesman, a boy in dire need of a kidney transplant, she didn't hesitate to refer to her kidneys by their given names. As no coincidence, George and Fred were also the names of the Weasley twins, two characters from the popular Harry Potter books. Logan, an avid Harry Potter fan, immediately found common ground with his life-saving donor — and assigned a personality to the left kidney she planned to give to him.
"It was their way of starting to form a connection," Ann Wiesman, Logan's mom, said. "She was like, 'Which brother do you want?'"
Left kidney Fred was going to take the place of Logan's sick kidney, which, consistent with the Harry Potter theme, he named "Voldemort," the villain of the Harry Potter series. Logan was diagnosed with polycystic kidney disease (PKD) five years ago, and both his kidneys were on the brink of failure in December 2016. Doctors performed a nephrectomy removing one kidney and put Logan on dialysis earlier this year to support his renal function until the family secured a matching donor.
Logan's father prepared to donate his kidney but was disqualified as a candidate during the donor testing. As donor testing ruled out more and more family members, Ann Wiesman started reaching out to family friends, including Chris and Beth Schmidt. Karly Schmidt, whose father donated a kidney to a classmate years ago, agreed to go through the donor matching process.
"For someone so young to even consider this was ridiculous," Wiesman said.
But Schmidt moved to the top of the possible donor list because her young kidney had the best chances of functioning for Logan long-term. She kept the Wiesman family informed as she sailed through the matching process. She was approved as a matching donor in May and the transplant surgery was scheduled for June 6. The surgery required Schmidt to forfeit her summer plans, which included an opportunity to participate in the Student Nurse Academic Practicum (SNAP) program at UK.
The night before the surgery Schmidt visited with Logan in his hospital room. She said both of them felt a mix of nervousness and excitement about their surgeries. Logan presented Schmidt with a book he'd written about life with his new kidney Fred. In the book, he described all the things he would now be able to do because of Fred, such as play with his dog and participate in the walk for PKD. Schmidt reminded him that the next day he was going to have a new kidney.
Even though Karly met all qualifications as a match for Logan, there was no guarantee the transplant would take to Logan's body. But within hours of the transplant surgery at Cincinnati Children's Hospital, Logan's new kidney was producing urine. Ann Wiesman said she saw an immediate difference in her son's demeanor, as he was beaming and singing in his hospital bed after the surgery.
"He's a completely different kid," Wiesman said. "It's night and day. It is the gift of life — there is no if, ands or buts about it. She saved my child's life."
With the immediate uptake of the organ, Logan only spent one week in the hospital after his surgery. Schmidt, who lives in Edgewood, Kentucky, was discharged from the hospital after four days and is recovering at her parent's home.
Schmidt's clinical advisers in the UK College of Nursing were supportive of her decision to postpone training to help a sick child. Schmidt, who will graduate with her bachelor's in nursing science in December, gained perspective as a donor and a surgery patient that will translate to her nursing career. As a patient, she realized the tasks nurses ask their patients to do, such as breathe into a spirometer, are in fact difficult and painful.
"I definitely think it made me more empathetic," Schmidt said. "The nurses let me do things I was able to do by myself, and I think that helped me to get better faster."
Although moments during the transplant were scary and stressful, Karly Schmidt said she'd go through the process again in a "heartbeat." She was grateful for her dad, who provided insight from his experience to help prepare his daughter for the surgery. Seeing her dad return to a healthy life absent one kidney was also a reassurance for Schmidt. 
"When this came up, I could ask him questions about how was the recovery, how was the surgery," Karly Schmidt said. "He was the first person to know what I was getting myself into."
Chris Schmidt decided to volunteer as a donor when a former classmate in his computer science class at the University of Kentucky required a kidney transplant. Unlike his daughter, Chris Schmidt did not receive unwavering support from his family to go through the process. But he believed any person could have the misfortune of illness or injury and require a replacement organ. He said giving someone the gift of life was a no-brainer, and Karly followed in his footsteps.
"It was always her decision — I never tried to influence her," Chris Schmidt said. "We've always raised our family to share and do well for others."
The father and daughter now share a special bond as kidney donors. Like her dad, Karly Schmidt believes helping others, even if it means a sacrifice, is the obvious decision.
"It's always been in my head, if someone needs something you help them," Karly Schmidt said. "Everyone is asking me — like, 'This is a huge deal.' But it isn't a big deal because it is what is right."
Every day 12 people die while waiting for a kidney transplant. For information on becoming a kidney donor, click here. To support research to find a cure for PKD, visit the PKD Foundation website.