"see blue." #selfie: Austin Mullen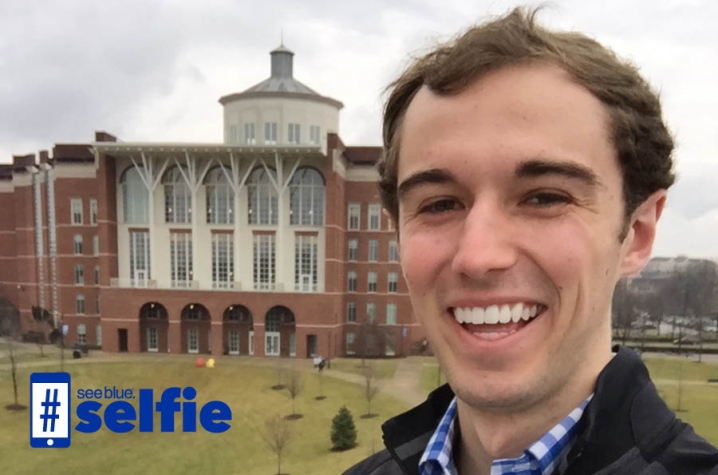 LEXINGTON, Ky. (Feb. 2, 2016) — Want to get to know the people behind some of the biggest student leadership positions on campus? We did, too! That's why we're excited to introduce "see blue." #selfie — a brand new series on UKNow that lets student leaders from across campus tell us a little bit more about themselves and their organizations. Today meet SGA President Austin Mullen.
Austin Mullen, a senior finance, marketing and business management major from La Grange, Kentucky, serves as the 2015-16 University of Kentucky Student Government Association president and the student representative to the Board of Trustees. We sat down with Mullen to get to know the true student leader behind the SGA title. This genuine, charming and driven leader relays his passion for the 'Cats, the student body and for the university in his "see blue." #selfie!
UKNow: When did you become involved with Student Government Association?
Austin Mullen: I learned about SGA my freshman year through the Leadership Development Program, and then I was elected as a freshman senator as well. I decided at summer advising before freshman year that I wanted to be involved with SGA when I spoke to the SGA president at the time, Stephen Bilas, and became interested in what the organization did.
UK: Why are you so passionate about the organization? 
AM: I am passionate about SGA because I think that it is part of the university that can connect students with administration in order to positively impact the university as a whole.
UK: What has been the most surprising issue you've heard repeatedly from students? 
AM: The issue of diversity and inclusion. I think that I have been able to see how so many students come from so many different walks of life. I think that our institution is at a good position with diversity and inclusion, but I still think we have room for improvement to ensure each student feels like UK is home.
UK: What is your most frequently used emoji?
AM: The crying tears laughing one … no, no, no … the 100 percent one … actually both.
UK: Are there any other organizations on campus that you're involved in?
AM: I've been involved in SGA, Sigma Chi, DanceBlue, Wrap Up America, Scholars in Engineering and Management, Honors Program and Campus Outreach.
UK: What's one word you're guilty of using too often? 
AM: The GOAT. Which means the "greatest of all time."
UK: Growing up, what did you want to be? 
AM: The director of Athletics for UK. I actually told my mom at the age of 8 that is what I wanted to be.
UK: What is your current Netflix series?
AM: I have watched Netflix two times in my life: "House of Cards" and "Making a Murderer." I still can't decide who made the murder.
UK: How dedicated are you to UK basketball?
AM: Well I've never taken part in the State Street scene because I have been to the 2014 Sweet Sixteen, Elite Eight, Final Four and the National Championship. Last year I went to the Round of 64, Round of 32, Elite 8 and the Final Four. Pretty dedicated.
UK: What is one thing you remember from your campus tour when you were in high school? 
AM: My mom would not let me submit my application to UK until I took a campus tour even though I knew I was going to UK. William T. Young Library was the most memorable part though because, as Dr. Mary Lynne Capilouto, would say it's a "sanctuary for learning."
UK: Since you've been at UK while we have undergone this major transformation, what new facility are you most impressed with?
AM: The renovation of Gatton because it turned an outdated building into a state-of-the-art educational facility with areas for community to be made. 
UK: Since you have the opportunity work one-on-one with a lot of UK administrators, what is one specific administrator you look up to? 
AM: I am very grateful for the opportunity to work with administration, and I sincerely believe that each of them has an interest of students as first priority. However, one I really admire is Eric Monday due to his ability to connect and serve students. All that he has done during his three years here he has done with honesty and integrity that upholds through his work.
UK: Which team are you rooting for in this year's SuperBowl on Sunday? 
AM: The Denver Broncos because of the UK alumnus Danni Trevathan and Peyton Manning because he's the GOAT.
UK: What would you tell an incoming freshman? 
AM: Get involved! I have learned just as much, if not more, through my involvement as I have in the classroom.
"see blue." #selfies will appear every other Tuesday on UKNow. Know a student leader we should feature? Contact Rebecca Stratton at rebecca.stratton@uky.edu to nominate someone.