"see blue." #selfie: Cayden Samuels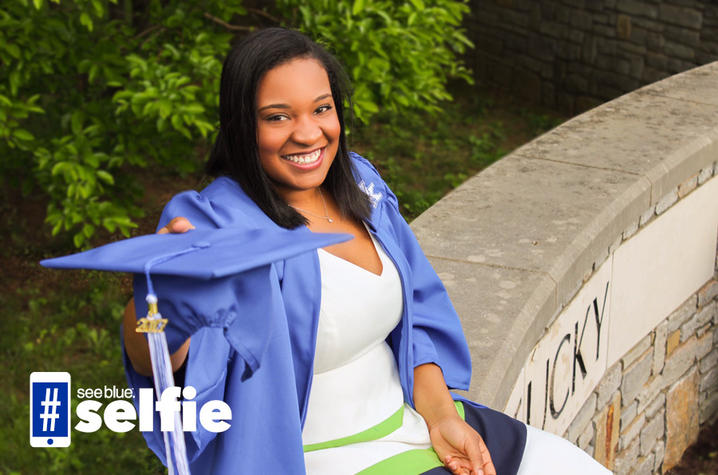 LEXINGTON, Ky. (May 2, 2017) — Want to get to know the people behind some of the biggest student leadership positions on campus? We did, too! That's why we've introduced "see blue." #selfie — a series on UKNow that lets student leaders from across campus tell us a little bit more about themselves and their organizations. Up this week, University of Kentucky Black Voices Gospel Choir President Cayden Samuels.
Meet Cayden Samuels, this year's UK Black Voices Gospel Choir president and soon-to-be 2017 graduate. A kinesiology student from Canton, Michigan, Samuels has always had a passion for gospel music and has been singing in church choirs since she could talk. This past year, the Black Voices Gospel Choir sang that national anthem at Commonwealth and Rupp Arena, and she cherishes that moment as one of her favorites during her time at UK. Learn more about Samuels in her "see blue." #selfie! 
UKNow: What is your major and what year are you?
Cayden Samuels: I am a fifth-year senior, and I'm a kinesiology student. I'm graduating on Sunday! 
UK: Where are you from?
CS: Canton, Michigan.
UK: What's your position in Black Voices Gospel Choir?
CS: I am the current president. 
UK: Tell me a little about Black Voices Gospel Choir (BV).
CS: We are a ministry started here at UK in 1970. Our mission is to spread the love of Christ throughout our community while creating a family within the choir. We strive to be a place where people can come and take a break from the pressures of school and worship God through gospel music. BV alum are still close-knit.
UK: How did you get involved?
CS: I got involved my junior year. I saw a flier and showed up. My mom, when she was here at UK, was a member, so that gave me a push to stay involved. I fell in love with it further and took on a leadership role.
UK: Did the fact that your mom attended school here impact your decision to come to UK?
CS:  It did a little bit. She was a little biased. I checked UK out and we did a campus tour. I wanted to leave Michigan and I considered Kentucky home. I had my mind set on UK after my first campus tour. Now I'm about to graduate! It's surreal!
UK: What is your favorite part of BV?
CS: I love being able to come together with students who have a passion for Christ. They became my family.
UK: Does BV perform regularly?
CS: We practice on Wednesdays and we sing at church services. Last Friday was our final concert. We usually have one concert in the fall and one in the spring to showcase who we are and our students. We may get called for events, such as this past semester we worked with the LexArts community. Also, last year we sang the national anthem in Commonwealth and at Rupp. It was the first time we've ever done that. Recently, we've performed about once a week. If not once, then twice a week. It's enough to keep you busy.
UK: Do you see choir in your future?
CS: I do plan on becoming involved in a church choir in some capacity. I could never give up gospel choir. I plan on still being involved in BV this next year if I stay in Lexington because they're my family. I can't just leave them.
UK: Who do you look up to most for guidance?
CS: I guess my mom and my dad, for similar and different reasons. My mom is the strongest person I have ever met. She is a constant form of support. My dad, he pushes us to be better. They are great people. They are a huge part of my support system, and I look up to them more than anyone. 
UK: If you could have one superpower, what would it be?
CS: To teleport. I'm always late. The ability to snap my fingers and apparate, like in Harry Potter, and just go to places. 
UK: What's your favorite memory at UK?
CS: It would have to be singing the national anthem at Commonwealth and at Rupp. That was never something I thought I would do. Actually being on the floor and the turf was surreal. It was really cool. And we won both the games that I went to!
UK: When you have 30 minutes of free time, what do you do?
CS: I like to read. I like to read anything — anything I can get lost in and forget everything and focus solely on that. Even if it's my textbook. Or sleeping. I do like sleep. Something I have really been lacking this year. 
UK: What are some skills you've learned at this university that you plan to take into a personal career?
CS: Definitely leadership and communication skills. I've learned ways to effectively communicate with people that have different mindsets than me, and I've been able to lead people with different mindsets. As far as leadership in BV goes, there were difficulties but we all came together to communicate those ideas in a professional manner.
UK: What is your favorite spot to hang out on campus?
CS: The Arboretum. I like to just go and sit. It's super pretty. 
UK: Since you're graduating this weekend, what is one piece of advice you'd give an incoming freshman?
CS: Don't lose sight of what you're here for. We're here for school and here to better ourselves through education. It's great to have fun, meet new people and get involved, but make sure that you focus on your studies too.
UK: You're happiest when ...
CS: I'm happiest when I am with all my siblings and my parents. I have three siblings. Two younger sisters and a younger brother. We are all spread out. My sister is in Northern Kentucky; my other sister is in Michigan in school and so is my brother. Being together doesn't happen often but when it does it's always memorable. 
"see blue." #selfies will appear every other Tuesday on UKNow. Know a student leader we should feature? Contact Rebecca Stratton at rebecca.stratton@uky.edu to nominate someone.