"see blue." #selfie: Michael Ayers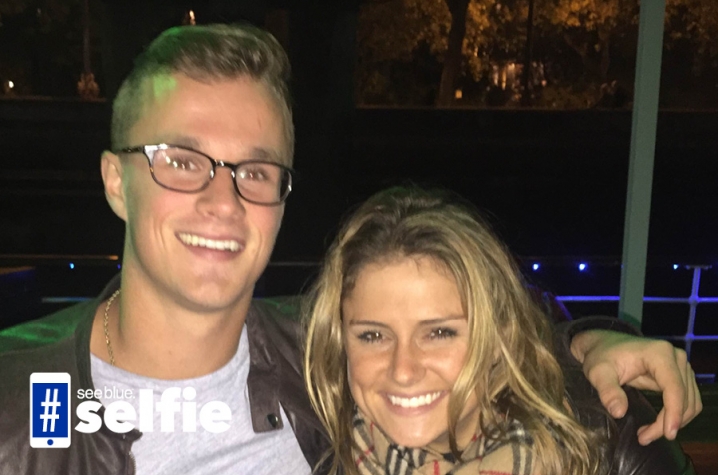 LEXINGTON, Ky. (Nov. 15, 2016) — Want to get to know the people behind some of the biggest student leadership positions on campus? We did, too! That's why we've introduced "see blue." #selfie — a series on UKNow that lets student leaders from across campus tell us a little bit more about themselves and their organizations. Up this week, College of Communication and Information Ambassador Michael Ayers.
Michael Ayers is a 2016-17 University of Kentucky College of Communication and Information ambassador. Now a junior journalism major, Ayers uses his position as ambassador to be an informative, encouraging guy for prospective students. Ayers firmly believes that if you keep trying, eventually everything will fall into place. And that's what's happening for him. Learn more about this UK CI ambassador in his "see blue." #selfie!
UKNow: What is your major and what year are you?
Michael Ayers: I am a junior and I am a journalism major.
UK: Where are you from?
MA: Fort Thomas, Kentucky.
UK: Tell me about your position in the College of CI.
MA: I am an ambassador in the College of CI, and basically we go to locations in the nation, that the university has selected and we recruit individuals to the University of Kentucky and the college. 
UK: When did you decide that being an ambassador was something you'd want to do?
MA: To be honest, out on the TV screen in Grehan I saw people's faces, and I always wanted to know how to do that, and they said you have to be an ambassador. So I became an ambassador. I wish someone freshman year found a kid like me and was like "you need to be here." I wanted to be that guy, the guy I wish I had. I wanted to go to Preview Nights and tell them they needed to be here. Be the push.
UK: What else are you involved in? 
MA: I am news director for WRFL and I'm a member of Sigma Chi Fraternity. 
UK: What are some cool things you got to do as an ambassador this fall? 
MA: I would say one cool thing was before school we met and got to meet with the dean and the faculty. They are awesome and so personable. During K Week, we got to get a group of students and help them plan where they wanted to go based on their interests.  Being able to influence them and push them toward their goals was unique and different and cool in a way. And the preview nights were cool too. 
UK: Did you all do any preparing during the summer? 
MA: We had a meeting last semester outlining all we were going to do. We had a breakfast and just went over all the majors, how to interact with people, what to do in different situations and emails to send. 
UK: Which staff member has made a positive impact on your time here at UK?
MA: I would say Schyler Simpson, 100 percent. I had her in a CIS class freshman year and she looked at me and said "you need to be an ISC major." I refused and refused, and I took a paper to her office and she fixed it and tried to recruit me to be ISC. It showed that she cared and they are trying to find good students for their majors. 
UK: What made you decide to come to UK?
MA:  The truth is, I never visited — I just came.  I wanted to play small school football. It came to the final day at Highlands, my high school, and I just chose UK. My dad asked me why. I loved Lexington, I wasn't too far but far enough and be at college. I knew I wanted to buy into wherever I ended up,  so I thought UK! I like blue, I like Lexington ,so I went here and three years later I'm sitting in this chair. 
UK: As an ambassador, what impression do you hope to leave on those you're recruiting?  
MA: So, when it comes to CI, we are the first representation that prospective students have. When I am trying to recruit people to come, they are going to walk away thinking I'm either informative or not what they are wanting to hear. I am hoping that each person can walk away feeling like I was informative. 
UK: What would you sing at karaoke night?
MA: It's hard not to go with Bon Jovi's "Living on a Prayer." 
UK: If you had a warning label, what would it say?
MA: Warning High Energy
UK: What's your most embarrassing moment at UK? 
MA: In JOU 302 I did weather for the first time. The camera said roll, and I was a deer in the headlights. I didn't know what to do. I said it was 55 degrees and it was like 80 degrees. I walked back into the studio and my teacher just looked at me and said "we have some things to work on." 
UK: What was your favorite Halloween costume growing up?
MA: I am going to say Woody, from "Toy Story." 
UK: What's your favorite candy?
MA: Jolly Ranchers. 
UK: Being an ambassador, I'm sure there are plenty of incoming Wildcats that have questions for you that are not necessarily about academics, but I bet they are wondering about campus life too. These are some questions a senior in high school has for you: If you could go back to freshman year what advice would you give yourself?
MA: To relax. Take a deep breath and relax. 
UK: What about UK made you want to stay here, even after your freshman year?
MA: To be honest, I think that was a characteristic inside. Dale Mueller, my high school football coach, taught us to never quit. I wasn't going to switch schools or drop out even though I wasn't finding my niche yet. I was always told to keep going, keep trying and eventually it could fall into place. And that's what's happening.
UK: Think back on your first day as a freshman, was your first day as scary as everyone made it seem?
MA: No, but I felt like I was at camp as I was just getting into the dorms and you haven't had your first class; you're with your roommate and you want to know when your next activity is. 
UK: Are you constantly busy, or are you able to have lazy days?
MA: I have lazy days. I do. But, my busy days must be a majority of my life. 
UK: Is college just like high school?
MA: No. Heck no. It's what you make it, I think, It's what you put into it. If you buy into it, you'll get a big return. If you want to go through the motions that's what your outcome is going to be. 
UK: Do you ever get home sick?
MA: Absolutely.
UK: Were you able to decide on your major before you got to college, or did you change it? 
MA: I was not, I came in undecided and I wanted to go the business route, so I took those classes. Freshman year showed me everything I didn't want to do in my life, so I went back to broadcasting like I did in high school and started with journalism. 
UK: Do you have a plan for what you want to do after you graduate?
MA: No.
UK: Would you say that your transition from high school to college was easy?
MA: No. I'd say it was a lot to take in. Advice - have an open mind in the transition. Don't fight what's about to hit you in the next year to four. 
UK: Where do you see yourself in five to 10 years from now? How does that differ than what you imagined in high school?
MA: Five to 10 years. So, I will be 26 in five years. I plan on being not in Kentucky and not in Ohio. Somewhere away. On my own. Everything- I want to be paying for it. I feel like in order to be on your own you have to move away completely and be an independent person. I think you really find yourself when you're on your own, too. 
"see blue." #selfies will appear every other Tuesday on UKNow. Know a student leader we should feature? Contact Rebecca Stratton at rebecca.stratton@uky.edu to nominate someone.
UK is the University for Kentucky. At UK, we are educating more students, treating more patients with complex illnesses and conducting more research and service than at any time in our 150-year history. To read more about the UK story and how you can support continued investment in your university and the Commonwealth, go to: uky.edu/uk4ky. #uk4ky #seeblue