Social Work Student Explores Love of Politics Through Internship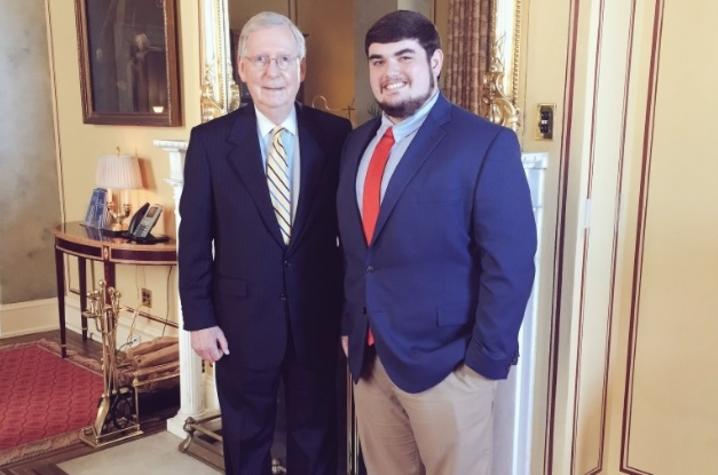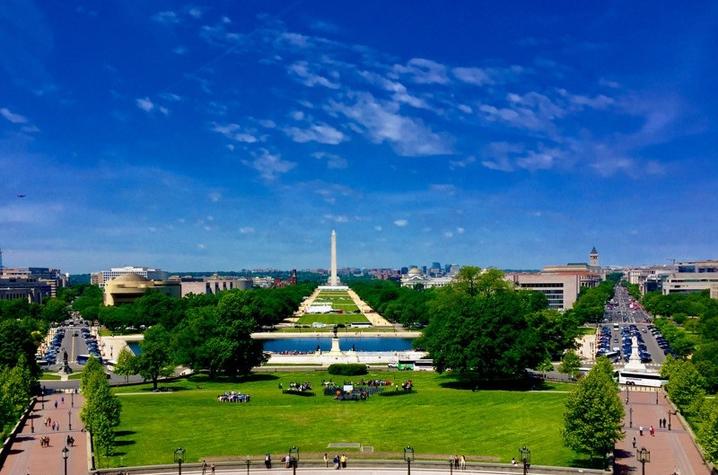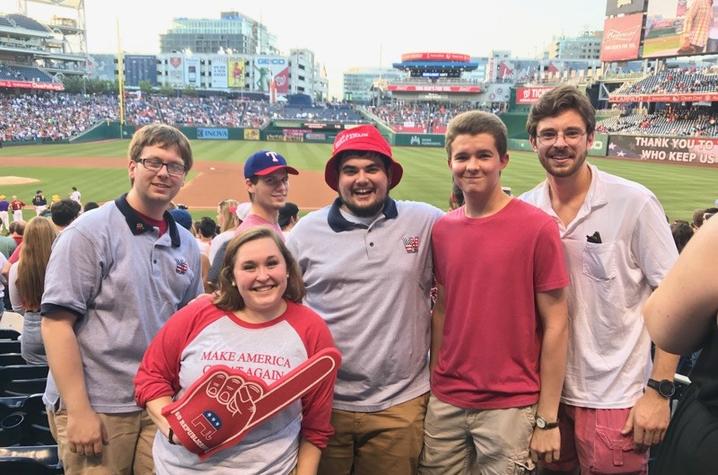 LEXINGTON, Ky. (July 25, 2017) — Jared Sexton's first day interning for the Senate majority leader in Washington, D.C., this summer was filled with wide-eyed excitement and a little nervousness. After a morning training session and the afternoon free to explore, he and his fellow interns from the University of Kentucky wandered about to see who they could see. He recalls coming face-to-face with Hillary Clinton's vice-presidential running mate, Sen. Tim Kaine, and former presidential nominee Sen. John McCain, but the politician Sexton most wanted to see was Sen. Marco Rubio.
Sen. Rubio and Sen. Mitch McConnell's offices happen to be in the same building on Capitol Hill. As Sexton and some fellow interns were leaving for the day, they decided to casually stroll by Rubio's office in hopes of catching a glimpse of him or maybe even meeting the senator from Florida.
"Finally, Rubio appeared. He patted me on the back as he walked past, and I knew it was going to be an exciting six weeks. These were just a few of the iconic figures that we were able to interact with during the internship in D.C.," Sexton said.
"I was vice chairman for students for Rubio at UK during the presidential primary, and I believe he is the future of the Republican Party. In my opinion, Sen. Rubio, along with Ambassador Nikki Haley, should be the face of the Republican Party going forward. They both represent diversity and have a record to uphold beliefs that I feel are important."
Jared Sexton, an enthusiastic and charismatic UK College of Social Work student from the small town of Hardyville, Kentucky, has nurtured his passion for politics throughout his middle and high school years when he became involved in the Kentucky Youth Assembly, a student-led program in which students serve as part of a model state government hosted by the Kentucky YMCA.
He was just 17 years old in 2014 when he became the youngest lead intern at that time for Sen. Mitch McConnell's re-election campaign in Hart County. His weekends were consumed with campaign rallies, barbecues and other political events. He met people he admired and shared his political views.
Sexton didn't allow his age to hinder his growing love of politics or the desire to impact positive change in his home state.
"I originally volunteered for Sen. McConnell's re-election campaign because of my interest in the legislative process and because of the senator's dedication to the same values that I have. I admired the fact that he has spent his life fighting for Kentuckians — and I knew I wanted him back in office. At that time, I couldn't vote, so the only way I could impact the race was by becoming involved and interning for the senator's campaign," Sexton said.
During Sexton's senior year of high school, he served as Kentucky Future Business Leaders of America (FBLA) state secretary and went on to become a founding member of the UK Phi Beta Lambda chapter, a student-led business organization that is the collegiate version of FBLA. He was elected state president of Kentucky Phi Beta Lambda last spring, and he was recently re-elected to serve a second term. 
Sexton heard about summer intern opportunities in McConnell's office in Washington but had been hesitant to apply in the past. Although a little scared of the idea of living in Washington, D.C., he knew that an opportunity to work in the nation's capital for McConnell was the chance of a lifetime, so he began reaching out to the senator's local offices to see if he could make it happen.
Washington turned out to be everything he imagined it would be — an interesting, fast-paced environment with something new happening every day. Every morning, the first thing he did was check the Politico app on his phone to catch up on the breaking news from the night before.
Sexton's main job during his internship was giving tours of the U.S. Capitol to constituents, but he was also tasked with answering phones, sorting and drafting constituent mail, attending briefings and taking notes for staffers, and completing legislative research.
"The office for the interns was actually the mail room. Toward the end of every day, we would all end up gathering toward the front of the mail room to discuss what had happened that day and who we had met. It's refreshing to know there are people my age who share the same interests and viewpoints as me."
When Sexton reflects on his time in Washington, both the high point of his internship as well as the low point come to mind. The high point came when he and his fellow interns were invited to a meeting in Sen. McConnell's office in the Republican Leadership Suite in the Capitol. During this meeting, Sexton and his fellow interns asked the majority leader questions relating to Kentucky politics while also discussing Sen. McConnell's experience as an intern on Capitol Hill.
Sexton said his low point occurred on June 14 with the shootings in Alexandria, Virginia, during a congressional baseball practice. House Majority Whip Steve Scalise was seriously injured.
"The shooting really shocked everyone," Sexton said. "It happened so close to home. One of our Kentucky senators, Rand Paul, was there. Not to mention, some of Sen. McConnell's staff knew the staffer who was shot during the attack."
However, out of the low point of Sexton's time in Washington, perhaps the most encouraging and memorable moment played out before his eyes when he attended the game right after the incident.
"The Democrats beat the Republicans 11-2. You could feel the camaraderie after the game when all the leadership gathered together on the grass. The coach for the Democrats came out with the winning trophy and gave it to the Republican coach to keep in Congressman Scalise's office until he recovered and came back at work. It was touching and I thought it was a great example of bipartisanship."
Sexton says that he is very disturbed by the extreme level of partisanship that exists not only in Washington, but across the country.
"I wish the people at UK knew how hard Sen. McConnell and his office works for Kentuckians. It's not glamorous work but it has to be done. He puts his life on the line every day to represent Kentucky and the U.S. It's important to know he cares and is literally fighting for us."
So, what does the future hold for the intensely political UK social work student? He's leaving his options open and see how his life unfolds. Sexton will graduate in December 2018 with a degree in social work and is thinking about a career in administration. He feels the internship this summer has made a positive impact on his life going forward and hopes to intern in Washington again next summer.
"Interning in Washington revealed to me just how interested in politics I am. It made me realize that there are several others who are just as interested, if not more, in politics as me."
"I think a social worker brings a unique view to the table. It's important for there to be many different perspectives when drafting legislation, and I think looking at issues through a social work lens really provides an important perspective."
Although social work and politics may seem incompatible, the two pursuits have more in common than they have differences. The UK College of Social Work website says social workers have a passion to help others as they become an advocate for a better world — the same assertion Sexton makes about the political leaders he has come to know by working alongside them. Whether Sexton chooses social work or politics, or a combination of the two, a desire to make the world a better place will always be his driving force.
UK is the University for Kentucky. At UK, we are educating more students, treating more patients with complex illnesses and conducting more research and service than at any time in our 150-year history. To read more about the UK story and how you can support continued investment in your university and the Commonwealth, go to: uky.edu/uk4ky. #uk4ky #seeblue