Spoken Word at Its Best Slams the Cats Den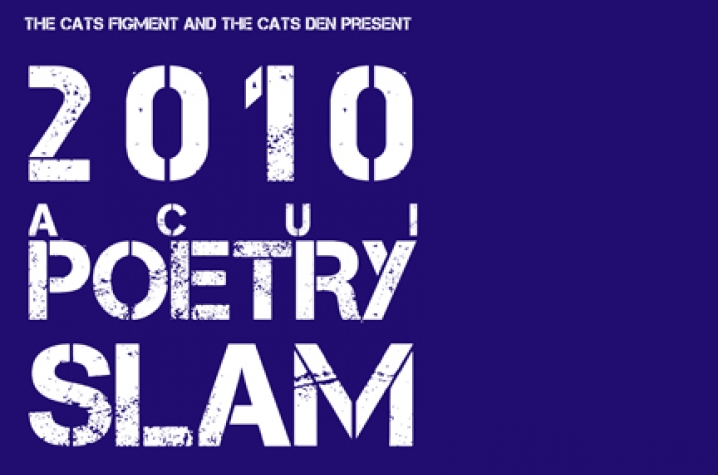 LEXINGTON, Ky. (Jan. 21, 2010) − Some of University of Kentucky's most talented linguists will showcase their skills at poetry slam at 7 p.m. Thursday, Jan. 21, in the Cats Den in the Student Center.
In conjunction with the Cats Den each year, the Association of College Unions International (ACUI) produces the College Unions Poetry Slam Invitational (CUPSI) offering an opportunity for campuses with new or existing poetry slam programs to compete for top honors and to share their wit and talent. The winner of this qualifying round in the Cats Den will go on to compete in the regional event in Knoxville, Tenn.
Slam poetry is a form of performance poetry that occurs within a competitive event, called a slam, where poets perform their own poems that are then judged on a numeric scale by randomly chosen members of the audience.
UK has been represented very well in the ACUI tournament, with a student making it all the way to the national competition held in Albuquerque, N.M. Mike Kimble, a recent graduate of UK, was ecstatic that the poetry contest was being brought back to the Cats Den.
Acclaimed as one of the 10 best male poets in the nation, Kimble said, "Competing in nationals not only gave me the creative inspiration to further my goal (of) being around the best poets out there, but set in stone my place as someone who can positively progress the spoken word movement."
The Cats Den provides service to UK students in the form of entertainment and other leisure activities, including bingo' comedy' concerts' tournaments' big screen television' foosball' pool' arcade games and many more throughout every semester.
 For more information, please visit www.acui.org or www.uky.edu/studentcenter/catsden.