Say Hello to Winter at SAB's Last Pinterest Party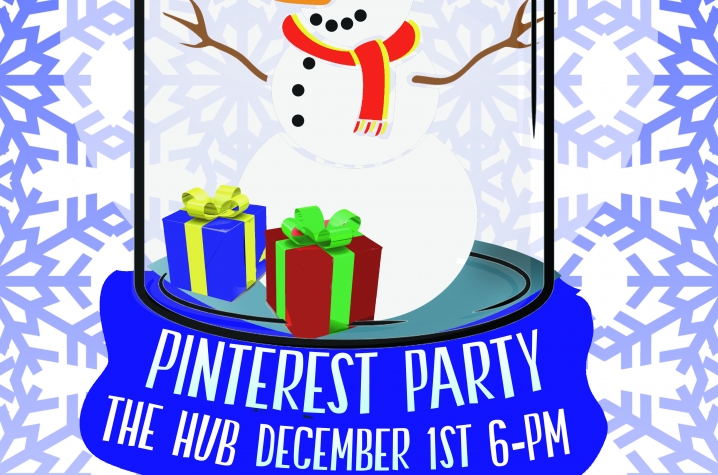 LEXINGTON, Ky. (Dec. 1, 2015) — Join the Student Activities Board's Campus Life Committee at their last Pinterest Party of the semester from 6 to 9 p.m. today in The Hub of the William T. Young Library.
Pinterest Parties are designed to give the campus community the chance to create do-it-yourself crafts seen on the social media site, Pinterest. The Campus Life Committee takes the site's tagline, "Less Pinning. More Doing." and turns it into a reality for UK students, staff and faculty.
"Pinterest Parties are one of my favorite events to help plan," said Jill Marks, SAB director of Campus Life. "I love seeing students come together and make completely different things out of the same materials like the Kentucky cutouts for example — everyone has the same cutout but each one looks completely different."
This Pinterest Party event will be the final Pinterest Party of the semester. The Campus Life Committee will provide supplies for attendees to create frames, mugs, vases, tea light candle holders and ornaments.
SAB brings more than 60 entertaining, educational and enriching programs that are reflective of contemporary issues and trends to the University of Kentucky annually. These programs are designed to enhance the college experience for students, faculty, staff, and the greater Lexington community.
Connect with SAB at http://www.uksab.org, follow them on Twitter at http://twitter.com/UKSAB, or like them on Facebook at http://www.facebook.com/UKSAB/. For more information about SAB and events, email publicrelations@uksab.org.
SAB CONTACT: Jazmine Byrd, publicrelations@uksab.org, (859) 257-8868
MEDIA CONTACT: Katy Bennett or Rebecca Stratton, katy.bennett@uky.edu or rebecca.stratton@uky.edu, (859) 257-1909/(859) 323-2395