UK Debate Team Starts Off Strong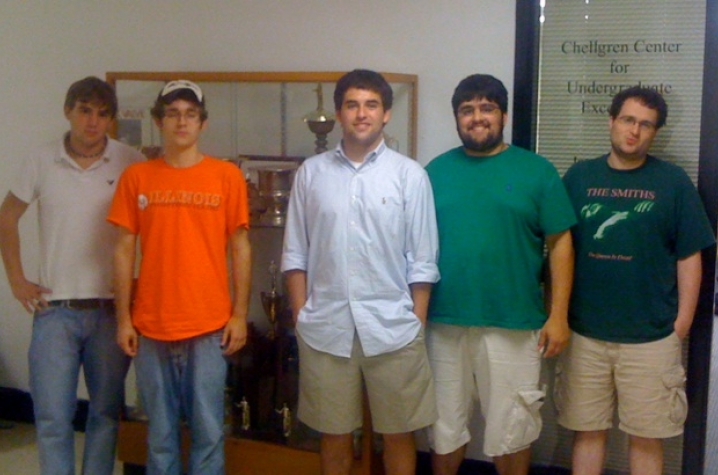 LEXINGTON, Ky. (Oct. 15, 2010) - The University of Kentucky Intercollegiate Debate Team recently started its competitive season and is going strong. The team has traveled to its first two tournaments of the year and is already ranked among the top 25 schools in the nation. The team placed in the top 25 in the National Debate Coaches' Poll two consecutive times, putting UK in the company of debate powerhouses such as Emory University and Harvard.
The team attended its first tournament of the season Sept. 18-20 at Georgia State University in Atlanta. Seniors Michael Gentile, Sohin Gautam, A.J. O'Donnell and freshman Christian Steckler competed against a field of 138 debate teams from across the country. The team of Gentile and Gautam ranked 17th overall out of the 138 teams competing. Gentile was also awarded the 21st speaker out of nearly 300 individual speakers. Over the course of the weekend, UK scored victories against Emory, Dartmouth, and Northwestern. 
The team then traveled to its second round of tournaments Sept. 28-Oct. 5, where it competed in the prestigious Kentucky Thoroughbred Round Robin and the Coon Hardy Invitational.  Hosted by Northwestern in Evanston, Ill., the tournament only invites nine of the top teams in the country. The team of Gentile and Gautam finished with a 5-3 win-loss record in the preliminary rounds, and just missed making the elimination rounds.
This year, the team is debating about federal immigration policy, specifically whether or not the federal government should increase the availability of employment and family visas to prospective immigrants. 
Steckler, who is a freshman from Nashua, NH, said he is "thrilled about the opportunity presented by upcoming tournaments to acquire mastery of the immigration topic and see increasing success for the UK debate team."
The intercollegiate debate program is part of the UK Chellgren Center for Undergraduate Excellence. For more information about the team, visit www.uky.edu/Provost/ChellgrenCenter/Debate.