UK Debuts First Generation Residence Hall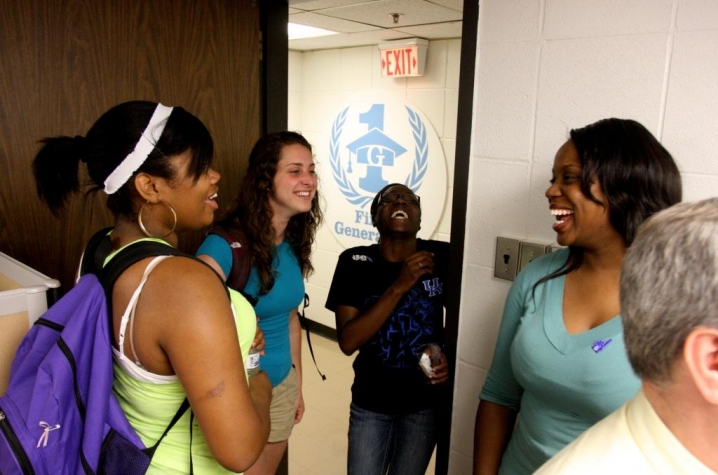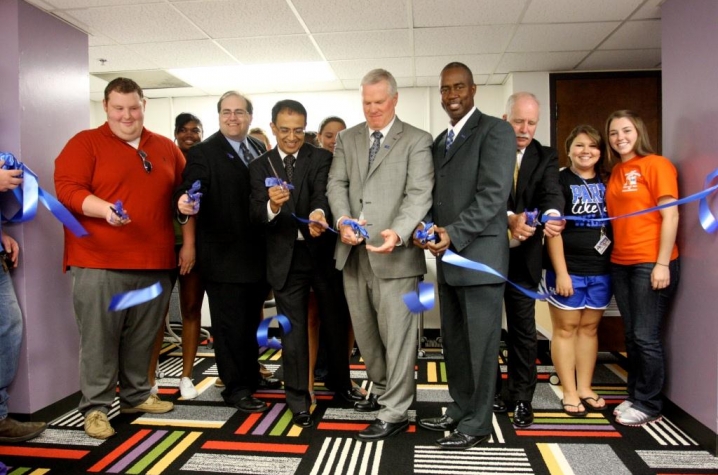 LEXINGTON, Ky. (Sept. 15, 2011) — The University of Kentucky is launching a novel, living learning community focused on freshmen who are the first in their families to attend college.
The First Generation Living Learning Community welcomed students to Blanding III residence hall this fall with a brightly colored, renovated basement that included new flooring and new furniture in three rooms. With 48 students, this will be the first living learning community devoted to first generation students on UK's campus and one of the only communities of this kind in the country.
"We need to do more as a campus to support first generation students," said organizer Matthew Deffendall, who directs the First Scholars program at UK and has been working on plans for the residence hall over the past year. "We need to connect students to faculty and to other students who are like them."
In addition to physical renovations, which include a revamped study room, pool table, flat screen TVs and kitchen area, the living learning community will benefit first generation students through small groups, cohort classes and sophomore mentors.
"With the living learning community, projects and resources are brought directly to the students in the hall," Deffendall said.
"It's great to have a place for students to go and feel comfortable," said Living Learning Community Coordinator Kelli Hutchens, who will be organizing most of the student programming. "We've already seen students come together over classes like CHE 105. They have study dates set up and are really using the group areas."
Community activities taking place in the cheery and relaxing rooms include study groups, community service outings and Topic Tuesdays, where students will listen to talks based on critical information that they need to succeed.
"For example, students are always told to get involved, but how do they do that?" said Deffendall. "We'll also look at issues in financial management, homesickness, nutrition and health."
The community, representing a partnership between the Division of Undergraduate Education and the Office of Residence Life, includes first generation freshmen from across campus, including First Scholars, Parker Scholars, Robinson Scholars and students involved in UK's Student Support Services summer bridge program. The renovated basement is open to all first generation college students at UK, according to Hutchens.
"This living learning community is going to be a great resource for first generation students," said Blanding III Hall Director Todd Allen. "Its primary role is that of a support system. All the students are going through similar challenges and can provide a supportive network for one another. Furthermore, the building staff and campus partners are here to provide support and assistance."
"We have seen the success of living learning communities on campus, and when we look at retention, first generation students are a large risk group," said Associate Provost for Undergraduate Education Mike Mullen, who was a first generation college student himself. "This community is a rich source of engagement for students, where they will be building social capital; and social capital directly relates to success at the university."
The First Generation Living Learning Community also will remain together for UK Core composition and communication classes (CIS 110 and CIS 111) during its first year on campus, in addition to a specially created UK 101 class reserved for first generation students, which has been highly successful, according to Deffendall.  
The Division of Undergraduate Education piloted six first generation UK 101 courses last year and expanded to 16 classes this fall.
UK Provost Kumble Subbaswamy provided funds for a partial renovation of the hall's basement, which kicked off the project. "We should be dedicated to every student that walks through our door," Subbaswamy said. "If you admit someone and they don't succeed, society loses. Living Learning Communities help to meet a specific need."
Students are responding positively to the new community as well. "I love it. I could live here for the rest of my college career," said freshman Brittany Boreing.