UK Forensics Team Wins Icebox Classic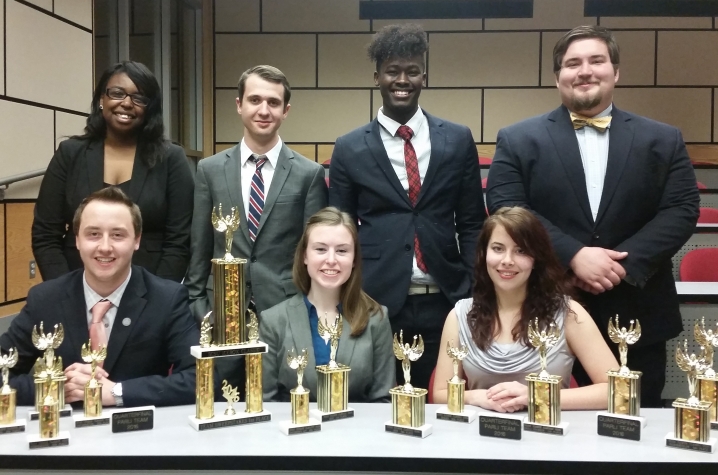 LEXINGTON, Ky. (Feb. 12, 2016) — Braving the colder temperatures of the northern Midwest, the University of Kentucky Forensics team said "ya sure, you betcha" to a win at the Icebox Classic hosted by St. Cloud State University in St. Cloud, Minnesota.
Seven team members took part in the tournament, which featured competition in 12 public speaking events and parliamentary debate. In addition to winning first place in team sweepstakes, UK seniors Logan Hurley and Dianté Elcock placed second and third, respectively, in the quadrathlon competition, which takes the cumulative points earned from all individual event categories. The team also qualified for two more events for the National Forensic Association national tournament in April.
As part of the parliamentary debate competition, team members debated a wide range of topics, including income inequality, climate change, urban planning policy with respect to automobiles, and the benefits of online dating. Topics for this format of debate encompass the full spectrum of societal issues. Given the 15 minutes of preparation time, this challenges students to be fully engaged with the world around them.
Students compete in pairs and face off against teams from other universities. A judge selects the winning team at the end of each round. Students are also ranked individually based on the quality of their argumentation and their speaking ability. UK Sophomore Kaylon Kennedy earned the distinction of being the top speaker in parliamentary debate at this tournament.
Team members from UK won the following awards at the Icebox Classic:
Communication Analysis
4th Place - Logan Hurley
Drama Interpretation
5th Place – Dianté Elcock
6th Place – Kaylon Kennedy
Duo Interpretation
1st Place – Logan Hurley and Megan Wagner
2nd Place – Dianté Elcock and Kaylon Kennedy
Extemporaneous Speaking
3rd Place – Logan Hurley
Impromptu Speaking
1st Place – Logan Hurley
Informative Speaking
5th Place – Matt Karijolic
Interpretation and Children's Literature
4th Place – Megan Wagner
Parliamentary Debate
Quarterfinalists – Dianté Elcock and Kaylon Kennedy
Quarterfinalists – Veronica Scott and Matt Karijolic
1st Place Speaker – Kaylon Kennedy
Persuasive Speaking
6th Place – Sam Northrup
Poetry Interpretation
1st Place – Dianté Elcock
Program Oral Interpretation
4th Place – Dianté Elcock
The UK Forensics Team's next competition will be the Kentucky Forensic Association state tournament hosted this year by Western Kentucky University in Bowling Green, Kentucky, Feb. 19-20, 2016. UK Forensics is a student organization in the School of Information Science in the College of Communication and Information. The team regularly competes in 12 different public speaking events in three forms of debate. To find out more, visit ukforensics.com.
MEDIA CONTACT: Gail Hairston, 859-257-3302, gail.hairston@uky.edu