UK Grad's Pop-Up Space Brightens Southland Drive Despite Rainy Welcome
Video produced by UK Public Relations and Marketing. To view captions for this video, push play and click on the CC icon in the bottom right hand corner of the screen. If using a mobile device, click on the "thought bubble" in the same area.
LEXINGTON, Ky. (June 30, 2017) — The rain drenched them, but those who gathered to cut the ribbon at a new "pop-up" structure on Southland Drive on May 12 didn't let it dampen their enthusiasm. "The Music Lounge," as designer Rakeem Bradshaw dubbed it, will serve as a temporary experimental community gathering spot along a corridor long known for its ties to music through its shops and entertainment facilities through October.
Bradshaw, 22, a recent graduate from the University of Kentucky College of Agriculture, Food and Environment, submitted the winning entry to the Lexington-Fayette Urban County Government Division of Planning's design competition back in the fall during his final year as a landscape architecture student. Funding for the "Retrofitting the Retro" pop-up construction of the winning entry was provided by the Blue Grass Community Foundation and the John S. and James L. Knight Foundation Donor Advised Fund.
Before the competition came "Retrofitting the Retro," a Southland Drive case study that included a planning and design exercise presented in collaboration with the Department of Landscape Architecture in the College of Agriculture, Food and Environment and the Department of Historic Preservation and the School of Interiors in UK College of Design. During Design Week, students in the three programs looked at options for redesigning Southland Drive to be less automobile-centric and more pedestrian/bicycle friendly.
"So, a pop-up is a very small scale thing and we challenged the students after they had done this larger master planning class, and said here is a design competition — tell us what you've learned from these lessons and bring them down to a smaller scale. What you would do if you only could use a few parking spaces? And how would you engage the residents to this area? How could you start to connect the new planned sidewalks and people to the businesses that are already nearby," said Brandi Peacher, a design specialist with the Division of Planning and UK architecture alumna.
"This is a really good example of one of the hallmark things we try to do as a department and as a land-grant university, which is engagement and outreach," said Ryan Hargrove, associate professor in landscape architecture and Bradshaw's advisor. "The foundation of a lot of the work we do is engaging community and enacting change in a community. It doesn't always have to be a $10 million project. Sometimes a small project that is well thought out and engages the community in a meaningful way can have a large impact."
Bradshaw's structure, with its primary colors and bright flowers, stands out in the concrete-gray corridor. With a pergola for shade, benches for gathering and found "musical instruments" such as flower pots and pipes to create impromptu "concerts," Bradshaw hopes it will be a gathering spot for people in the neighborhood during the time it will be there.
"Something like this can build long-lasting memories for people, and it changes the vibrancy of the community — changes the atmosphere," he said.
Participants at a community gathering held in the fall by the Southland Association and the Division of Planning voted on their favorite design from about 20 entries. There was also a juried decision for best design. Bradshaw won for his schematic design.
As his senior-level project, Bradshaw elected to build his design, which included producing construction documents and cost estimates. He worked closely with a contractor and sought out donations from merchants along the Southland corridor to help stay within his $8,500 budget.
"He is very humble, so I don't know if he knows how important this is for him and for the community," said Carolina Segura, senior lecturer in landscape architecture and, with Hargrove, was his advisor on his pop-up design. "Doing this project in collaboration with the city is a great way to not only help the city, but it also helps the students get involved in real projects."
The rain couldn't dampen how special the ribbon-cutting ceremony was to Bradshaw.
"Working with Southland Drive and the community, I've loved every bit of the experience," he told the gathering taking shelter from the weather in Geno's Formal Wear, which donated the parking lot space for the pop-up. "I just wanted to make a difference and help utilize and engage and connect the Southland Drive corridor to make it a more vibrant community."
Lisa Adkins, president and CEO of Blue Grass Community Foundation, also spoke during the ceremony, emphasizing her organization's goal of creating a more people-centered city.
"We love looking at things that make our communities more livable, more walkable and more bikeable, and that give people places to gather and be engaged with one another," she said. "This is the perfect project for our kind of investment. We're excited about it and what it can mean for permanent changes to the corridor and the community as a whole."
Since the ribbon-cutting, Peacher, interns and others have been visiting the pop-up site gathering data from users on what they like and don't like about the space and how they use it. They are also counting people as they walk by or use the new parklette to see how often it's used during the week and on weekends, especially during events like the Farmer's Market held each Sunday on Southland. All of this data will help inform future public space possibilities along the corridor. 
This is the second time a landscape architecture student has contributed to the revitalization of the Southland corridor. In December 2016, Charlie Hall's "Welcome to Southland" design of a guitar fretboard was installed at the entrance to the corridor.
Bradshaw is hoping to find a job in urban planning in a large city.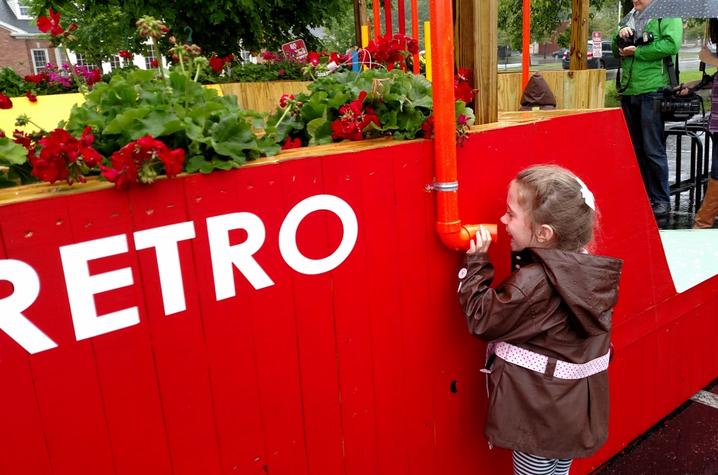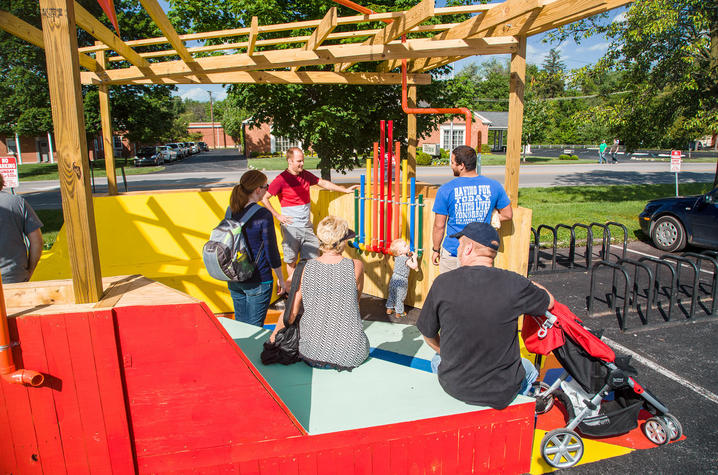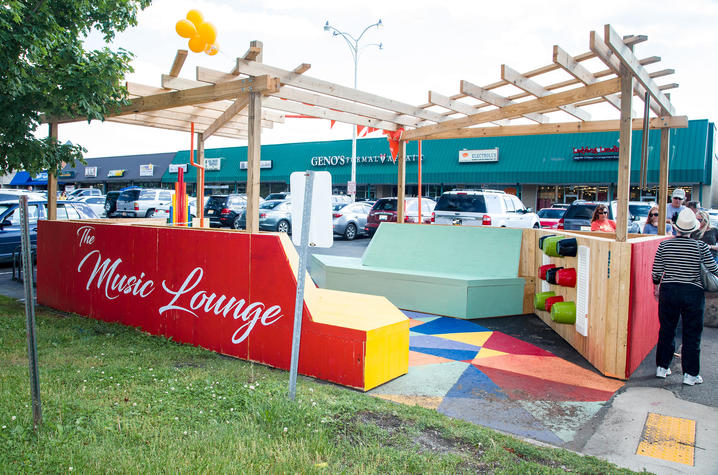 UK is the University for Kentucky. At UK, we are educating more students, treating more patients with complex illnesses and conducting more research and service than at any time in our 150-year history. To read more about the UK story and how you can support continued investment in your university and the Commonwealth, go to: uky.edu/uk4ky. #uk4ky #seeblue