UK Greeks Participate in SEEDS Training – You Can Too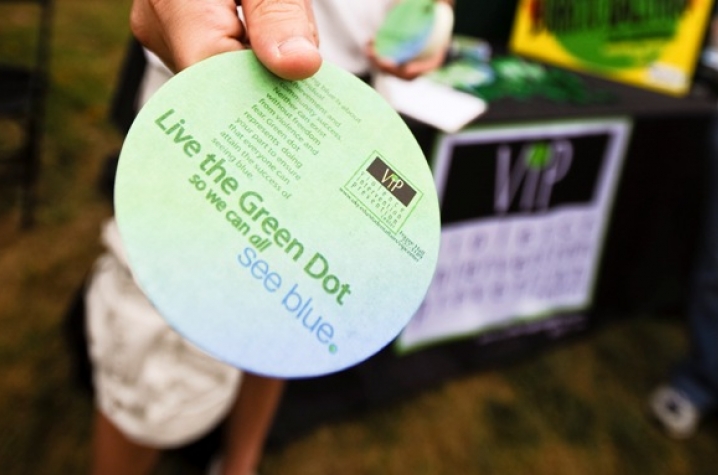 LEXINGTON, Ky. (Oct. 15, 2009) – As part of UK's annual Greek Week, more than 1,200 sorority women and fraternity men filled the Student Center Grand Ballroom to take part in the Violence Intervention and Prevention (VIP) Center's revamped SEEDS Program. 
SEEDS is a nationally recognized bystander training where participants discover their connection to this issue and receive research-informed knowledge as well as practical skills to live the green dot in their world. It is the most powerful prevention activity offered through the VIP Center. The goal is to create a culture shift toward safety and true intolerance of power-based personal violence including sexual assault, partner violence, and stalking. The VIP Center hopes students take this information and grow into agents of social change that intervene in high risk situations.
The Greek community participated in a shortened, two-hour training. Students learned various ways that they can help reduce the possibilities of violence that may occur in social situations.
The program focused on the Green Dot strategy of the VIP Center. Green dots are any behavior' choice' word or attitude that promotes safety for all of us and communicates utter intolerance for any form of power-based personal violence.
"We're excited about this new partnership between the Greek community and the VIP Center," Ben Duncan, Interfraternity Council president, said. "We believe in the mission of the VIP Center and want to do anything we can to help their cause and reduce violence on our campus. I encourage all students to take part in the program and learn what they can do to make the UK community safer."
All students are invited to participate in the SEEDS program. The next training is from 11 a.m. until 7 p.m. Saturday, Oct. 17, at the King Alumni House. At the training, you will learn your role and become part of the biggest movements on campus. Participants will receive free food, training and some sweet swag to help you spread green dots. For more information about the SEEDS program, contact Ryan Wagoner, educator and outreach coordinator, by e-mail at ryan.wagoner@uky.edu or by phone at (859) 257-2884. Visit here to register for SEEDS training.
The VIP Center is located in Frazee Hall next to the Student Center.