UK Social Work Grad Gives Back, Comes Back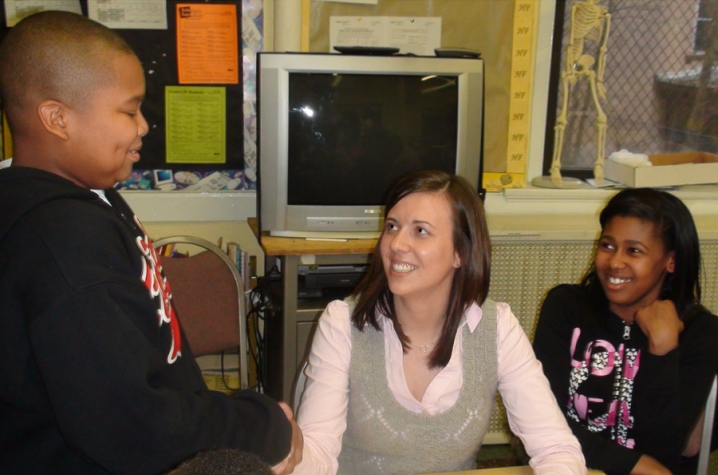 LEXINGTON, Ky. (March 24, 2010) - University of Kentucky graduate Tara Bonistall never wanted to follow the crowd.
"I've never wanted to do something that anyone else can do," she said. "With many professions, there are countless people already involved and accomplishing a great deal."
The 24-year-old associate director of Leadership Scholars in Cincinnati found the distinctive career she craved at UK's College of Social Work. "I signed up for a class, and I was hooked. It all just clicked," she said. "With social work, I felt that if I didn't get involved, there would just be too much left to do."
Although Bonistall declared her major in social work late in the game, she managed to graduate on time, while completing a dual degree in psychology. "UK let me take so many classes," she laughed. "I'm surprised they didn't start charging me extra."
While Bonistall enjoyed her psychology classes, social work offered something different. "The College of Social Work is a small college. With other schools, you just don't have that kind of community," she said. "Of course, social workers like communities by nature."
After graduation in 2007, the Gaines Fellow continued to push ahead. "I had a lot of direction and support throughout my time at UK, especially at the Gaines Center and with the faculty in social work," she said.
Bonistall began interviewing for jobs, and she kept coming back to leadership. Through her Gaines Fellowship, practicum at the Family Care Center and management of the Student Volunteer Center, leadership was a key aspect of her UK education.
The Cincinnati-based Leadership Scholars program was a perfect fit. Bonistall now organizes leadership development training for inner-city youth in grades 7-12. "UK invested in me, and I'd like to do the same for the kids I'm working with now," she said. "I want to make a difference."
UK's support system has remained a major part of Bonistall's post undergraduate plans. The College of Social Work has an advanced standing program, where social work graduates are able to obtain their master's degree in one year, with certain academic qualifications.
"A couple of months ago, I began thinking that I need to go back and get my master's before it's too late," Bonistall explained. "I made the decision to go back on a Monday and had letters by Wednesday. I called back to the College of Social Work, not knowing what to expect, and they said, 'Oh, I remember you! Come back to UK and get your degree.'"
Professor and former College of Social Work Dean Kay Hoffman fondly remembers Bonistall and her involvement at UK. "Tara is an amazing young woman… she is a passionate advocate for women and children and isn't afraid of controversy," Hoffman said. "Tara is a risk taker. I very much want her to return for her MSW. With that degree, she will not only have acquired a whole new knowledge base in mental health and mental health services, but on the practical side, the degree will give her entree to jobs that she will take to another level."
UK's College of Social Work: a great community network that's not going anywhere, no matter which crowd Bonistall chooses to follow.