UK Student Overcomes Surgery During Every School Break to Graduate Magna Cum Laude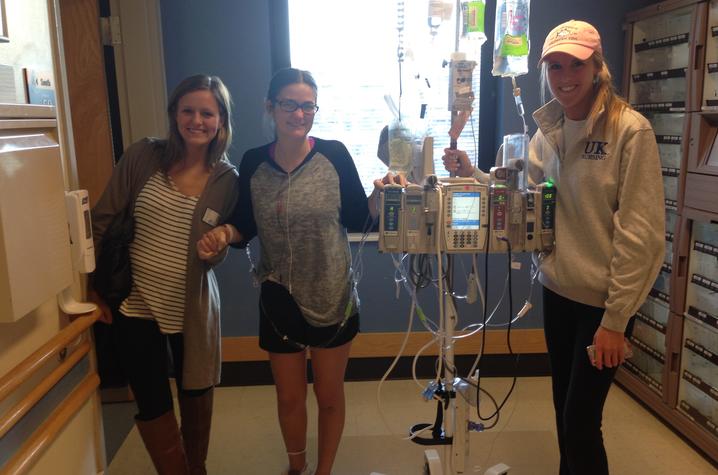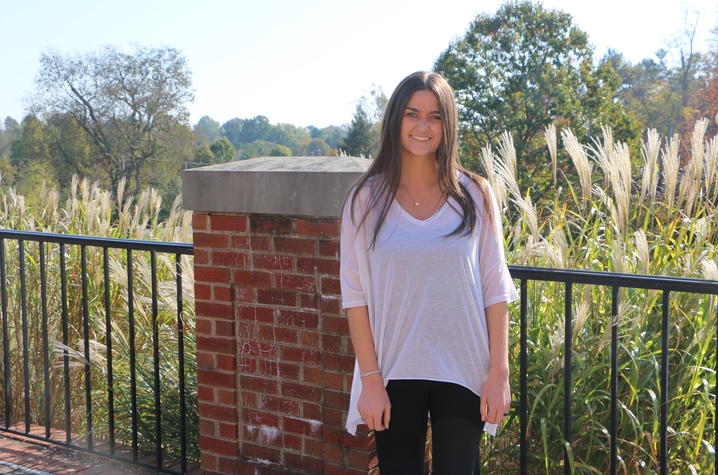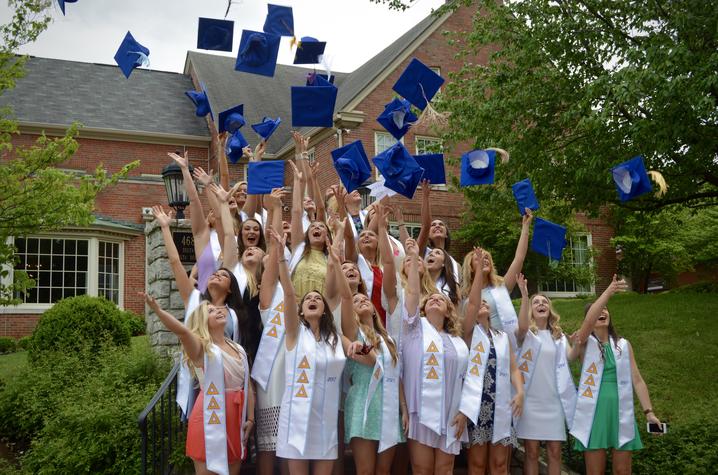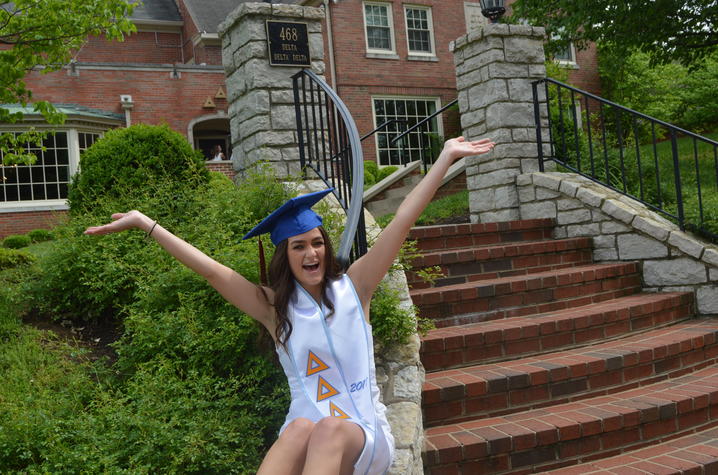 LEXINGTON, Ky. (May 4, 2017) — The week of graduation, most high school students are decorating their caps, writing last-minute yearbook notes and making fun plans for the summer.
Lexington native Moran Nickodem wasn't so lucky — she spent her last week of high school heavily sedated in the hospital after meningitis, e. coli and a number of other bacterial infections attacked her already weak body. Doctors in Cincinnati gave her parents a prognosis: the situation was grave, and they should be prepared for the worst.  
Moran came to on graduation day and was determined not to miss the ceremony, even as the day could be one of her last. She Skyped in to the Lexington Christian Academy graduation, and her brother walked across the stage to receive her diploma.
Four years later, after beating the bleak prognosis time and time again, that determination led Moran to another graduation – her college graduation from the University of Kentucky. This time, she'll walk.
"To walk across the stage at Rupp Arena, it's a really big deal for me and my family," she said.
The challenges Moran faced to even get to college were not the usual teenager leaving home, figuring out what they want to do with their lives challenges. She faced those, too, but alongside them was the challenge of staying alive and healthy.
She's been sick for her entire life, diagnosed at birth with Hirschsprung disease and hip dysplasia, and cared for by doctors in Cincinnati and a team of doctors at UK HealthCare and Shriners Hospitals for Children Medical Center — Lexington – including Drs. Ryan Muchow, Stephen Duncan and Henry Iwinski. Later, a UK emergency department doctor would diagnose her with anterior sacral meningocele, a rare form of spinal malformation.
After she fought off the infections and continued to live past doctors' expectations, she underwent 19 back surgeries – in one summer. This was right before heading off to college; she had her bags packed for University of Mississippi.
"We prayed about it and knew I couldn't go to Ole Miss," she said.
Staying near her doctors, those in Cincinnati and in Lexington, Moran decided to attend UK, even while some family and friends worried about the stress and demand it would put on her body.
"There was like no chance – how am I going to go to school when I was practically in a coma and had a wound vac?" Moran said, referring to the portable machine she wore to help her back heal after the surgeries.
But she persevered, especially with the help of her mom. She let Moran go through sorority recruitment, pushing her around in a wheelchair to each sorority house.
"On top of the wound vac, I had an IV machine hidden in my purse and I looked like a skeleton. The girls probably thought I was desperate to join," she said, laughing.
It wasn't desperation though; it was just a desire to have a somewhat normal college life. She was adamant, too, about living on campus and getting as much room to grow into an independent young adult as she could.
Shortly after joining Tri Delta and beginning class, it was Labor Day and time for her next procedure, a colostomy.
"It's a brutal thing for anyone to deal with much less an 18-year-old college student," she said.
Her holidays would continue like this – every school break, from Thanksgiving to Spring Break, Moran would undergo another surgery. So far, she's had around 40 surgeries throughout her life.
While she traveled back and forth from Cincinnati to Lexington and from campus to Shriners Medical Center, taking 12 hours that first semester, somehow the integrated strategic communication (ISC) major in the College of Communication and Information barely missed a class.
"It was hard though, going to class," she said. "The machines would go off, so I would try to conceal the noise and wore big clothing – no one knew. I didn't want to be known as the sick girl."
After a difficult first year with an unsatisfactory GPA, things started to get better for Moran her sophomore year. She had become close to those living in her residence hall, Baldwin Hall, her Tri Delta sisters and her professors. As she began to share her story, she received a lot of encouragement in return.
"My sorority sisters were my support system, and I made lifelong friends in my dorm," she said. "They all took care of me."
She had her colostomy reversed, she no longer had a wound vac, and she had built a community of support around her – from her advisors to UK Transportation Services, which helped her with handicap parking and mobility around campus.  
"And my ISC professors were unreal. I still have a lot of complications and there are days I wake up and can't get out of bed, and they didn't ask questions," she said. "They would say, 'come in my office when you feel better and we'll catch you up.'"
Moran said the Disability Resource Center was also instrumental in her success, likening them to her on-campus parents. That year, she finally achieved her goal of making a 4.0 GPA. She continued to make a 4.0 each semester, even through a major hip surgery her junior year when Drs. Muchow and Duncan were able to lengthen one of her legs and greatly improve her limp.
Looking back now, while she's as healthy as she can be, people ask Moran, "how in the heck did you do it? How did you go to school and have a social life? How did you even make it this far?"
And it hits her, how much she has accomplished.
"I'm like wow, that's insane to think about, but when you're going through it and you have the best support system – your teachers, your parents, your friends, your sorority – it's just like you don't have any other option. I just cannot imagine not being at UK during all this."
Moran's most recent surgery was in January at Shriners Medical Center, and this week she went to her last Shriners appointment. As she graduates from UK, she is also graduating from Shriners. Moran will become a UK HealthCare patient, going just across the street from the new Shriners facility for her appointments, and will continue to see the same team of trusted doctors.
As she celebrates graduating magna cum laude from UK tomorrow, landing a marketing and sales job in Michigan (and finally experiencing a new town), she's also excited to announce that for the first time, in her 21 years of life, she doesn't have a surgery planned.
"My life is always going to be centered around what I've been through," she said. "But I'm looking forward to not letting my health issues be the center of my world."