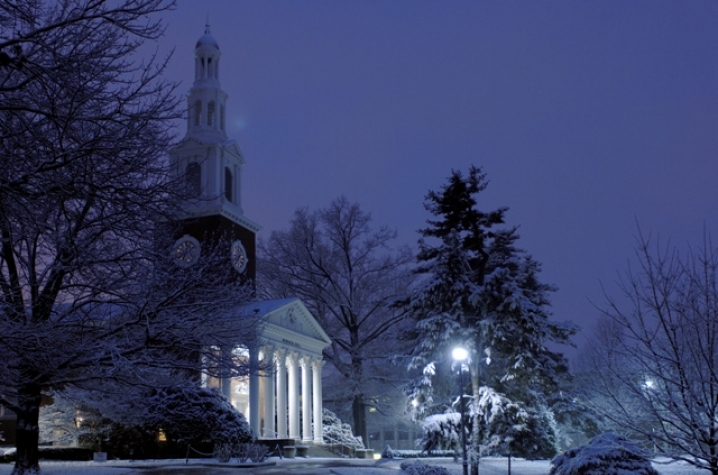 LEXINGTON, Ky. (Jan. 13, 2010) – Things may be cold outside, but UK's campus is heating up as students return today for the start of the spring 2010 semester.
"Feeling the excitement and energy that comes with a new semester never gets old," said UK President Lee T. Todd Jr. "I extend a hearty welcome to our returning students as well as the new students who will now call UK home. I wish all of you a challenging, fulfilling and fun semester."   
While the fall semester begins with K Week, spring semester starts with K2, a week full of fun activities to welcome students, new and returning, back to campus. Some highlights of K2 include:
Super Start
7:30 a.m.–3 p.m.
Wednesday, Jan. 13 and Thursday, Jan. 14
Outside of White Hall Classroom Building
Do you need directions to class? Do you have unanswered questions? Would you like a free cup of hot chocolate to drink as you walk to your first class? Be sure to stop by the Super Start tent as you walk to class the first two days of classes. Members of the Division of Student Affairs will be on-hand to greet you and assist you.
Free Play!
All Day
Wednesday, Jan. 13 – Friday, Jan. 15
The Cat's Den, Student Center
Welcome back students! Come on down to The Cat's Den for a round of billiards, a few video games or a game of table tennis all free, all week!
Wildcat Student TV's Battle of the Bands
6-9:30 p.m.
Wednesday, Jan. 13
The Cat's Den, Student Center
Come dance into the night with some of Lexington's hottest bands and artists.
Late Night Film Series: "Where the Wild Things Are"
10 p.m.
Thursday, Jan. 14
Worsham Theater, Student Center
The Late Night Film Series kicks things off right with one of 2009's biggest hits, the classic "Where The Wild Things Are." With more new releases and more films than ever before, this is going to be our biggest and best semester yet!
For a complete K2 schedule, visit here.
The UK Bookstore is offering extended hours through Sunday, Jan. 17. Wednesday through Friday, the bookstore is open from 7:45 a.m. to 7 p.m. On Saturday, the bookstore is open from 9 a.m. to 5 p.m. and Sunday from 10 a.m. to 5 p.m.